Realms support coming to Minecraft Pocket Edition and Windows 10 versions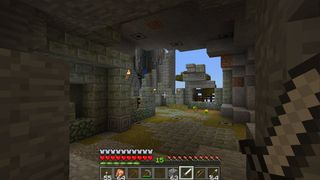 Mojang has revealed that one of the most popular features of the PC version of Minecraft, Realms, will soon be available for the mobile and Windows 10 versions of the popular sandbox games.
What is Realms? Mojang says:
When Realms goes live, it will support cross-platform play on the iOS, Android and Windows Phone Pocket version of Minecraft, along with the native Windows 10 version, via an Xbox Live account. Mojang added:
Mojang is currently allowing Android players of Minecraft Pocket Edition to download an alpha build of the game (opens in new tab) with Realms support to test it out. There's no word yet on when Realms will be officially added to the Minecraft mobile versions.
Download the Minecraft Windows 10 Edition Beta (opens in new tab) ($9.99)
Download Minecraft Pocket Edition from the Windows Store (opens in new tab) ($6.99)
Native Windows 10 versions include Mobile?

no it does not. I own the Windows 10 version and still had to purchase the Mobile version on my windows 10 phone even.

Strange. I have read that Windows 10 is one OS.

The mobile version is still a Windows 8.1 app. The windows 10 version is a "beta" It is safe to assume that at some point the two will be fully merged, but that time is not now.

Android isn't windows 10 though. You mean by buying the windows 10 version of Minecraft you'll stil get windows phone mobile version for free

That may happen, and has precedent in other UWP apps, but it obviously isn't the current state of Minecraft. That's probably why the Windows 10 version is "free" if you already own the Java version, so people don't have to buy it 3 times. I'm just speculating without any hard evidence, so take it with a grain of salt.

Is this not coming to the Xbox?

I thought the plan was for xbox players to be able to play with windows 10 edition and mobile players at some point

Hopefully one day. I just bought the W10 version, but my son definitely plays on the 360 way more.

What is the point if you can just play with friends through XBox Live?

The point is that you can share worlds, meaning that you and your friends don't have to be online at the same time (although, you can be online at the same time), so they can each enter the world and work on their own time. This is a feature that needs to come to the Xbox One version too. As of right now, only one person "owns" a world, and other people can only access it if that person is logged in to the world.

Playing through Xbox live still hosts the game on one account's machine, so if that one person goes off-line, the game cannot be played by anybody else. With Realms, the game is hosted on a dedicated server, so any one on the approved list can log in at any time to play.

Aaaah I see. Thank you for the explanation.

"We're not ready to share our pricing plan quite yet. You won't need an Xbox Live Gold subscription to use the service." Honestly, if Microsoft were smart, in addition to a separate, Realms-only subscription plan, they would also include Realms as a feature of Xbox Live Gold too (and then also add it to the Xbox console versions and also make it possible to sync your worlds across the Xbox console and Windows 10 versions).

Well, maybe a couple Realms for free with XBL. Any more than that then you should pay.

That would be great. Especially if the cost of a Realms subscription was around $50/yr. It would make total sense to get a LIVE subscription instead and get the added benefits. And if someone has LIVE already, they are more like to buy and XBOX ONE and XBOX games, giving MS additional revenue.

Realms currently costs $100/year for the Java version, after the price drop. :)

Cross-play would be nice, but they would need to ensure 100% feature compatibility between versions going forward. I still think that's a ways off, and I'd rather have Realms sooner.

OMG I am so paying for this when it comes out.

I wish they would release an official server version for Pocket/Win10 that you could run on your own server instead of realms - like the desktop version. PocketMine-MP isn't up to snuff.

Cool. I wont use this. Some people might. Posted via the Windows Central App for Android
Windows Central Newsletter
Get the best of Windows Central in in your inbox, every day!
Thank you for signing up to Windows Central. You will receive a verification email shortly.
There was a problem. Please refresh the page and try again.