Minecraft: Story Mode coming out in 2015 from Telltale Games and Mojang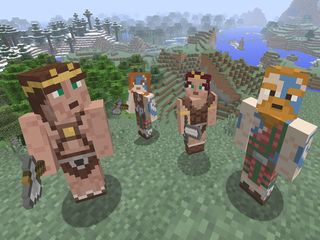 In a major surprise, Telltale Games announced today it was teaming up with developer Mojang to create Minecraft: Story Mode, an episodic game series that will be released sometime in 2015 that's based on Mojang's hugely popular sandbox game.
Telltale Games states:
Telltale has two episodic games, also based on established media franchises, that have recently launched their first episodes: Game of Thrones and Tales from the Borderlands. Mojang's own announcement about the game confirms it will be released for Xbox consoles and the PC, among other platforms.
Source: Telltale Games
I just peed myself a little . . .

Pooped my pants... This is great

Latest extras+ info update shows RAM

That is a relevant topic, congrats

Will there be a "pocket edition", just like Minecraft? Are mobile platforms included in "among other platforms"?

Toan Le... stop being lazy and acctually read it!

Anyone else find this a weird mash-up?

I think it makes a ton of sense, actually. That's what TellTale does: takes established franchises and converts them into story-driven, choose-your-own adventure game, which is pretty much the perfect format for a story-driven version of Minecraft. The interesting parts are that it's a standalone product and not DLC, and that it's coming to mulitple platforms instead of being an Xbox exclusive (or at least a timed Xbox exclusive). Yes, Microsoft vowed to keep Minecraft multiplatform, but that didn't necessarily hold for any spinoffs, which this is. I don't mind it going to other platforms, as long as they don't muck it up like they did MInecraft: Pocket Edition and eschew Xbox integration in the Windows and Windows Phone versions, but I would probably at least have short, timed exclusivity period on Xbox, Windows 8, and Windows Phone first before porting to other platforms. That way Microsoft can set a precedent that is more than fair: You want Minecraft updates and games first? Xbox is where that happens. You don't mind waiting? No problem, we'll bring it to your platform eventually. Hang tight.

Making a story driven spinoff for a game with no story though... I definitely wonder how it will turn out.

Every day new games are made that previously didn't have a story.

I think that one went a bit over your head, mate ;)

Hey! Disney made a movie franchise out of theme park ride, Pirates of the Caribbean.

Sounds fun, will add some direction to my ending wondering in Minecraft maybe

And to the Minecraft Movie

If our dear Microsoft made minecraft syncable with both pc and Mobile, i would buy it. But its not, its not even an xbox title on the store.

Why only PC/mobile? Go further and add Xbox One and Xbox 360! Lol, do you know that every platform has limitations? Not all worlds can run on every device.

It doesnt run now, but its up to Microsoft to at least try

If you want MInecraft: Pocket Edition on Windows Phone to be Xbox-integrated, be active and tell @Microsoft and @Mojang directly, along with their heads, @XboxP3 and @jeb_, via #SaveXboxWP (details here).

Warn me the day that asking big companies to do something really pays off, until there, its useless and hopeless

There is actually quite a bit of evidence that Microsoft listens to customer feedback, especially around Xbox issues.

Dude you seriously need to just put your big girl pants on and grow up. People have been getting tons of requests fufilled thought the exact links you've been shown. Instead of remaining ignorant, why don't you do a little research for yourself and see what actually goes on around you.

I never understood why Minecraft is so popular. If you want a building game with RPG elements go play Terraria. Terraria is where it's at.

How many people make gameplays, mods, skins, custom maps and multiplayer games to terraria? How many people have terraria based channels on youtube, how many people watch it? Hm

Lots except you aren't looking hard enough Posted via the Windows Central App for Android

Why would anyone play such a crappy looking game? Please I would really like to know.

Because sometimes I'll play it for the fact that I can get a grouo5of friends together with a cool mod pack and have fun for about a month. Then we try a new pack. Endless replabilty, great community support, it's just a fun time to have with friends. Alone? Not so much for me. Get 4 or 5 guys together and try to survive through Blood & Bones or load up Attack of the B-Team and build amazing technical machines. Possibly are "literally" endless. Posted via Windows Phone Central App

Because real gamerse don't care about graphics; they care about gameplay.

If all you care about it pixel count, you don't know what actually makes a good game.

just because a game has crappy graphics doesn't mean it's bad so you can stick to your mylittleponie and good graphic games and I'll stick to terraria and boulders gate and all the other amazing crappy graphic games because that is what makes a good game not good graphics.

Teltalle is doing awesome job now all they need to realese Is The Walking dead 3

Does this mean that this game is also going to appear on Playstation consoles?
Windows Central Newsletter
Thank you for signing up to Windows Central. You will receive a verification email shortly.
There was a problem. Please refresh the page and try again.