Minecraft: Story Mode skin pack launched; free until April 12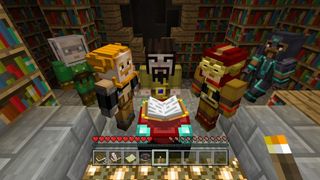 Minecraft players can now add character skins based on the recent Telltale-developed episodic series Minecraft: Story Mode into their worlds. Mojang has released the Minecraft: Story Mode skin pack and it is currently free to download for all editions of the game, including the Windows 10, Pocket and console versions.
Xbox Wire states (opens in new tab)
The pack is free to download until April 12, after which it will cost $2.99:
Download the Minecraft Windows 10 Edition Beta (opens in new tab) ($9.99)
Download Minecraft Pocket Edition from the Windows Store (opens in new tab) ($6.99)
They changed the tile art for Minecraft: Windows 10 Edition; it lost the Xbox Live banner.

It doesn't have the xbox live banner in the app list, but it does if you pin it to Start.

Umm, no. It's still there on my PC.

I'm not seeing it on the pocket edition. Is it America only? Posted from my o2 joggler.

I had to update the app first, it doesn't show (on mine) in the store under New and Top in app purchases - but after you update the game you can go into it and click skins and it should be there. After that, click on one of the locked skins and it will ask you to purchase it for $0.00. I am in America though so I can't verify that works for other regions.

It had an update on ps4 and the skin is available.
Thanks for the info. Posted from my o2 joggler.

For some weird reason the game keeps telling me it can't connect to the Store and asks me to check my internet connection. But the connection is actually working pretty fine. (I could post this comment here, so that's proof!)

Same here. Hope they will fix this. Win 10 Edition Beta, from Germany btw.

Here too. Posted with the Windows Central app for Windows 10 on HP 250 G1 notebook. It is a scary old monster, I think :D

I also can't buy any skin, even paid ones, the pop up window with Store icon just appear and disapper within 2 seconds, and nothing happen at all. Internet and buying other thing from store works fine, it's minecraft issue.

Okay, I just tried again. I was able to buy it. :)

Here are the direct links to 'purchase' the console skin packs (from the Xbox Wire link above): Xbox One: https://store.xbox.com/en-US/Xbox-One/DLC/Minecraft-Story-Mode-Skin-Pack... Xbox 360: http://marketplace.xbox.com/en-us/Product/Minecraft-Story-Mode-Skin-Pack...

free is good i am unsure if i will pay minecraft for quite some time.

So, how do we do to have it on the PC? ______________________________________________ samsung galaxy s6 galaxy s5
Windows Central Newsletter
Get the best of Windows Central in in your inbox, every day!
Thank you for signing up to Windows Central. You will receive a verification email shortly.
There was a problem. Please refresh the page and try again.