Minecraft: Windows 10 Edition Beta now rolling out via Mojang [Update: Now on the WIndows Store]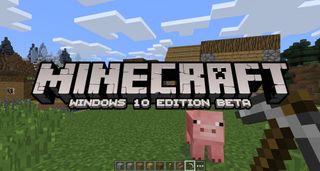 If you're a big Minecraft fan and upgrading to Windows 10 over the next 24 hours, you'll be happy to know that Minecraft: Windows 10 Edition Beta is now rolling out to those who already own Minecraft and have a Mojang account. As a refresher, the Minecraft: Windows 10 Edition Beta will include features from Minecraft: Pocket Edition, along with some extras:
Craft, create, and explore online with up to seven friends playing Windows 10 Edition Beta, through local multiplayer or with your Xbox Live friends online.
Play online and local multiplayer with other Pocket Edition players thanks to a free update, due to arrive soon after launch.
Multiple control schemes! Switch between controller, touch, and keyboard controls with little to no effort! Record and share gameplay highlights with built-in GameDVR.
Help shape the future of Minecraft: Windows 10 Edition Beta with our built player feedback mechanisms!
Chickens, zombies, pigs, boats, armed skeletons, potatoes, zombies, baby squids, enchantment tables, villagers, naked sheep, iron golems, potions, ghosts, pickaxes, carrots, and all the weird and wonderful goodness you've come to expect from Minecraft.
Again, the beta is now rolling out via the Mojang website via the account page. Users who already own Minecraft will simply have to log into their Mojang account and click "redeem" on the account page. From there, you log into your Microsoft account and start downloading the game for free.
It's important to note that the game isn't yet showing up in the Windows 10 Store, so going through the Mojang account page is the only way to grab Minecraft: Windows 10 Edition Beta at this point.
Update: It looks like the game is now live on the Windows 10 Store, and appears to have a free trial as well. You can check it out and download it from this link (opens in new tab).
Source: Mojang
Thanks for the tips!
Windows Central Newsletter
Get the best of Windows Central in in your inbox, every day!
Dan Thorp-Lancaster is the former Editor-in-Chief of Windows Central. He began working with Windows Central, Android Central, and iMore as a news writer in 2014 and is obsessed with tech of all sorts. You can follow Dan on Twitter @DthorpL and Instagram @heyitsdtl.
Yepp, sure was! Now just waiting on official Windows 10 tooling for Visual Studio 2015 :)

What? If I have bought Minecraft I can get another Minecraft Edition which has less features? Sounds awful.

Its the beta. It'll have more features later on

Plus it already has some features that the Java version doesn't have. And at only $10, it's a great buy. I was on the fence about upgrading to Windows 10. This made it an easy decision: finally, some PC Minecraft with Xbox achievements. Boom.

It's called beta for a reason.

There are multiple versions use what you want

It's free and has pocket edition controls for things like hp stream tablets

Oh, now it makes more sense now. Thanks guys.

Looking forward to trying out Minecraft.

Glad you visit us! I'm glad my pocket edition purchase wasn't for naught.

You should live-stream yourself building some ziggurats as soon as possible.

Sam's going to be busy trying to build Halo out of Minecraft. I can see it now.

Damn, got an unexpected error after redeeming code.

The URL is actually broken. When being redirected to the Microsoft page, you have to remove the #/ at the end of the URL and hit enter again. Then you can redeem your code on the Microsoft page.

If I buy this (when it shows up on the windows store) will I also get access to the PC version (Java version, whatever you want to call it, the original one) as well? I know it goes the other way (if I own the PC version I can get this one) but this would be interesting news.

Doubt full. Just buy the full version.

There's a $20 difference between the two. I've been interested in trying out Minecraft, but not for $30. If I can get the full version (or if this Windows 10 version will become the full one, or equivalent) then that is money I might be willing to spend.

30 is so much ... Oh no... I have pe.. Xbox one.. And pc.. A good game I worth supporting!

There isn't any call to rude or snarky. And yeah, $30 bucks can be a big deal when you live on a budget. I can justify $10-15 sometimes for entertainment things, but $30 (especially $30 for something that I might not like) can be a real deal breaker. Plus I have credit from Bing searches for the Windows Store so I can get it nearly free there and that helps.

Then download the demo from the website and try it out. When games are typically 65 to 100 now... 30 isn't much...

When last I looked, the demo wasn't enough to give a good idea. And games are only that expensive when buying near release, I can be patient and catch them on sale (particularly Steam sales). As a student who is paying his own way through school, I have to be careful where I put my money.

Do your research then.. Start with watching live players on twitch.. Move to help/tutorials on YouTube. I want a 15 page essay done by Monday on why continuous feature updated games can not be compared to games that are released then not updated. ;)

I'm not sure what region you're in, but Minecraft on PC (Java) in the U.S. is $26.95, not $30. And if you buy it, you get the Windows 10 Edition version for free ($10 value). So if you're interested in mods, I'd buy the Java version and then get both. Otherwise, you're totally fine paying the $10 for just the Windows 10 Edition version. That's the one I'm buying. It'll be able to pair up with the Windows Phone version of Minecraft: Pocket Edition, and it is possible that it might work with the Xbox One edition and HoloLens edition of Minecraft in the future too, whereas the Java version won't be able to. I say, buy the Java version and get both, if you can swing the extra $17, otherwise you can't go wrong with the $10 version.

LOL, zombies made the list twice.

This must be a bug. Just click to buy that it's going to download without charge.

I'll try it when I get home.

You don't get the W10 Edition for free if you bought the pocket version. I don't own any versions, but might get the Windows 10 version whenever we can buy it

i cant reedam the key i got from the on the store at so

Tried it; the store had some kind of error when I was redirected there to download the game. Now I can't get back to that page because I've already redeemed the code :P

Update: managed to find it under "My Library" in the Store app.

Same thing happened to me, but I can't find it under "My Library" :(

cant even redeem my key on the microsoft site to my account at all

My question is, what is the difference from this version to the "normal" version? :)

Me: You mentioned zombies twice. WC: (said very slowly) I LIKE zombies...

It runs only on x64 cpu's, so i cant play it on my asus t100..

It's a very early beta right now. Hang tight.

I have x1 version will I get it free?

No, but you can play the Xbox One version that you own. Or pay an extra $10 and own both. That's what I'm going to do, with the hope that someday my worlds will sync between the two.

Doesn't work on Microsoft's end :/

Microsofts redeem pages sits in a forever loading state after I try to redeem with the code.

I GOT IT! Spent the last 10 minutes trying it out and I'm super curious what engine they are using. Something about the textures looks different and Im getting AMAZING frame rates! Could this be the work of DX12???

Anyone playing on a Lumia 1520 or hp stream 7?

"To use this app, you'll need a device with more features. For details, see Additional Info." Guess what? Got that message on both a Switch 10 and my 925, and there was nothing in the Additional Info section explain why. :/

Minecraft gaming for Xbox One and PC users together, is such a great feature.

im getting realy low frame rates, anyone know how to fix this? (I have a GTX 970 btw so its not that)

the install button is grey but I have an x64 CPU.

Guys I have a question? If I upgrade to windows 10 can I still use the pc verison of minecraft or is windows 10 edition something I have to live with?

Ok i redeemed my free version yet it says in game i can only play for 90mins due to me having the demo?

OK, so I bought minecraft yesterday and today I try to play and it tells me I have to purchase the game......WTH gives.....I already did!? Checked my bank account and it has shows it is paid for......makes no sense to me.
Windows Central Newsletter
Thank you for signing up to Windows Central. You will receive a verification email shortly.
There was a problem. Please refresh the page and try again.