Mini Review: Acer Iconia W510 Windows 8 Tablet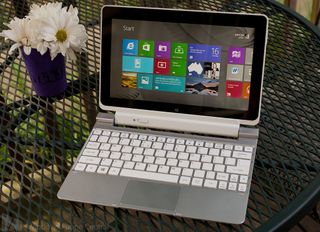 Windows 8 tablets are a great option for those wanting portable, compact options for their computing needs. We've taken a look at the Samsung ATIV Smart PC and now we turn our sights on the Acer Iconia W510 tablet.
The Acer is a smidgen smaller than the Samsung or even the Microsoft Surface series, sporting a 10.1" CrystalBrite LED-backlit TFT LCD instead of a 11.6" screen. While the W510 may be smaller, it doesn't skimp on features. The Acer Iconia W510 is a really nice option to consider if you're in the market for a compact Windows 8 tablet at a decent price.
The tale of the tape has the Acer W510 coming in at 10.18 x 6.6 x .35 inches and weighing 1.27 pounds. The design of the W510 has a headphone jack, screen rotation lock and power button along the top of the tablet.
Your volume rocker, micro HDMI, micro USB and micro-SD card slot sit along the right side of the tablet. Speakers rest on the sides of the W510 and while volume is good, the location of the speakers isn't the best. You have a tendency to cover the speakers when you grasp the tablet, essentially muffling any hopes for good volume.
The W510 has a 2MP front facing camera and a 8MP rear facing camera. Along the bottom of the tablet is the docking ports and charging port. The Acer uses a proprietary charger and it would be really nice if tablets adapted a universal charging style like our Windows Phones have (a micro-USB charger would be really nice to have for everything).
The 10.1" screen is protected by Gorilla Glass and looks really nice. It's responsive to the touch and doesn't do a bad job of it outdoors.
Under the hood, the Acer is powered by a Intel Atom 1.8GHz processor that moves things along nicely and helps give the tablet really good battery life (about 8-9 hours). The W510 is fitted with 2GB of RAM and 32GB of storage (there is a 64GB model). 32GB is a little on the short side but manageable, especially if you take advantage of the micro-SD card slot.
Performance wise, no complaints on the W510 when used as a tablet. It gets great battery life, runs Windows 8, has Wi-Fi and Bluetooth 4.0, and NFC support.
If you want to take things a bit further, Acer offers a keyboard dock for the W510 that converts the tablet into a mini-laptop. As an additional bonus, the keyboard has a battery on board that extends the W510's battery life to about 18 hours.
The keyboard has one USB port and adds a little heft to the tablet but not enough to pull a muscle. The hinge rotates 90 degrees to allow you to prop the tablet up for watching movies or video conferencing. I prefer using it this way "tent" style but you can also lay the keyboard face down. I'm just not a fan of laying a keyboard face down on surfaces.
When docked, the W510 reminds me of the 10" netbooks that were popular a few years ago. The keyboard dock compliments the W510 nicely. My only complaint is that for me, the keyboard is a little on the small size. It would have been nice if Acer could have found a way to add a little elbow room to the keys.
Compared to the Microsoft Surface, it's hard to beat the Surface with regards to build quality and design but the Acer W510 can hold it's own. You do have a smaller screen but the Acer runs Windows 8 (when compared to the Surface RT) and costs a few hundred bucks less (when compared to the Surface Pro). What makes the Acer shine is the keyboard dock. The rigid hinge allows the W510 to perform like a laptop and the extended battery life gets you through the day easily.
I think the Acer would have been better served with a 11.6" screen which would not only give you more screen real estate, but also allow for a little more elbow room on the keyboard. While I have my reservations on the keyboard size, I will admit that every time I use the W510 the thought of replacing it with something larger fades. It's a really nice tablet.
All totaled, the Acer W510 is a really nice Windows 8 tablet. The keyboard dock is running in the neighborhood of $149 and the tablet is currently on sale for $399 here at the Microsoft Store (opens in new tab). Other retailers (Best Buy, http://Amazon.com, etc.) offer the W510 in the neighborhood of $499. You can also find the tablet and keyboard dock bundled in the neighborhood of $625.
Windows Central Newsletter
Get the best of Windows Central in your inbox, every day!
George is the Reviews Editor at Windows Central, concentrating on Windows 10 PC and Mobile apps. He's been a supporter of the platform since the days of Windows CE and uses his current Windows 10 Mobile phone daily to keep up with life and enjoy a game during down time.
Wish I got this instead of my Asus with non removable touchscreen.

I bought it a couple months ago and couldn't be any happier. Being able to detach does screen does come handy. The HDMI connects beautifully to my 55 inch Samsung

Bought that Asus for the wife. Wish I bought a second Ativ, or this one instead.

Mine won't keep the sound and video in sync on iTunes which is quite annoying

I have the surface Rt and the Acer Win8 and I use my Acer way more. The surface is my show piece

I've had a W510 for just over two months now and I love it! It's practically replaced my other computers as my go to device as it's so versatile; I can hold just the tablet part and use it like an iPad but I can click in the keyboard dock and open up Word or Photoshop and do some real work, it's pretty great.

My last device was 11.6" but I gotta say the 10.1" form factor has really grown on me as the ideal size for a portable yet still workable device; Any smaller and the desktop becomes unusable and any larger it becomes more difficult to hold with one hand.

Regarding the speakers, if I'm just using the tablet I hold it upside down (the screen rotates itself in under a second) to solve the problem of covering them up, unless you're Skyping it's never really proved an issue to me. Though ideally in the next version this would be changed somewhat.

The only thing it's missing is a Wacom digitiser and it would be the perfect device (by current specs standard).

Sure, I still have to go to my i5 device and desktop setup if I'm doing some intensive work or want a larger screen to work with but it handles most things really nicely, pretty surprising for an Atom really. Office opens quickly, even the Adobe suite (Photoshop, Dreamweaver etc.) doesn't take too long to open up and once they're open they work pretty well (I've never experienced slowdown with Dreamweaver but Photoshop did start to struggle when I was working with larger files. Still, this wouldn't be your workhorse device so that's not a problem).

I'm really looking forward to a revision of this early 2014 with a next gen Atom, more memory, maybe a slightly higher res screen, and a Wacom digitiser. I'd upgrade in a heartbeat!

I also have 510, I think 10" is too small and I hate the bad keyboard. I'm getting a 13" that will be perfect for me. The new HP Split X2 with 8gb ram and an extra HDD in the keyboard looks great.

if you wanna 13" you can go for asus transformer book,its not so cheap,but its nice,i used it litl in store ....

Considering the new Atom will be octacore and run out of order execution (random instruction per second) or RISC, you're going to really like it.

RISC, is what all of the ARM processors are based on. So this should make it blow the doors off of android/idevice stuff next year.

The new Atom is up to 4 cores, not 8 cores, according to The Verge.
It's CISC with micro-operations, not RISC.
Otherwise yeah.

The current batch of Atom-based Windows 8 tablets is very good considering it is the first batch and using a quite dated CPU. The next wave of Atom-based W8 tabs looks very promising considering how faster Silvermont will be, and even the Windows 8 itself will be lighter with the Blue update.
I can't wait to have one of those upcoming Silvermont-based tablets on my hands, preferably a Surface, but an Acer would be nice too...

The question is whether Intel will continue to cripple Atom systems by restricting them to 1366x768, 2GB and USB 2.0.

As far as I'm aware all those restirctions are gone in the next Atom so we'll probably see some Full HD screens with 4GB and USB 3.0 by the end of the year. Or fingers crossed anyway.

Still, While I'm still attached to my desktop, I'm not sure I'd want Full HD on a screen that small, hopefully they'll offer some different options, I'd go for a 10" screen with 1440x900 or something around that.

I bought this cause Dan kept mentioning it on the podcasts a few months ago. Can honestly say its a top device. Glad i bought it. The wife has a Surface RT which is nice but im glad i went with this one.

Does the mini hdmi support all resolutions?

Supports up to 1080 p I believe. It supports 5 in total. Not to shabby

Why are there no video 928 reviews het?

Doesn't Best Buy match online websites now? If so, I might head on over and pick one up.

Sit tight, wait for the next iteration with the new atom processor and profit form 8 cores and RISC processing. I won't be surprised to hear that windows 8.1 will take advantage of RISC processors which will really give Qiualcomm and Nvidia a run for their money. Can't wait.

This would be nice, but is obviously not true.

Seriously, apart from maybe your toddler, who holds the 9" screen with a deathgrip? I thought it was common knowledge to cup your hand around the speaker so that you would get the acoustic benefits of doing so.

Ordered one on Ebay yesterday and I'm really excited to get it!

I'm not concerned about being screwed over if that's what you mean. I bought it from a top rated seller.

I don't want to be a troll or anything, but that hinge looks as ugly as sin :S


I'd been using this for some times, it is a really good built products. The Acer Iconia W511 come with buildin GSM module, with a SIM card in, can serve internet already
,

I use my w510 everyday mostly in laptop mode. Battery life is fantastic. In tablet mode my only complaint is the battery will get hot on the upper right corner. Sound output is amazing compared to the surface rt.

Yes I've been looking for a tablet with Windows 8 not Rt have the Surface RT right now gonna get this also YOU SAID WINDOWS PHONE 8 PRO

How is the virtual keyboard on Windows 8 tablets? Do they do a good enough job or do you have to get a physical keyboard?

The virtual keyboard is actually excellent. The only thing I don't like is the Tab key requires that you hit the mode key first. I have a Surface RT.

If you have been using wp8, you will be mega frustrated by on screen keyboard on win8.

Hey, you said it runs Windows phone 8 lol. Most of us know you meant windows 8 lol.

As many times as I write or say "Windows Phone" in a day... it's habit forming.

Coming from someone who had the w510 and returned it... It has much better build quality than Samsung ATIV, poor trackpad is also fixed via Acer updates... But, atom sucks... And worse than that, the touch interface of Windows 8 sucks big time as compared to wp8. Drop down lists on ie metro are a nightmare, and the touch screen keyboard could have learned some basics from wp8. In short, it was not worth spending £550 on...

I agree. Windows RT and Windows 8 tablets are overpriced, especially in the UK, because these companies seem to think the exchange rate USD:GBP is 1:1. It should be 1.5:1. Newsflash - we're not buying them until you reduce the friggin prices.

Newsflash - Pricing is not determined by exchange rates. It is determined by supply and demand. Not that we know what the demand for W8 tablets currently is. Just saying though :p

I have the old 500w 10.1 running Win8 and a Samsung Ativ Pro. Both are good in their own way and from experience with those I think I know what I'm going to do. I will get an 8" RT tablet with the Intel Baytrail atom cpu and a 12-13" Pro hybrid with the new Intel Haswell CPU if these chips are as good as they sound. I think they will be just what I need ;-) from power requirements to battery life

Still holding out for a Nokia/ Lumia Tablet this year.

I hope there is a Nokia tablet id kill to get one! But using surface rt in the mean time witch is still cool :)

The w510 remains one of the best purchasing decisions I've ever made. Bought one last year during the black friday microsoft deal. Used it for arduino programming on site among other things. It's more convenient lugging around a windows 8 tablet than a laptop. Except for the slight decrease in performance when using resource heavy applications, this baby can do everything a laptop can do. During the family christmas party, my brother hooked this up to a DJ mixer and using virtual DJ was mixing christmas songs doing scratches on the touch UI and grinning like a fool! I've used it for everything and I have no complaints with the device itself. My mom is visiting my brother in the US and since my brother only has Macs, I lent her my w510. She is not into tech and abhors having to relearn how to use windows but since there was no other option she was forced to use the interface. She's now pestering me to upload more books to read on her skydrive, demanding I put netflix on it, and was obliquely saying that she might not return the tablet to me when she comes back. I might just give her a w3 since I really like my w510. This is an insanely great tablet. It's a full windows 8 tablet that I could take everywhere. changed my avatar pic so you can see how it looks like connected to an arduino uno

Rather wait for 7 or 8 inch windows 8 pro tablet size

This is an excellent tablet ... If you have a wirelesd keyboard... No need to go for a dock!

Try find one in Switzerland or Germany.... They sell like Donuts, they are always quickly out of stock. Even more so since Chip.de considers the W510 the best value and most serious tablet after the iPad, ahead of all Android tablets. Those press MS haters are twisting reality, W8 is changing the landscape!

Absolutely!!! It is a serious tablet. @ihavewp8, I think waiting for a 7 - 8" windows tablet would not be a good idea. With a 7-8" screen realestate your tablet would probably be good for nothing more than book reading, photo frame, or just another multimedia tablet and we have a glut of $50 7" android tablets around. I bought a windows tablet because its a computer and the screen should be big enough that you can use it as one but still light enough to be truly mobile. I posted above how I used my w510 to mess around with an arduino board and also a numark mixtrack pro. I probably would not have been able to do that with a small screen. I've changed my avatar again so you can see how w510 looks like when you're using it with a Numark mixtrack pro ( DJ equipment).

Fry's is currently showing a sale price on the Samsung ATIV device: http://www.frys.com/product/7558926?site=sr:SEARCH:MAIN_RSLT_PG
Would that be worth it? I still like the ASUS but wanted to get feedback.
Thanks,
Murad

does any one know if you can install visual studio express or mono develop , for monogame
i was thinking of doing some programming on this tablet
Michael


I just ordered my second Acer W510 with the keyboard from Ebay for only $425/Free Shipping! I think there is one more available right now with the same price.

I bought my first W510 in December 2012 for the then-discounted price of $730! But no regrets: I simply love this device. The new one is for my wife who has grown tired of the tiny Nexus 7 screen.

The W510 is simply the best value computing device I have ever owned/used by far!

Is this model,acer iconia w510 still in sale..?? i have heared that its production has been banned all over..?? please lemme know this....!!!