Mini Review: The Samsung ATIV Smart PC 500T Tablet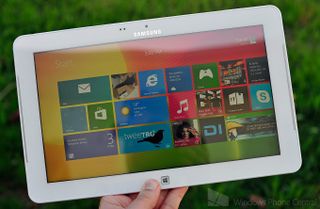 Since we're heading off into the weekend we figured we'd leave off with our quick impression of the Samsung ATIV Smart PC 500T Tablet. Whew, that Samsung does not mind a long name, for sure.
So why are we doing this? Same reasons as always (1) I bought one this week (2) many Windows Phone users are also shopping around for tablets/hybrids and PCs. Let us be the guinea pig to test 'em out for ya.
Head past the break for some photos and our hands on video tour of the device, including our thoughts.
The Samsung ATIV Tablet did not initially impress me when it was first released late last year. But walking into my local Microsoft Store (the only place I'll buy Windows 8 hardware due to their Signature treatment aka no bloatware) I was immediate wowed by the all-white version, which I did not know existed. Indeed, I think only the Microsoft Store and in Korea is the white option available as opposed to the grey/gun metal color which I find so drab.
Features
The ATIV Tablet features some impressive specs:
Windows 8 (full)
Intel Atom 1.8 GHz CPU
11.6 in SuperBright Plus LED (1366 x 768), 5-finger multi-touch support
Wacom digitizer and S-Pen
Dual front-facing speakers (1.6W)
64GB Storage (~30GB available due to full OS backup); microSD expansion
HDMI out
Bluetooth, Wi-Fi, NFC, Global Navigation Satellite System (GNSS) receiver
1 USB 2.0
2 MP front, 8 MP rear cameras
Around 9 hours battery life
Optional full keyboard with 2 extra USB ports
Windows Experience Index: 3.2
The white version currently goes for $599 plus an extra $124 for the keyboard (opens in new tab), though on Amazon you can order the grey version with keyboard for just $620 (opens in new tab) (DEAL ALERT).
Impressions
I've have/had the Acer W510 and Surface RT to compare this device too and while each has their advantages, the Samsung ATIV Smart PC tablet is quite impressive. Look, Samsung knows how to make hardware and while this device is very "plastic" it's also a very comfortable 1.65lbs. It's well built, doesn't creak and even has plugs for the keyboard dock holes to keep the device smoother looking.
The cameras are decent, the CPU handles Windows 8 just fine (for everyday tasks), you have plenty of storage (relatively), GPS and NFC and did I mention the kickass Wacom digitizer and S-Pen for handwriting?
That handwriting addition makes the keyboard…less important to have. Sure, if I were writing out a long article, email or paper I'd prefer a keyboard but for light data entry? The S-Pen is quite fun to use and allows you to use this as "just a tablet". Because as soon as you add a keyboard, the dynamics of the device change: you now act like this is a laptop and things feel a bit slower when you use it like that. Sure you can, but if you're use to an Ultrabook running Photoshop, you may get frustrated.
The speakers are dual, front facing with 1.6W of power and while they're not mind blowing, they're certainly better than most other Windows 8 tablets we've tried (and your hands don't block them when in use).
The ATIV Smart PC Tablet is a solid, well-built tablet. I like the size, the price, the performance and especially the S-Pen for note taking (I don't think I'll ever buy a tablet without one again).
Samsung may be cold on Windows Phone, but they can still make a compelling Windows 8 tablet (even if it looks like a big Focus 2).
But wait…
There is one thing that bugged me: Samsung's stupid "update" software. They have their own proprietary update service that in theory, is a good idea. It checks for updates for everything: the OS, drivers, BIOS, etc. Thing is, I literally had about 1GB in updates to do and on an ATOM processor, that's an eternity.
It probably took upwards of 3 hours to update the whole device and that was after I ran into issues with the OS not wanting to update itself. For instance, I skipped Samsung's update utility (didn't know it was there) and dived right into the Windows Update. It found 34 patches and when it went to install, it would just hang. I have no idea why but it was only by going through Samsung's updater that I got it all to work.
Frustrating.
Of course now that I'm over that annoying hump, everything is just peachy and I've been enjoying the device so much I almost forgot about that incident.
Get the Windows Central Newsletter
All the latest news, reviews, and guides for Windows and Xbox diehards.
Daniel Rubino is the Editor-in-chief of Windows Central, head reviewer, podcast co-host, and analyst. He has been covering Microsoft since 2007 when this site was called WMExperts (and later Windows Phone Central). His interests include Windows, laptops, next-gen computing, and for some reason, watches. Before all this tech stuff, he worked on a Ph.D. in linguistics, watched people sleep (for medical purposes!), and ran the projectors at movie theaters because it was fun.
Hey Daniel, I also own 500T Tab but in blue. The background color you've got, my tablet didn't come with it by default.

I use an app called Decor8 by Stardock software, allows you to change the background ;) Highly recommended.

Nice. I will definitely look that up. So far I love my tablet. I have people walking up and asking what tablet us this. Oh one more thing, try to get the NFC to work cause I tried (for a very brief moment) and didn't work

I wish they have this for the surface RT...:(

Unrelated... So what was the big surprise that Joe.B had in store for us??

Probably the Facebook beta.

Great app! Wish they could make it for WP so we could put a wall paper up!

This would not work, as Windows Phone 8 restricts such things.

Yeah! That's like THE BEST app to break out of Windows 8 wallpapers.

Is it possible to send me your background it's wonderful plizz?

Hey, are we still owed a 720 review?

Patience! We like to properly test devices and don't shout "FIRST" like some other blogs. Soon :)

I can assure you that it is a great phone! A friend bought it, switch from a droid. LOVES it. Great value for its money, like always. Turns out it has better night photography than xperiaZ, s4 and htc one(this one im surprised)

Dear Windows Phone Central Will us owners of the Ativ S get any exclusive updates to our unpopular Windows Phone 8? I always hear about Nokia delivering there exclusive update features but none on the Ativ S. :(

No, no updates for you. That's your punishment for buying Samdung.

Why is it a punishment if he chose one device over another? Why say Samdung? Please do everyone a favor and get off your high horse and grow up.

But if you get off a high horse, don't you shrink down?

Its ok i found your comment comical and did not hold a grudge. You are right though i should of got the 920 but at that time the Samsung was the better choice for me expandable storage larger screen removable battery and a lot thinner. If i had known that Samsung were not gonna add exclusive features for there device then i would of chosen the 920. Even though i have no problem with my current choice of phone i love it but i like the new features that Nokia are doing with there phone. So next WP i will get the Nokia flagship device hopefully Microsoft bring out the 1080P display update.

Am I the only one with a sense of humor on here? If I wanted it to be offensive it would be a lot worse than that. I can get very offensive if I wanted, but I didn't. It was supposed to be funny. Maybe my sense of humor is a little dry, I don't know. If you took offense to that. . . You need to get a sense of humor, and like enlightened said, lighten up bro. Mr. Morris found it comical, and that's who it was intended for. Ps. I don't own a horse

Hello fellow Ativ S owner. I think you already knew about Samsung's reputation on 'exclusive updates' before you made the decision to purchase. There is no chance in this world, or in other universe, that Sammy would give you more updates or exclusive apps compared to Nokia. Compared to HTC, well that's a different story.

That is the down side to choosing Samsung over Nokia. Nokia is investing everything in WP so they have to create these exclusive updates to stay ahead of the other OEMs. Samsung would much rather invest their time In other platforms, and they don't even do things right there either. ;)

That's the point though, Nokia has "bet the farm" on Windows Phone so they have to throw all their weight behind it. Samsung aren't concerned with Windows Phone as Android is their primary focus. Sure they release a couple of phones running Windows Phone and add their own apps to it, but otherwise they aren't interested because they have nothing to lose unlike Nokia. However, I bought my ATIV S for the same reasons as others, unlike the Lumia 920 it has a removable battery and expandable storage and that's without even mentioning the fact that it has the biggest screen of any Windows Phone on the market at 4.8".

Awesome review dan be great if Nokia does a Nokia tablet some day

I got this tablet brand new for a fantastic deal about month ago. It is fantastic does everything I need! I also have a surface RT that I no longer use. I love the surface RT but it wasn't what I needed sadly.

U wanna sell ur RT then?:)

Actually I am thinking about selling it.

I'll buy it. How much? :P

Indeed a very solid review. I can't wait until OEMs start making Windows 8 tablets with similar specs to this under 10 inches.

Great review and my thoughts exactly:) I want 7 and 8.9

Still a year away from decent devices based on the Quad Core Atoms with 1080P for under $500. Some lightly used on EBay for decent prices now
Truly a Netbook

This is the best "pro" tablet for the money in my opinion. I own this same model as well and have been very impressed with it. I did sell my surface RT, but i miss the touch cover a lot. That to me is the killer surface feature that no one else can or has replicated yet. It does have some nice cases and works very well with bluetooth accessories...but thats just more stuff to carry. All in all i still prefer this to the surface rt since it does run full windows 8 and kills on battery life...but when you need that keyboard and mouse action on the go, this really falls short. But then again, this isn't my first choice for a productivity tablet anyway, thats what the surface pro is for.

You Guys Need to do a review on the Acer Aspire R7 when it comes out!!

Daniel, I read in other reviews that the keyboard disconnects frequently. Is this still the case after that eternal update process?

Have you tried using the NFC? I haven't figured out how to get it to work.

Daniel, where is the nfc located? I haven't found it on mine yet....

Also, FYI, I wasn't able to do Windows updates until I did all the Samsung updates, so don't assume it's broken if you have that problem.

Not every one of these models have NFC.

I have tried them all. Asus VivoTab Smart is the best if the bunch.

My favourite is the HP Envy X2. It looks good, it's well built, and I really like that the keyboard dock also has its own battery.

I looked into getting the full blown win8 on the 500t. (499 @ staples right now) but for me the surface rt fulfilled my needs. And I have to say, as far as build quality goes the surface meets or beats the iPad 4 in design and structural integrity. With The added ultra thin keyboard cover, I am impressed!!!!! As the ecosystem goes.....Microsoft will get there!! The only thing I hate is the fact that apps purchased on windows phone store don't port to the windows 8 store.....why in the hell should I have to pay for fruit ninja twice???

How do you make the live tiles in windows 8 go back to the sliding effect?

type in "adjust the appearance and Performance of Windows" in the search charm. settings tab :-) and click or touch let Windows choose what's best for my computer

How much RAM in this? I'm about to Bing it but just asking so it can be added to the review. I hope it has 4Gb cause so far haven't found the "close to perfect" tablet because majority only use 2.

2Gb, 4Gb is found in the T700 with i5.

Could you please put down that extremely large phone...

I had this one with 3g modem for few months... But I finally just got pissed with it.
Battery lasts quite long time and that's nice... but don't even dream about using flash, because there is no hardware acceleration and Atom can't handle it alone. + whole widescreen tablet is cumbersome and screen half-time deciding that my one finger is 2-3 fingers and going randomly zooming around... Hell no, I rather even keep iPad and get normal laptop than return to this one ever.

Ok, after I watched the vid, I feel that this the better tablet to go with, at least for me.
I like that a keyboard is not needed(although I hope the software can recognize my chicken scratch handwriting).
But, I feel the windows tablet is still in it's infancy. Which is the only reason why I haven't gone out to purchase one. I want to see what better tablets will be available in a year(at the least at the end of the year) before I go out and buy one.

Bought one in the release day. Died after 7 days with blue screen of death. Got a new one and after another 7 days the wifi started disconnecting every 30 seconds so I gave up of Samsung for good. All those idiots can see is android android android.

why the hell would you use usb 2 in any product nowdays, even the low end ones; after using usb 3 and the speeds I am getting and time saving on file transfers, I would never even conside a device without a USB 3 integration; except perhaps a smartphone, but I am hoping Nokia brings microUSB 3 to its Lumia line sooner rather than later.


I never really looked at this tablet. But now I think I'll give it a good looking at.

Why are the tiles refreshing like that?


Re: pen vs keyboard
I think it's still true that most people retain more information from writing than typing, so you might be able to enjoy that, too :p

Dan,

I have the Samsung Slate 7...i5 1.6ghz, 4gb memory, I love the tablet. It is fast and I have seen bench marks against the Surface Pro and it's right in line (a hare slower in some apps do to a newer CPU).

I like the chages on the ports and speakers of that model. The T700 that I have has the speakers on the bottom, so I find that I end up covering them up just holding them. And White is my favorate color, I love the look of that one..

I never really tried the Pen on Windows 8, after your review there, I think I am going to play with that tonight a little...

Nice tab but, I wanted something with a little more beef in the CPU and the i5 gave it to me...(even with some games too)

Hi I need Some help I bought my avti 500t and the default language that came on it is Spanish and I need to change it to English can someone help me pls.
Thanks

I want your wallpaper and how to get clock on top screen start ?

I love my AVTI 500T1C, I'm hopeless with touch screen so having a keyboard is such a bonus.
No sure if this is the correct forum for my question.
I'm trying to download any app I created (as a complete novice and will NEVER ever do again), however having gone though all the everything would now like to use it, it is available on the Google Play Store. Does anyone know off hand if the AVTI is supported? Have looked at the VERY long list on google and did see it but hoping that I didn't.

i purchased a 500t for work purposes. I work in architecture and use this tablet on site for viewing pdfs versions of contract plans (blueprints). The unit is incredibly slow and quite often, completely unresponsive. Files take a long time to open and zooming them in is even longer. I had a Blackberry playbook before this and it opened files faster than the Samsung. I also installed microsoft office for excel, word and outlook. Emails are painful as there is a delay with every touch. Apparently the S-pen isnt available in Canada on the 500T either. As a last resort, i took it back to future shop, where i had purchased it and they advised that there is nothing wrong with it......2 thumbs down on this one and i look forward to using it for a frisbee! My playbook was way better!
EXTREMELY DISAPPOINTED!!!!!!!


I have had a Samsung ativ 500t Smart PC for about 3 years now. My only complaint is that the charging cord you have to be extremely careful. It's not a micro usb. I've been trying to find an adapter from this to a usb charging cord with no luck. I like this because I installed a sim card and now it works without wifi if I have to. It's been really convenient because some of the apps I use requires a flash player, which Android or Apple doesn't have I'm not an expert on computers so I may just not no any better. But for me, this has been a very good purchase,,

For the longest time I sat with the Samsung ATIV 500T (Canada) stuck on WIN 8 with some corrupt settings, finally figured out the recovery partition and how to access. Re-installed WIN 8 with all settings and SIM card connecting to the wireless network (Rogers). Then I downloaded WIN 10's media creator (somewhere on Microsoft's website) and created a USB stick / SD card with 4GB and used it to upgrade my Samsung ATIV 500T WITHOUT installing any updates from Samsung. The ATIV 500T is now running WIN 10 with Wi-Fi and Wireless connectivity. Don't expect this tablet to be anywhere near as responsive as the Surface but good for LIGHT internet use, it IS an Atom processor. Keeping my ATIV 500T for a while longer now. Hope this helps any ATIV 500T users out there. Didn't find a thread on the forums for the ATIV 500T.