Mirror's Edge Catalyst closed beta codes start heading out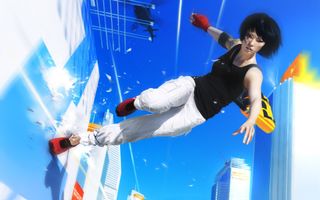 EA has started sending out emails to those chosen to participate in the Mirror's Edge Catalyst closed beta test. The email you'll receive contains a code, which you can enter on your PC, Xbox One, or PlayStation 4 to gain access to the beta.
As previously reported, the closed beta for Mirror's Edge Catalyst officially began today, April 22, at 13:00 UTC, or 9:00 a.m. EDT. The beta will conclude on Tuesday, April 26 at 16:00 UTC, or noon EDT.
Mirror's Edge Catalyst is a first-person action game that sees you put in the role of Faith, a runner in a futuristic dystopian city. Originally set for a May 24 release, the game was recently delayed two weeks to June 7.
Thanks to DavidinCT for the tip!
Windows Central Newsletter
Get the best of Windows Central in in your inbox, every day!
My partner got a code yesterday. When i watched it last night it was beautiful but saw quite a few bugs and the advert billboards were very low quality.
That's probably why they're delayed launch

Then again, this is a beta build they've likely had ready for weeks if not months.

Crashes a lot but that's to be expected being a beta, looks awesome and I loved the first game so I'll certainly be getting this.

It's a unique beta as it's single player where most betas are multiplayer. https://youtu.be/wGbbtGNCzzc

its pretty great! Much more fluid compared to the original.

I'm giving my extra XB1 invite away here: http://34.gs/uorm Make a post on my forum :)

Hello, I couldn't get a code for PC for US. I am a big fan of the first Mirror's edge, and have been looking desperately for a code before the beta close. I am willing to trade these codes for it: South Park: The Stick of Truth Lichdom: Battlemage Mad Max Year Walk I only can accept an US key for PC. Also, they are all Steam Key's Thanks

Edit : I got a code, thank you.
Windows Central Newsletter
Thank you for signing up to Windows Central. You will receive a verification email shortly.
There was a problem. Please refresh the page and try again.