Mirror's Edge Catalyst hits the EA Access Vault next week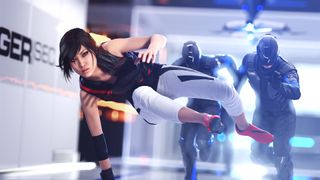 Electronic Arts has announced that both Mirror's Edge and Mirror's Edge Catalyst will be offered as a part of the EA Access Vault next week.
Both entries to the Mirror's Edge series will be accessible for free from Wednesday, November 9, provided you have an EA Access subscription. While the standard Xbox One version of Mirror's Edge Catalyst will be available through the Vault, Mirror's Edge will be offered as a backward compatible Xbox 360 title.
If you're interested in getting ahold of an EA Access subscription, one month and twelve month licenses are available for $4.99 and $29.99 respectively. Other titles such as Star Wars Battlefront and UFC are also expected to hit the service before the end of the year.
Are you looking forward to getting your hands on the Mirror's Edge games? Let us know in the comments!
See on the Xbox Store (opens in new tab)
Matt Brown is Windows Central's Senior Editor, Xbox & PC, at Future. Following over seven years of professional consumer technology and gaming coverage, he's focused on the world of Microsoft's gaming efforts. You can follow him on Twitter @mattjbrown.
Woohoo, I'm going to download it straight away.

Wow that didn't take long.

agreed. im glad i held out. and i cann't wait for star wars.

I'm glad I held out as well because I didn't like the game from the EA trial. but I'm really looking forward to Star Wars as well

I guess this will be the last mirrors edge game. That's sad

Why you say that? Lots of EA titles have hit the vault in around a year. It makes sense for them to fill the vault with more recent games to pull in the subscribers. Very few people will buy this game at full price now, most will just pick it up in a sale for around $10 or less. So putting it in a subscription based package will net them just as much, if not more dollar for the game.

This game was sold very bad compared to it's production cost.

the game is repetitive and boring. Open world is not good for this type of game. Parkour moves are cool, combat sucks... its mediocore at best

Yeah that's probably true. The first one was awesome. I only tested the reboot for a few hours and it wasn't even close to the original

Yeah, I'm really sad at how badly this game sold. One of my favorite franchises.

Between EA Access and Xbox Live Gold, I have very little reason to ever buy games! I have over 100 games on my Xbox One and have played very few of them. Cant wait to play Mirrors Edge 2 and Star Wars!

I'm like you, there is a list of games I want to get, like FH3, Farcray Primal, AC Syndicate and a couple others, but I can't justify the spending when I have a ton of games that I have still not played and really want to, like Thief, Dragon Age 3, Skyrim and Red Dead Redemption; games you can't just finish over the weekend, and some of them I actually bought. the one thing to get though will be my AE pass renewal in December for another year

From the Xbox games with gold program, I can understand that you didn't play them. Most are just indy games that have no appeal. Vault games on the other ends are EA AAA franchises and deserve a try most of the time.

I picked this up for my son a couple of weeks ago for Christmas.

If it's still shrink-wrapped, take it back to the store and exchange it for a 1 year EA Access Subscription. That way, he'll also have the first game, plus other games like PvZ 1 and 2, Battlefield 4 and Hardline, Loads of EA sports games, Need for speed and Unravel. Also Titanfall and Dragon Age are in there too.

and Star Wars was accounts to hit the vault in November as well

Just bought the game. Annnnnd now it's free. LOL

It was announced previously that it will be free to ea access members soon!

Is it a good game people? I've not played it yet?

If you liked the first one this is also pretty good, but in all honesty as said before, open World doesnt bring anything positive to the game.. I was/am a fan of the original, and bought this game as soon as it came out. I think my overall playtime to this day is 4 hours... That says a lot :)

EA Access. The best deal in all of gaming

In other news, xbox leads npd sells for the fouth straight month

EA Access is very good deal, I'm very happy I took it at the begining of the year. Next year I'm all in.
Windows Central Newsletter
Get the best of Windows Central in in your inbox, every day!
Thank you for signing up to Windows Central. You will receive a verification email shortly.
There was a problem. Please refresh the page and try again.