Mirror's Edge Companion for Windows 10 Mobile can track your Catalyst progress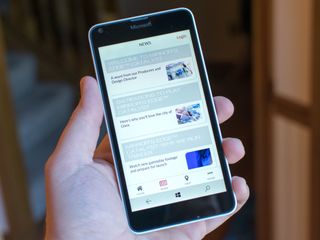 Electronic Arts has released its official Mirror's Edge Companion app for Windows 10 Mobile. It's designed to help players of the just released PC, Xbox One and PlayStation 4 game Mirror's Edge Catalyst to keep track of their progress in its fictional city, among other features.
Here's a quick look at the app's features
Fully rendered 3D map of the City of Glass
Track your game data: Game progression, Social playground, Player profile
Learn more about the world of Mirror's Edge Catalyst with Intel & lore database
Follow your friends and other players to stay informed of their activity
Manage your User Generated Content: Create your own challenges, Access other players content
Customize your experience: Unlock new Runner Tag elements via in game achievements and trials, Create your own unique Runner tag
Bookmark your favorite content
Mirror's Edge Catalyst is a first-person action game where the player moves through the futuristic city of Glass using parkour movements. It is on sale now.
See at Microsoft Store (opens in new tab)
Download Mirror's Edge Companion at the Windows Store (opens in new tab)
Was just in process of Tipping! Hopefully I'll get to play it this weekend, if I can get the other half away from the console long enough!

Well I didn't see that coming!!! They never released the battlefront app so I figured no way this was coming!

I didn't either, but the other half told me last night there's a section that needs the app to continue gameplay. So I'm glad I can play now.

That's incredibly daft if that's the case. Still a lot of people without smartphones, especially younger peeps =/

You can access all of this same data via the webpage too, so the app isn't really necessary.

& they barely supported autolog which of the last update to Origin security rendered useless

Since this is one of the few games that support Windows Mobile, I might buy it.

Anyone else remember SmartGlass, it was cool.
Windows Central Newsletter
Get the best of Windows Central in in your inbox, every day!
Thank you for signing up to Windows Central. You will receive a verification email shortly.
There was a problem. Please refresh the page and try again.