Missing Sync 4 out of Beta, Adds WM6 support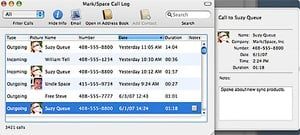 I think it's safe to say this: with The Missing Sync, Version 4, Windows Mobile has better Mac syncing than it does with either XP or Vista. ...There's a caveat with that, of course, in that the Missing Sync is forced to use Apple's horrendous Sync Services (so there's some weird bugs sometimes) and device support is sometimes a little tricky since Microsoft and their many manufactures don't exactly document all their custom changes. Mark/Space does a great job overcoming those hurdles, though, and I've been pretty happy with the Missing Sync overall.
I mean, really, look at some of the new features:
Support for devices running Windows Mobile 6
Sort, search, annotate, export call log history on the Mac
View/search SMS message history on the Mac
Address Book integration for call log and SMS data
Encodes and downloads video for mobile viewing
Imports video from device separately from photos
SyncMinder™ device management
Interface improvements
That's in addition to the standard PIM data sync and the already good iTunes and iPhoto integration. The Text message support is really neat, but Treo users, who have their own fancypants threaded text, should note that Missing Sync can't grab those.
Read: The Missing Sync for Windows Mobile
Windows Central Newsletter
Get the best of Windows Central in your inbox, every day!
Whoa - forgot another nice feature:Backup and restore of My Documents
The Missing Sync lets you back up your My Documents folder to protect your data in the event something unexpected happens.
I'm also excited by the video conversion feature.
Really, though, I just wish I could get a decent Exchange sync going on my MacBook pro. I used Entourage for awhile but had to give up on it. Apple's Address book supposedly talks to my exchange server... but I've never really gotten it to work. Mark/Space: please aim your development efforts here.