Mixer to let all channels monetize streams, details efforts to curb toxicity
Monetization is a positive step for all streamers, but it's unclear how it will affect partners.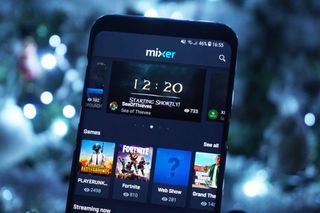 What you need to know
Mixer provided a look at some changes it has planned for streamers and the larger community over the coming months.
The biggest change is that all streamers will be able to monetize their content later this year.
Mixer also has a number of efforts in the works to curb toxic behavior across the platform.
Microsoft's streaming site Mixer unveiled a fresh round of updates today that will impact both streamers and the overall community. For the platform as a whole, Mixer is working on a number of ways to curb toxicity and abuse across streams. For streamers, the site is opening up the ability to monetize streams for everyone in the coming months.
"We are adding the ability for all streamers to participate in monetization on Mixer," the company says in a blog post announcing the changes. Monetization will first be available through Mixer Embers, with channel subscriptions and "additional monetization features" following. The program is planned to launch sometime later this year, and Mixer says it will be "experimenting around" with Embers and Spark patronage as it scales the program out.
As these changes were announced, some streamers have communicated that Mixer is removing Sparks revenues. However, the Mixer team stated that that information is "incorrect," only noting that scaling its monetization systems will require adjustments. It's unclear how these changes will affect streamers who are already partnered with Mixer.
In addition to opening up monetization to all streamers, Mixer revealed it is overhauling Streamer Analytics to give streamers more insights, adding a Streamer Progression dashboard with tips on how to grow your channel, and launching a "Mixer Academy" that will help streamers gain new skills.
For the community at large, Mixer says it is planning new steps to fight toxicity on the platform. A new streamer review system will go into effect on August 29, allowing Mixer to "improve validation and monitoring of new streamers." A toxicity screening system is planned to hit Mixer later this year with filtering options that give streamers more control over their chat, along with automated moderation tools.
Moderators will also get a nod with a new program that gives them improved tools and recognizes their work. That's in addition to work on Mixer's side to give their professional mederators new capabilities for reviewing broadcasts, chat, and activity.
How to use Mixer to stream Xbox One games
All of these new features are expected to start rolling out over the course of the coming months. As part of the changes, Mixer is also axing its Mixer Create mobile app, directing streamers to use the Streamlabs mobile app instead.
Portable (and affordable) power accessories we love
Each and every one of these charging gadgets will keep your favorite gear and gadgets going for longer, and none of them costs more than $30.
VisionTek 8,000 mAh micro-USB power bank (opens in new tab) ($13 at Dell)
This compact dual-output powerbank can speedily recharge any and all your devices, thanks to a two-amp "fast charge feature," using its micro-USB out port. Its simple design includes an LED indicator, and it costs about as much as a single ticket to the movies.
Panasonic eneloop AA batteries (opens in new tab) (From $13 at Dell)
Panasonic's rechargeable batteries are among the best available, and just a couple of them will keep your favorite remote, mice or other peripherals powered up when you need them. They're also eco. And the company's affordable charger (opens in new tab) fits and charges both AA and AAA batteries at the same time.
Belkin Qi Wireless Charging Pad (opens in new tab) ($30 at Dell)
This unobtrusive Qi wireless charging pad looks good (and kind of like a UFO …) and easily charges all your Qi-compatible device up to 5W. Its LED indicator lights up when you're charging. And it costs just $30.
Dan Thorp-Lancaster is the former Editor-in-Chief of Windows Central. He began working with Windows Central, Android Central, and iMore as a news writer in 2014 and is obsessed with tech of all sorts. You can follow Dan on Twitter @DthorpL and Instagram @heyitsdtl.
I wonder if this is Microsoft last ditch attempt to get streamers to come from twitch well new ones. if new ones can be monetizing immediately there is not need to build up to twitch affiliate. it might be a good way to get new streamers but we need viewers. I worry though that if we dont get more viewers and they like to claim viewership is up but I think spark farming can attribute to this. Mixer needs to allow clips to everyone. I can clip on twitch and im not an affiliate or partner. YouTube doesn't have clips but they save every stream I have ever done since day one 3 years ago. So if I want to see where I was and who I am now its neat to see the progression. I hope to one day see upload studio on xbox integrate with mixer so that when a user uploads a video it goes to there channel then they can share it from the xbox like you would to youtube but to mixer. Come on Xbox and Mixer how hard would that be? vrs it always being live content. eh

Not being on PS4 is a huge hit. You basically give all of those users to [primarily] Twitch for no free... And because Twitch is what it is, you basically still have to offer them as an Option on XBO... So they only hurt themselves, there. Apart from that, Mixer just feels bad to use as a viewer. It's far too gamified, when it's really a content consumption platform. I don't really care to much to be blinded by Level Tags, Skills, etc. Some of those MIxer Channels look like MySpace pages. It just looks and feels awful, cheap, and desperate. Twitch has a pretty basic non-nonsense interface that isn't remarkable, but very functional and just gets TF out of your way (and sight). You can also stream to Twitch from literally every platform that supports streaming - and YouTube is still a MUCH better second choice than Mixer will be in the foreseeable future. Someone can turn on their Smart TV and play your Stream on YouTube while they do anything... or Stream it on their PS4 via Twitch... or on their Kindle Fire Tablet... etc. Mixer is just not nearly as convenient as either Twitch or YouTube... and if you're going to invest in a platform, generally you don't spread your resources thin by going with multiple platforms... That's why many creators will stream on Twitch, but only do their Edited Video Content on YouTube. They don't really mix them up. Mixer is just not a factor in either of those; and I don't see that changing anytime soon - because Microsoft has really been awful with their strategy, and the service looks too kiddie for many adults to take seriously. Surprised it isn't more popular with the female gamer demographic, though (but they're probably just following the money, as well).
Windows Central Newsletter
Thank you for signing up to Windows Central. You will receive a verification email shortly.
There was a problem. Please refresh the page and try again.