Master of music? Prove it with MixMaster for Windows Phone, powered by Nokia MixRadio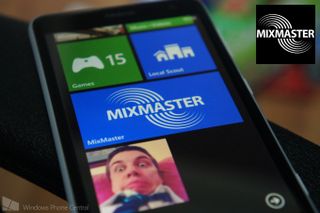 So you've got your headphones on full blast with your favourite playlist wrecking havoc on your ears, but just how knowledgeable are you when it comes to music in general? It's time to put everything you know to the test with MixMaster. The Windows Phone game makes use of Nokia's MixRadio API to bring together intuitive and addictive gameplay.
When loading up MixMaster, the game asks if you're wanting to play single player or against someone else (on another Windows Phone) via Bluetooth - you could simply take it in turns to see who gets the highest score through each round. Once you've established just how many rockers and modders will be playing, the next option determines difficulty, be it normal, hard or insane.
The objective of the game is to guess which track it is with the choice of two artworks available. You only get 30 seconds worth of sound to help you out. It may sound simple enough, but it can prove to be a challenge, especially if you're not 100 percent sure. There are a variety of mixes and genres available, and you have the choice of which you'd like to go for before the game begins.
What makes MixMaster unique is the integration with Nokia's MixRadio service. This means a strong database of music, numerous mixes and the like available, as well as options to purchase each track mid-game (just in case you find some new gems you like the sound of). That's not to mention the replayability offered through randomised mixes.
If you can't fire up the game and get started, it's possibly because you're using a Lumia 1020, which appears to be unable to load the game past the splash screen. Download MixMaster from the Windows Phone Store for free (only supports WVGA (480x800) and WXVGA resolutions (768x1280) - requires Windows Phone 8).
Windows Central Newsletter
Get the best of Windows Central in in your inbox, every day!
Rich Edmonds was formerly a Senior Editor of PC hardware at Windows Central, covering everything related to PC components and NAS. He's been involved in technology for more than a decade and knows a thing or two about the magic inside a PC chassis. You can follow him on Twitter at @RichEdmonds.
Hey do anyone no y can't download new apps and game on my lumia 800?
Don't mean to sound thick lol x

App Store. Such error. Much monies. Enough space. Wow. You do know that many apps now are Windows Phone 8 only?

Lol! Love the response Rich!

Its time to switch to Windows phone 8 my friend.

Hey boss download ur updates of games its pending in photo

Those aren't game updates they are notifications from games.

This app doesn't even start on my phone?? Y u do dis Lumia 620

Rich, update the article its not just lumia 1020

Works perfectly fine with my Lumia 920

Stuck on the splash screen too with my L520

Way to combat tinitus Rich! ;)

Can't be downloaded on a 1520?! Bah!

I'm in the same boat.. Hopefully they add support in an update.

"wreaking havoc" not "wrecking" it

Oh, but does it have black metal? No? Oh the woes of liking unpopular music.

...only supports WVGA (480x800) and WXVGA resolutions (768x1280)... Who thought that was a good idea, I can't believe there are still developers out there that think restricting their apps to two resolutions is the right thing to do. BTW it's WXGA not WXVGA!!

good. works for lumia 822. Love it since I love MixRadio

Doesn't work on my 920, say I'm on a slow network, sits on a splash screen and does nothing.....looks like the 920 is a resolution issue, it only shows part of the start screen!!! However, played it on a 925 connected to wireless - it is ok, i like that you are guessing from album covers, makes different from the others, but insane is no harder than normal and it is only choosing from 2 songs, so easy to work out the correct answer. Still waiting for a decent music quiz.

Maybe its not compatible with gdr3 - whatever the resolution bug is, i don't really understand how it can come about!!

Not starting on 920. Store should have an option of giving negative star to apps like this.

Are you on GDR3? Don't be so aggressively dismissive, it's clearly working for others.

This is a prime example of the me, me, me, now, now, now culture that we live in today. Doesn't work for me, negative stars!!?!

Does not start on my 920 either. But Nokia Mixradio is not available here (Belgium). Don't know if this is related...

Lumia 925 here GDR3. Hangs at splash screen. Update 3 incompatible?
Windows Central Newsletter
Thank you for signing up to Windows Central. You will receive a verification email shortly.
There was a problem. Please refresh the page and try again.