ESRB game ratings start to appear in Windows Phone Marketplace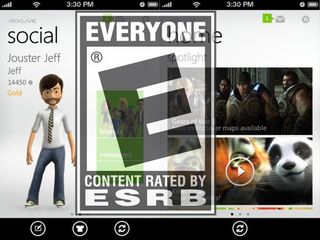 The Entertainment Software Rating Board (ESRB) recently launched an initiative to expand their converge to mobile games. Meant as a guide for parents, the system boasts that familiar "Rated E for Everyone" slogan we hear during TV commercials for PC and console games. Whether you agree with it or not, it is a system (albeit arbitrary) that serves as a framework for keeping parents in the know.
Microsoft signed up for the mobile ESRB system while interestingly Google and Apple have both skipped out. Now, we're finally seeing the first rollout as a few games are receiving their "E for everyone" stamp in the Windows Phone Marketplace. Our only concern is that this is one more hoop for Xbox LIVE developers to jump through to get their games approved thereby potentially slowing down the process of publishing. So far, we've seen Angry Birds and the indie game MathZia Free with the ratings being displayed.
So why are Apple and Google eschewing such a system? Mostly because they already have age-restricted controls for parents in the Marketplace that can serve as a cutoff. Devs supply info for "ratings" when their app is submitted and that is what qualifies the app for age requirements. In other words, it's self policing and both companies seem okay with that method. The ESRB is an outside, independent board that "parents can trust" but it too relies on devs filling out "a detailed questionnaire" which then results in an automated rating. The big gaming titles are fully reviewed by the ESRB while smaller titles are left up to self-policing, making it an analogous system to what Apple and Android already have. Granted, if a game receives complaints the ESRB will investigate and review the game in question, but for the most part it is based on the honor system.
Personally, we'd rather see Microsoft implement their own system with age-restrictions so that parents can be best served and adults could get more "mature" games on our platform. Because right now, the ESRB-mobile rating system seems to confirm what we know: Microsoft will only allow "E for Everyone" type games on the Marketplace and that to us is an unnecessary limitation (we're looking at you, "green blood"). [Evidently, Twin Blades is now "T for Teen" though we're not confident that games with red blood and/or "M for Mature" will be allowed on the Marketplace]
Additional ESRB-mobile information via GigaOm; Thanks, jc_agga, for the Angry Birds tip
Daniel Rubino is the Executive Editor of Windows Central, head reviewer, podcast co-host, and analyst. He has been covering Microsoft here since 2007, back when this site was called WMExperts (and later Windows Phone Central). His interests include Windows, Microsoft Surface, laptops, next-gen computing, and arguing with people on the internet.
Will this pose a obstacle as far as bringing on new developers from other platforms?

Na i think it's pretty sweet

The first picture has a status bar that looks like the one in iOS, not windows phone xD

Where is it written that MSFT will only allow E rated games in the Marketplace?

It's not, but so far they have seem reluctant to allow anything "mature" on the platform. Although as pointed out below, Twin Blades is now rated "T for Teen". Still, do I need to point out that it has green blood because the original red blood was deemed too violent/mature, resulting in the game being pulled for nearly six months? Will this change that? Maybe but I'm not optimisitc...

As long as it's for Xbox live games. I don't mind it that much

Twin Blades has T for teen now

I personally think Resident Evil is very family oriented :P...

I hate the fact that they keep using ios Xbox live app as opposed to the Xbox hub in windows phone 7.. When really Xbox live titles are in WP platform.

I hate the fact that they keep using ios Xbox live app as opposed to the Xbox hub in windows phone 7.. When really Xbox live titles are in WP platform.

Well they are obviously going to go with the "popular" platform. MS seems to think the same with the support they are giving ios.

I suppose it's easier to get screen shots on ios.

I am fine with this approach. ESRB is a known entity (right or wrong), and a TON of parents know this system (or at least should know.) I don't want MS to have the authority or develop another system all-together.

I'm more inclined to believe that once this system is in place, the phone will be updated with a parental system which will allow games featuring more mature themes to make their way through.
Obviously, without such a system, all current games should comply with "E" ratings.

I thought SplinterCell was getting an M rating

Yea im pretty sure it is supposed to be. That's why I was surprised that it's coming in February. Maybe an update is coming soon.

Does that mean that zombies on the phone would be rated M? It has "blood" when the zombies die

Haha, I'm 13 and I've played 18+ games since I was 11. They're just videos games, I don't see why parents follow this. It's quite ridiculous.

Daniel, I don't think that makes any sense, if MS had a strict Everyone rate rule why put Live games through ESRB system ? As a matter of fact I think it's the opposite, I think it's an indication that more mature games are coming. And then there's Splinter Cell, which I doubt it'll be "E for Everyone".

Note that the ESRB ratings only show in the US marketplace, as the ESRB is for the US only.
Windows Central Newsletter
Get the best of Windows Central in in your inbox, every day!
Thank you for signing up to Windows Central. You will receive a verification email shortly.
There was a problem. Please refresh the page and try again.