#MobileFit podcast, Fitbit challenge winners announced and more!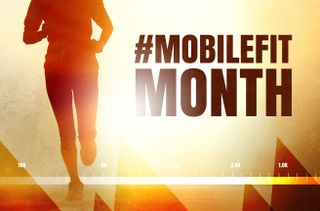 June 2014 is coming to a close, which means #MobileFit is ending too. Or is it? We've got a podcast for you to check out below, we're announcing the winners of our Fitbit challenge and we've got some exciting new info about the future of #MobileFit.
#MobileFit podcast
Listen
Subscribe
Hosts
Feedback
Yell at us via the Twitter accounts above or @liveconnectedly
Fitbit challenge winners!
During this month we ran a contest inside our Fitbit community (opens in new tab). We had over 865 members compete against one another for the top spots. The winners are:
Johnny Cat at 1,377,312 steps
Whayne at 1,334,310 steps
Alan at 1,250,067 steps
Congrats to you all for kicking ass this month! It was fun to see everyone working so hard in the community to move and be active. The winners up above are walking (or running) home with a new Fitbit Aria Wi-Fi bathroom scale. We also had two random drawings to win the scale, one from within the Fitbit group and the other among the Mobile Nations community. Here are the winners for the random drawing:
cmfntn in our #MobileFit Fitbit community
NickChamberlin in our Android Central and Connectedly communities
Congrats you two! We'll be in contact with all the winners to shipping details.
The future of #MobileFit
So that's it? Another month of fitness has come and gone? Nope. Watch the podcast above seriously do it! In the podcast you'll learn that we aren't going to just stop #MobileFit month because fitness doesn't work that way. Instead we'll continue to use the #MobileFit hashtag and theme to continue to explore the intersection of health, fitness and mobile technology. We'll still have one month a year where we focus more on the content, but you can continue to look forward to great fitness articles in the days, weeks and months ahead.
There's just too much content to put into one month and we can't wait to continue to explore fitness and technology.
Windows Central Newsletter
Get the best of Windows Central in your inbox, every day!
Fitbit is great at motivating people to move. However it can be very inaccurate as illustrated by some of the numbers. 1.3 million steps in 30 days!! That's over 45,000 steps per day (more than a marathon each day). If this is truly accurate than congrats on going Beast Mode! Otherwise, nice way of scamming on people who are actually using the Fitbit accurately. Kudos to Mobile Nations for sponsoring the contest though.

Lol, hooked it to their dogs legs and let em run.... J\K congrats to the winners.

That there is not only genius, but hilarious at the same time. I joined the beta program for Nokia's pedometer. It had me take 80 steps while I was sitting and browsing the internet!

Hmm not really... if you said that the average step is 0.5-1m then 45,000 steps = 22,500 to 45,000m. That's 22.5 to 45 km / day. I have a friend who walks 10km to and from work each day... so that's already 20km. Then there's general walking around during the day to add on top... it is fairly high, but it is in the realm of "possible". Maybe he's a short guy with little legs so he has to take a lot more steps :P

Wow. Johnny Cat must run in his sleep. Congrats to the winners. Can't wait until the official Fitbit app shows up on WP.

I am eagerly waiting for the next WPC podcast.it'll have more audience than this podcast for sure

I second that. They are doing podcast on none Windows phone stuff, but its been months since the last podcast. They didn't even do one following Build. RUBBISH!

What's the app for windows phone that acts like a pedometer using gyroscope and accelerometer?

Is this a trick question?

Damn! Never won a single luck based competition .... Waiting for that day to come....

House much weight have the winners lost?

Wait, you mean MobileFit gets a podcast but WPCentral hasn't made one since March??!!?? SINCE MARCH!!! C'mon!