MobileFit Roundup: Top Rated Windows Phone Diet Apps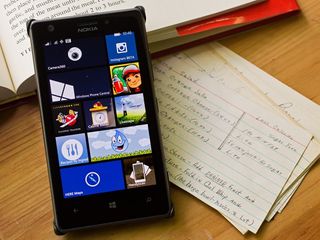 As Fitness Month continues here at Windows Phone Central and all of the Mobile Nations sites, we turn our sites on apps to help with our diet. While exercise is a key element of staying fit, so is what we consume during the day. You defeat the purpose of exercise with poor eating habits.
This week's Fitness App Roundup will concentrate on a collection of top rated Windows Phone apps designed to help you count your calories and monitor what foods you take in during the week. There's also an app that will find you recipes based on the ingredients you prefer while avoiding those you are allergic to.
We'll close things out with a Reader's Poll to let you decide which of these diet apps are tops. If we've missed your favorite app, feel free to sound off below in the comments.
Livescape
Livescape (previously known as Life Tracker) has been a staple fitness app for Windows Phone for some time now. The app not only tracks your exercise activities but is a feature rich means of tracking your dietary habits.
With Livescape you can track your weight, calorie intake and monitor your nutritional facts on a daily basis. Livescape also has the ability to synchronize your information with Microsoft's HealthVault and your data can be backed up to Livescape's cloud service.
The layout is simple and provides a main page that serves as an overview of your activities. You set your weight goals in your Livescape profile along with your daily calorie and water intake.
Controls to enter meals you eat during the day can be found beneath the three-dot menu on the main overview page. You can enter food items by search the vast database by keyword or use your Windows Phone camera to scan the product label.
Along with meal tracking, Livescape will also track what you drink as well as a simple way to track your water intake. As you enter your meals and drinks daily, you can generate graphs and reports from Livescape's profile page that will help you analyze your diet and find areas where you could eat better.
Non-diet features of Livescape include GPS tracking for your activities, route mapping, a pedometer to count your steps, tracking for blood pressure, mood, stress and measurements, medical condition tracking (allergies, headaches, fevers, cramps, etc.) and a fertility calculator.
Livescape is a well-rounded, feature rich Windows Phone app that not only helps you manage your exercise routines but will also help you keep a close eye on your diet.
Livescape – Windows Phone 8 and 7.x – Trial/$4.99 – Store Link
WaterLogger
One of the most overlooked essentials for good health is drinking enough water during the day. WaterLogger is a Windows Phone app designed to help you track and remember to drink plenty of water throughout the day. The interface is simple with an animated water drop centered on the app's main page that starts the day a little on the parched side. As you log your water intake, the drop perks up.
Control buttons are hidden beneath the three-dot menu that give you access to your water intake history, a daily log, the app's settings and WaterLogger's about/help screens. WaterLogger's settings is where you can select your units of measurement, daily goals and container size. You can also set reminders to alert you throughout the day to drink water.
Entering your water consumption is simple. On the main page of WaterLogger you will find four, labeled icons that represent water containers. When you consume water, just tap on the container that represents the volume of water and it will be recorded to your history. Clouds surrounding the water drop character will list your daily goal, percentage complete and actual consumption.
WaterLogger is a simple, yet effective Windows Phone diet app that will help you track and remember to drink up during the day.
WaterLogger - Windows Phone 8 and 7.x - Free - Store Link
Calorie Tracker
LIVESTRONG.com's Calorie Tracker is a popular Windows Phone app that will help you count your calories and track your workouts. The app gives you access the Daily Plate at LIVESTRONG.com, which delivers a vast nutritional database of more than 625,000 food and restaurant items to your Windows Phone.
The layout is nicely done with pages that include:
MyPlate: A page that covers your daily calorie intake broken down by meals and any fitness activity.
Daily Progress: This page breaks down the calories consumed, burned and net for the day.
A weight progress graph.
A summary page for your weight goals.
Settings can be access through the three-dot menu off the main pages that allow you to log into your LIVESTRONG.com account (optional) and setting up your profile (height, current weight, weight goals, etc.).
You add meals by tapping on one of the meal tiles on the MyPlate page of Calorie Tracker. You have the ability to search for food items by keyword or add a custom food. A listing of recently eaten food will be listed as well that you can tap to add for convenience. Once added, the calories will be reflected throughout the app.
While Calorie Tracker is a nice companion app for LIVESTRONG.com members, it can also be an appealing stand alone Windows Phone app to manage your calories. The only downside to Calorie Tracker is that there isn't a trial version available. However, there is a Windows 8 version of Calorie Tracker available that should give you a general feel for things.
Calorie Tracker - Windows Phone 8 and 7.x - $2.99 - Store Link
Calorie Tracker - Windows 8 - Free - Store Link
Recipes by Ingredients
Looking for a recipe for a certain protein or one that doesn't include something you are allergic to? Recipes by Ingredients may be just what you are looking for. The app taps into over 175,000 recipes that are searchable by ingredients, ingredients you are allergic to and want to exclude and overall calories. Recipes by Ingredients also includes search variables such as cooking time, number of servings and whether or not the recipe should be gluten free.
The interface for Recipes by Ingredients is straightforward with entry fields on the main page to add the ingredients you want to use (ground beef, chicken, pasta, etc.), ingredients you want to exclude due to allergies, any keywords you want to throw in for good measure, the Gluten free option and your cook time. There is also a Quick Options menu where you set the type of meal (breakfast, lunch, dinner, snack, etc.), the number of servings and calorie count for the recipes.
Once you have all your search variables in place and tap the search button at the bottom of the page a listing of compatible recipes will be generated. Recipe pages will include a photo of the dish, a listing of ingredients you'll need and step-by-step cooking directions. Recipes are cloud based, minimizing the amount of storage space the app takes up.
Recipes by Ingredients also has an optional membership that will allow you to add your own recipes into the database, save recipes to your Windows Phone, create shopping lists and add a pantry inventory.
Having the ability to choose which ingredients you are in the mood for, eliminate those you are allergic to and limit the calories in the meal makes Recipes by Ingredients an attractive Windows Phone diet app.
Recipes by Ingredient – Windows Phone 8 – Free – Store Link
Calorie Meter
Calorie Meter is a simple Windows Phone app designed to calculate and track your daily calorie consumption. The app has the ability to calculate your BMI and BMR, calculate maintenance calorie levels, fat loss calories and has a nutritional guide that is powered by CalorieKing.
The main page for Calorie Meter presents you with three options that include:
Today/History: This is where you will enter your calories, view your daily history, check in on nutritional facts, view a calorie intake chart for the past 15 days, and a memo page where you can add notes on your day.
Calculate Requirement: Not sure what daily calorie level you need to be at? Calorie Meter's calculator will determine your current BMI and BMR as well as determine daily calories to maintain your current weight, to lose fat, and a level for extreme fat loss. All you need to do is enter your age, gender, current weight, height and activity level. Calorie Meter will do the rest.
About Page: This is your customary information page on the app.
In addition to the menu button bars from the main page of Calorie Meter, you also have options up under the three-dot menu to track your weight and another way to view the About page.
Entry for your calorie intake is more manual in nature. You simply enter the calories eaten and add a note as to what was eaten. If you don't know how many calories are involved, you can search the CalorieKing database to find out the calories and nutritional facts. Unfortunately, there isn't a way to transpose your search results to the entry field.
One nice feature with Calorie Meter is that a bar graph will run across the bottom of the main page of the app that reflects your daily calorie limit. This bar graph is an easy way to review how many calories you have left for the day.
Calorie Meter is the more basic diet app in this week's roundup for managing your daily calorie intake. The calculator will help you decide your daily calorie limits and while entering the foods you eat could be better, it's not a deal breaker.
Calorie Meter – Windows Phone 8 and 7.x – Free – Store Link
So which is your top diet app?
As we've done in the past few weeks, we are deferring the final say on which of these apps is the best to you. Just cast your vote in the Reader's Poll that follows and on Friday, we'll tap the top diet apps within the Mobile Nations community.
But before you cast your vote, here are some brief observations on each of these Windows Phone diet apps.
While Livescape has a calorie tracking feature, this Windows Phone app is the more comprehensive of the bunch by providing fitness tracking, fitness tools (the pedometer really comes in handy), fertility tools and more.
Calorie Tracker also goes beyond simply counting calories with the app's weight tracking and fitness activity tracking features. On top of that, it lays everything out in a simple, easy to follow manner.
WaterLogger is a tremendously simply way to manage your water intake and the custom notifications to push you in the direction of the water fountain can help get you into the habit of drinking more fluids during the day.
Recipes by Ingredients may lack the bells and whistles other recipe apps have but, as someone who has food allergies, it is really nice to be able to find healthy recipes that won't cause me to break out in hives.
Calorie Meter is a good option to consider if you simply want to track your calories. The entry of meals could be easier with direct entry from the nutritional guide and the calculator is a nice tool to establish your daily calorie limits.
Each of the apps is capable of helping you in the diet aspect of your fitness quest. Now it is time for you to decide which you think is the best Windows Phone diet app. You can take part in the Reader's Poll as well as sounding off below in the comments supporting your choice or tossing out another diet app recommendation. Later this week, we'll reveal the top diet apps for the entire Mobile Nations community.
Get the Windows Central Newsletter
All the latest news, reviews, and guides for Windows and Xbox diehards.
George is the Reviews Editor at Windows Central, concentrating on Windows 10 PC and Mobile apps. He's been a supporter of the platform since the days of Windows CE and uses his current Windows 10 Mobile phone daily to keep up with life and enjoy a game during down time.