Mobilligy Bill Pay, bill management from your Windows Phone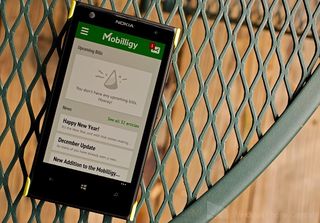 Mobilligy Bill Pay is a Windows Phone app designed to help you manage your monthly bills to avoid any surprises or fees created by late or missed payments.
With Mobilligy Bill Pay, you simply add your credit card, utility, auto loans, mortgage payments and other accounts you send monthly payments to. The app also has flexible payment options to let you pay your bills directly from the app. Mobilligy Bill Pay has the potential of being a handy personal finance Windows Phone app. However, while Mobilligy has plenty of features, the user interface could use a little fine tuning.
When you first launch Mobilligy Bill Pay you will need to set up an account (free) and from there it's only an issue of setting up the individual accounts you want managed through Mobilligy. The main page for Mobilligy Bill Pay will display your upcoming bills and any news items from Mobilligy. In the upper left corner is a menu icon and in the upper right is a mail icon for accessing your notifications/messages.
Mobilligy Bill Pay Main Screen, Menu and Settings
The Mobilligy Menu has options to:
View Upcoming Bills
View Notifications
View your Services (billers)
View your Accounts (payment accounts)
View any Reminders
View any News from Mobilligy
Contact Support
View any invites you have sent to friend to join Mobilligy
Access the app settings
Mobilligy Bill Pay's settings will give you access to your Mobilligy Account information, turn on/off notifications, PIN protect the app, manage the devices you use Mobilligy Bill Pay from, send feedback to the developer, and view the About Screen.
Mobilligy Service Account Set-up
Service accounts are listed alphabetically by category for easy setup. Just add your username/password associated with the business and Mobilligy collects your billing information. You will need an online account for the business for Mobilligy to add the account.
Payment history and balances are viewable from the Service account pages once you begin activity on that account. If the service you are looking for is not listed, there is a suggest button at the bottom of the screen to request the developer add it to the list.
Mobilligy Bill Pay also has the option to set up bank and credit card accounts to pay your bills from. In order to set up a Payment account you will need your routing number, credit card number, billing address and other account information for verification. Once set-up you can pay due bills from these accounts as well as check the balances to make sure you have sufficient funds.
Mobilligy Bill Pay is a nice financial app to help you keep track of your bills. Individual services can be pinned to your Windows Phone Start Screen for easy reference. The only downside to the app is that the user interface takes a little time to get used to. It just feels a little cumbersome at the onset but the more you use Mobilligy, it does get a little more familiar.
Mobilligy Bill Pay is a free app and is available for both Windows Phone 8 and 7.x devices. You can pick up your copy of Mobilligy Bill Pay here (opens in new tab) in the Windows Phone Store.
George is the Reviews Editor at Windows Central, concentrating on Windows 10 PC and Mobile apps. He's been a supporter of the platform since the days of Windows CE and uses his current Windows 10 Mobile phone daily to keep up with life and enjoy a game during down time.
I've been using this app for a while now, and it's great!

Not for Australia it would appear.

Not available in the UK either!

I may be overly paranoid, but I am fearful of putting my info out on yet another 3rd party to do what can be done directly online with that creditor. The ease of the process that an app like this provides can't be ignored though. I would like to know more of how they are protecting my information and what are their processing fees to provide this service?

They don't charge a processing fee. The only time a fee is charged is if the company that you're paying the bill to charges one. For instance, my mortgage company charges a $5 "convenience fee" for online payments. Mobilligy passes that fee on to me.

That is good to know and makes it more appealing.

I'm totally with you. The only services I trust putting on my info and credentials is from big major companies, like Microsoft? At least they can compensate me when something happens.

Exactly. I want some type of reassurance and comfort that I'm being protected and compensated for any breach.

I have used this app since it was released on the Windows App Store and it is top notch. Very easy to use and great customer service. HIGHLY RECOMMEND!

Same here. Used them for over a year now.

I use this app to pay the vast majority of my bills. Works like a charm! I love the the swipe to pay feature as well as the bill reminders.

How does it compare with Mint?

Mint is for money management and budgeting. Mobilligy is for paying bills.

I use both apps together, very nice

I use Mobu as a replacement for Microsoft Money. It doesn't allow you to pay bills directly but does a good job of keeping track of finances.

That's interesting how many options we have today for make a easy payment but any other how to don't pay. Money, money, money.

What countries/software versions is it limited to?

It's a surprise Pageonce is still on marketplace since its a paid service

I downloaded this a few months back and have only used it once since it seemed to take a few days longer to process payments, which may have just been an isolated event. Either way using the app for payments is easy and at the very least it's good to keep track of when your payments are due.

I love this app! Since pageonce stopped working right, I switched to this and its just lovely. I also have the app on my surface, so i get notifications everywere. Def helps remind me when my bills are due. HIGHLY RECOMMEND!!

This is without a doubt the best app I have. It, honestly, has changed my life. No more remembering which bill must be paid on which day. They have the best customer service of any company I have ever dealt with.

Honest question. I have my bank email me when a bill is due, and Mint basically does the same thing. So at that point I just log into my bank, who I trust, and set up a payment. Does this offer anything other than bill reminders and setting up payments? It seems it could be a bit redundant for me if that's all it does. Just curious.

ACTUAL USER.: I understand some of the fears. I was apprehensive when I signed up 1 year and 1/2 ago. I have not experienced any security breaches. In fact, Its often easier to pay using the app for the following: 1) I don't have to remember each password / username for each site 2) Reminders are awesome even if you choose to pay elsewhere you can document ' As Paid" 3) NO Booting up the PC . I Pay anywhere , anytime from work, Bed ,Traffic light, Bathroom( TMI ..lol) JEStar/* Michigan USA

One thing I hate about this app. A bank needs at least 15 user requests in order for you to be able to login in. Since my credit union only has three requests I'm unable to login. This is where the problem starts. It doesn't let me erase my account from the app until 15 users request it. They are essentially holding my login info hostage. Why can't I erase my account & prohibit them from having my info? This is crap.

@blackhawk556: Thanks for sharing your concerns! Our system needs to see a given service in multiple conditions in order to provide reliable service, which is why we need multiple users and also why we ask for your login credentials prior to adding support. We will of course be happy to delete your information if you'd like; simply message us in the app, and we'll take care of it.

Sometimes I have to give a confirmation number to my utility company have you covered this. How long before payment actually post to company.
Windows Central Newsletter
Get the best of Windows Central in in your inbox, every day!
Thank you for signing up to Windows Central. You will receive a verification email shortly.
There was a problem. Please refresh the page and try again.