Mockup of Nokia 900 shows phone in new light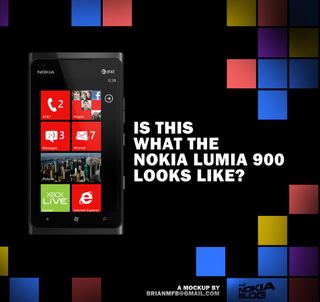 A few days ago we posted the leaked "holiday card" from Pocketnow that supposedly showed bits and pieces of the Nokia "Ace" or 900 with AT&T branding. Those images could be faked as renders are notoriously easy to spoof and let's be honest...black slab Nokia phones are not exactly too difficult to imagine.
But assuming that leak is accurate, we can finally see what the phone would look like in all its glory. One of the readers at The Nokia Blog took matters into his own hands and assembled a "full" image from those leaked shots, giving us a full frontal shot (Wait, we're still talking about phones, right?). Incidently, it does look more and more like that "mystery" Nokia phone from the Microsoft promotional video is this phone, no?
Just off the cuff it looks like a modified Nokia Lumia 800 which is exactly what we're expecting. We'll admit though, it's hard to excited over a render even if it is accurate. Nokia phones are more about the quality in the hand and less about initial looks, so until we get our hands on one, we're going to remain less enthusiastic over this stuff.
The Nokia 900 "Ace" is expected to feature a 4.3" "clear black" screen, 16GB of storage, 4G LTE, front-facing camera and a 1.4GHz CPU. Launch is rumored to in March with an announcement next Monday at CES which we'll be attending.
Source: The Nokia Blog; Thanks, Leo, for the tip!
Daniel Rubino is the Executive Editor of Windows Central, head reviewer, podcast co-host, and analyst. He has been covering Microsoft here since 2007, back when this site was called WMExperts (and later Windows Phone Central). His interests include Windows, Microsoft Surface, laptops, next-gen computing, and arguing with people on the internet.
Hmmm, if this render is accurate the video from about a week ago might just be of the 900 not the 800 as I thought...

That sure makes it look like there is a lot to the front that isn't part of the screen--it looks like over a third of the height isn't part of the screen. Maybe it'll look better in person, but something just looks off with this.

So is the screen 4" or 4.3. I won't buy a phone that is under 4 as I love my focus. Hopefully this is coming to AT&T and soon.

im just confused why this isnt on tmobile. stupid att.

You should not be confused TMo is not getting it yet because they have not commited resources to Nokia indicating sufficient interest (you know money!!!)

LOL why do you blame at&t when Tmobile chose not to pick up the phone? Stupid commenter.

Carrier branding on phones is really a bad idea... I get why they do that , but still manufacturers shouldn't let anybody put their name on something they didn't create.


You may be right but its not going to change the fact that it is what it is. Once the manufacturer signs a contract with the manufacturer it has to be what the buyer (carrier) states in the contract. If the carrier wants their logo on the device it will be on the device . If you dont want it on after you buy it do something to remove it you may void the warranty its your device you can do what you want with it. There are company's that will colorize your device and if you have removed the verixon or ATT or TMo logo thats your call.

Most phones are carrier-branded because the carrier is who actually initiates the phone's development. They submit RFPs to the OEMs, who then go forth and design prototypes, eventually leading to the end product.
Thus, since the phone is purchased and partially designed by the carrier, they gratuitously slap on their logo and call it a day. The only notable exception to this in my experience has been the iPhone.

Really hoping it's 32gb instead of 16 GB as rumored

I hope a person can get their choice of a 16 or 32 GB device!

really wishing i was going to Verizon. I hope I dont have yo leave them to buy a good windows phone. I love unlimited data

VZN passed on the 900 supposedly with LTE after they said they wouldn/t jump until WP has LTE go figure.

If this render is correct, which I am inclined to believe, the phone in the video is clearly not the 900 but the 800. The buttons would have had to be lower in the video, and the end of the glass would have been visible if it were the 900.

It looks like the screen is flush with the case instead of curved like the 800. I may be in the minority, but I kind of prefer it. It looks like it uses a similar bezel as my Trophy does with the thin strip of metal separating the glass from the plastic.

I HATE that strip of metal! It made me rage when trying to put on a screen protector, lol.

We have a different opinion on that one. I really prefer the curved glass. I think it makes the lumia800 unique.
let's see what gets revealed during ces..

If the specs are real then its the same phone as the 800.
There's nothing better besides the front camera.
disappointed!

I'll take 3. Assuming they get to Canada.

Bring to UK PLEASE NOKIA! and in the cyan colour also :P

I would say Nokia is first in looks, how they feel and the hardware is second to none. I've switched from Samsung and my Samsung will go into the Samsung box of Samsung products that just didn't hold up too well. My 800 is fantastic to see for the first time in person and I can't stop looking at it through the day. Nokia really has set the standard much higher for everyone else.
I think I'll give the 800 to my wife and buy the 900 for myself. She loves that 800 also. I'll just tell her I needed a bigger screen for pictures of her.


"I think I'll give the 800 to my wife and buy the 900 for myself. She loves that 800 also. I'll just tell her I needed a bigger screen for pictures of her". HAHAHAH now thats one heck of a great line ....

Dosen't look right to me though. Nokia never has there name off to the side. this device isn't as nice looking as the 800 design wise.

You are entitled to your opinion I dont have to share it but thanks for expressing yours!

"......"full" image from those leaked shots, giving us a full frontal shot (Wait, we're still talking about phones, right?)..." LOL!!! This is called a great piece of writing! I enjoy your style of writing... get the point across effectively in a humerous undertone..... Good job Daniel!!
Windows Central Newsletter
Get the best of Windows Central in in your inbox, every day!
Thank you for signing up to Windows Central. You will receive a verification email shortly.
There was a problem. Please refresh the page and try again.