Modern UI-based Windows Apportals for Windows 8.1 business users launched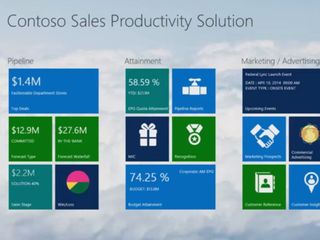 Microsoft has just announced a new feature for businesses that use Windows 8.1 devices called Windows Apportals, which allows companies to create custom Modern UI-based menus for their corporate PC business.
Microsoft stated:
The groupings in each Windows Apportal menu are made up of what Microsoft calls Grid Tiles. They are similar to the Live Tiles in the Start sceens of both Windows Phone and Windows 8.1 in that they can display streaming information. Unlike Live Tiles, the ordering of the Grid Tiles cannot be changed by the individual user. but are under the control of the company's IT manager. However, the admin can customize each Grid Tile for each employee.
Microsoft says:
Companies are free to create their own Windows Apportals for their PCs, or they can contact Microsoft or a third party to help them with that process. What do you think of this new Windows Apportal idea and will it help to get more businesses interested in using Windows 8.1?
Source: Microsoft
Get the Windows Central Newsletter
All the latest news, reviews, and guides for Windows and Xbox diehards.
Yes but what kind? Autistic, slow or brilliant?

Of the very variety ay?
Very was of noble blood. She had a cousin, the KUNG fu king. The two of them tried to unify the dynasty that was Windows.
Their method would come to be known as the royally very kung fucking retarded method. Their is little else history can tell us up to this point. It will be on you to connect the dots...

Get lost clown. Posted via Windows Phone Central App

What an intelligent juxtaposing of characters against one another. Bravo chap. Your creativity will surely do you well. While you're at it, do society a favor and vasectomize your vas deferens.

Someone not liking your poor attempt at humour is no reason to tell them to self harm their testicles.

I can see this becoming an invaulable tool.

Same of Azure Portal ? It's an html5 masterpiece !! I was waiting for it as an ASP.net theme, now I can finally restyle my company website ;)

Awesome thinking! I wish I'd hadd the time to make my own individual Apportal, for organising my work: All infos of my folder structure, online collaboration tools, e-mails, Skype messages, links/favourites grouped by customer/project/whatsoever ...

This is much better than a locked desktop. I like this as it combines the best of IT managed desktops with an intranet style UI.

That's a fantastic tool for business's.

Datacenter metrics dashboard for multiple server status

Fundamentally speaking, this is and has been available through SCCM 2012 R2 for some time. Microsoft even has an API to develop your own front end but it still requires a capable electronic software distribution mechanism. The SCCM application catalog also includes device specific portals for iPad and iPhone with content relevant to those platforms. Is this hosted on something in their Intranet? What are the other dependencies? Are these deep links into the Windows Store? What about side loaded and publisher certificates? This article barely scratches the surface.

no. just no. keep that stuff away.

I've been trying to get this made by someone for a while, i guess this explains why i was ignored. lol They already were making it :) Definitely going to be rolling this out as soon as humanly possible.