More Cortana-powered devices are on the way from HP and Intel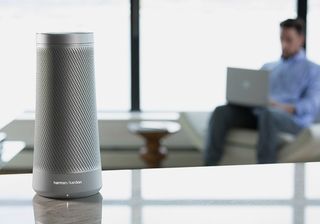 Microsoft and Harman Kardon recently took the wraps off of Invoke, the first Cortana-powered speaker — but it looks like that's only a taste of things to come. At its Build 2017 developer conference today, Microsoft announced that it has signed partnerships with HP and Intel to bring more Cortana-enabled devices to the fore.
Specifically, Microsoft says that HP will work on integrating Cortana into devices, while Intel will turn its attention to reference platforms. Given Microsoft's focus on leveraging Cortana's AI smarts in new hardware, it's likely we'll see more partnerships signed with other hardware manufacturers in the future as well.
This follows on the heels of Cortana Skills Kit launching in public preview, giving more developers the ability to create skills or port already existing Amazon Alexa skills over to Microsoft's platform. Not only will this make Cortana, and thus any Cortana hardware, more useful, but it represents a shift to challenge Amazon's Echo in the smart home arena. And given recent leaks surrounding an upcoming Windows 10 feature called HomeHub, that's an area we can expect Microsoft to delve into even further later this year.
Dan Thorp-Lancaster is the former Editor-in-Chief of Windows Central. He began working with Windows Central, Android Central, and iMore as a news writer in 2014 and is obsessed with tech of all sorts. You can follow Dan on Twitter @DthorpL and Instagram @heyitsdtl.
HP and Intel? Those aren't exactly along the same consumer/home services lines that Google Home and Amazon's Alexa are targeting.

Amazon wasn't exactly in the same feild as Google but look at them now These are just new OEMs.

" while Intel will turn its attention to reference platforms. " That's not a consumer facing device, that sounds more like back end software powering other services.

No, "reference platform" here means they build a demo implementation that they won't be selling themselves, but using their chips and give blueprints to their partners so they can customize and release their own quickly. Some will just make their plastic mold with their branding and use the PCB design as it, others will use it as a starting point to add features. Same thing is happening with Intel Alloy all-in-one Windows Mixed Reality headset. Won't be sold by Intel, but be the foundation of several headsets, probably from Asus, Dell, HP, ...

Totally Make Sense, Intel is more a Manufacturer than a Reseller...

Uhmmm... HP has been making consumer devices for a while now.

HP is slowly become the way and the truth in the Windows ecosystem. Will gladly support their efforts.

I still wonder how HP is still going, because their computers are naff and so are their printers. The only decent thing I have seen from Hp are their Scanners.

I sent a news TIP a while back.... one of the HP PCs of unusual design has a multi-array of microphones it uses for Cortana listening. LAST MONTH...

Cortana will win this war. Because there will so many different manufacturers of Cortana. And just 1 from Amazon and 1 from Google. How the hell did Google mess this up?

It will not win in my house, because Cortana will never be in here, nor will Google Home or amazon Echo/dot.

It's okay, they are already listening.

I loled when that woman said "and Cortana" and the Harman speaker started to listen

Once again they are already late to the party. Hopefully the reference platform will have a camera/screen built in like newly released "Echo Show" For example, "Cortana, give me a recipe for Tacos" you get a screen with the recipe Coming out with the speaker only is late.

You know every computer and/or tablet will do this, right? I understand that you have to unlock it, but if you already have it there, thats the way to do it now (and a year ago).

Except you don't have to unlock it.

Surely there's no one answer to this. In some cases a Cortana speaker would be sufficient but others a display would be needed. Maybe the idea is to have satellite devices that connect to a hub?

I'm anxiously waiting for the HomeHub app so I can turn my underused Surface 3 into a HomeHub machine for the kitchen.

I want that thing in the photo if it is the one running Cortana. Take my money now!

They want to win with Smart Home devices? Let us change the name that each Smart Home device answers to... no use saying Hey Cortana, OK Google or any of the other superfluous names if we get 36 different devices all answering to the same name. Even worse when only one device does answer but it happens to be the device you can't easily reach. The first company with a decent product to allow customized names could be the winner. And for that one smartass who will point it out - no the bloody devices are not yet smart enough to know which one should answer you, not even close to it.

Um.... 1) you can already change the name on the Echo. You can call it Alexa, Echo, Computer, and I think a few others (i'd have to look in the app to remember them all). 2) I have multiple Echo's in multiple rooms and they always know which one I'm talking to. NEVER once has the wrong one responded. The microphone technology on these is such that it knows how far away you are and the correct device answers.

My fear is Microsoft and it's partners might be too late on this one. Like myself, many people are already invested in the Amazon Echo ecosystem and now that they just announced Echo Show, a computer isn't needed at all for many voice and home automation functions. I have also integrated Echo with a SmartThings system for home automation. There is no way I'm just going to throw away all the money I have invested and switch to a Cortana enabled device and/or Microsoft ecosystem for home automation. So for me, Cortana enabled devices and HomeHub is DOA. I wish MS would have jumped on this earlier when these devices first started appearing, I would have been all in with a Cortana or MS product 6 months ago.
Windows Central Newsletter
Thank you for signing up to Windows Central. You will receive a verification email shortly.
There was a problem. Please refresh the page and try again.