More Lumia 930 and 635 news from Ireland and the Ukraine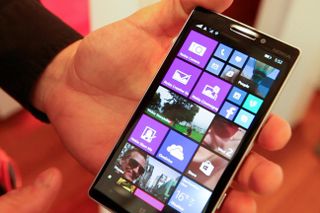 If you like keeping up with where the Lumia 930 and the Lumia 635 are going on sale, then we have a little more news to report from Ireland and the Ukraine.
Over in the Ukraine, there's word that pre-orders for the Lumia 930 have now launched via the Allo retailer. The price for the smartphone is 7,999 UAH off-contract, or about $675. Shipments of the phone are expected to begin on July 15.
Over in Ireland, the folks at NokiaNewsIreland.com have found a flyer from Carphone Warehouse showing that the price of the Lumia 930 in that country will be €429.99 with Meteor Mobile and Emobile without a contract. This is a cheaper price than what Carphone Warehouse is showing for the same phone in the UK at £479.95. There's no word on a specific ship date yet.
Also, there's also word from the same site that the Lumia 635 is now available in Ireland from Carphone Warehouse, but only the black color case is on sale at the moment. Off-contract pricing varies between €149 and €169, depending on the carrier.
Thanks to Andrew for the Ukraine tip!
Source: Allo and NokiaNewsIreland
Windows Central Newsletter
Get the best of Windows Central in your inbox, every day!
I'm lovin the €429 price off contract... €700 for an iPhone... thats $950, its $650 in the US... one of the reasons I always liked Nokia, their exchange rate was at the very least in the right direction....

Enough wth all of the 930 and 635 about going on sale...

Yeah. Not a single model Samsung Windows Phone currently on sale outside US.

It only irritates me to know I can't get it ;~;

Come on man, it's just Ukraine. You don't say "the Ireland", you don't say "the Spain" and you don't say "the Ukraine".

That's how they do it in the America I guess.

The United Kingdom is official I believe, but people say the UK.....similar? I don't know, just asking....

"The" Ukraine is an obsolete term, from back when Ukraine wasn't a sovereign state, but ruled by someone else. As you can see from current events, this is still a big worry for Ukraine...
BTW, the Lumia 630 costs around 2000 hryvnia in Kyiv, approximately 120 euros. There's lots of advertising for it.

Yes, please correct the article to say "Ukraine", not "the Ukraine". It is actually a bit disrespectful nowadays. (Understandably, old habits die hard.) Thank you.

Support, it should be "Ukraine"!

When it will be come to India

If you mean 930, its "Coming Soon"
http://www.wpcentral.com/lumia-930-listed-flipkart-indian-launch-imminent

Okay seriously, is "when is it coming to India?" the new "First!" or "seems faster." ENOUGH, WE GET IT! Geez...

LOL!! Apparently, in every Lumia 930 region availability article :P

Us in England sure get a raw deal when it comes to prices. Gotta love all those taxes.

Nokia need to hurry up and release the 930 in the UK. I NEED THIS DEVICE!

Just get a plane and go to France or Holland and buy it,what's your problem man,frustrated?

Where's the at&t variant? If at&t can bring t-mobiles Lumia 925, then they should bring verizons Lumia icon to at&t...

I am an eMobile customer in Ireland and I have been told by them that they will not be stocking the 930

it's nice that Ukraine is starting to use more progressive product on WP. And please don't use article the gefore Ukraine, using it makes you look very uneducated person. And yes, putin huilo! la la la...

8000₴?.. Трохи забагато...

Its on sale in Italy from over two weeks,and selling well also.

Off-contract prices in Slovakia: Lumia 930 425,01 € Lulmia 635 200,55 € Lumia 630/630D 125,00 €

I hope 63x will be well received in all markets like in China. I think if upcoming versions of Windows Phone get done right people switching to 4G gives Nokia a great chance to regain its lost shares In China. I have checked local on-line stores and found its 4G Lumia 638 is well priced, at least 2 times lower than even 3G phones by Samsung and Apple. And the local venders neither have an obviously better 4G offer. This time, unlike when Lumia 9xx hit the store, normal non-geek customers are actually buying it. With China Mobile the largest provider in the world desperately moving away from its unpopular 3G TD-SCDMA and promoting 4G LTE like no tomorrow, right now its users have no reason to use 2G/3G data service any longer if they have or plan to have a 4G phone. I guess the sales of 2G/3G phones will plunged into the sea in China soon if not this year, they are just have no any appeal given how many 4G phones like 638 are low-priced at this early stage. So the switching will be much faster than in other markets. Switching to 4G is a game changer in China for mobile venders and service providers. I think Samsung and Apple will lost their shares massively during user switching to 4G to other venders in China. About 4G Lumia 638, I also found people were buying it just for Nokia; still the holding back for most users is the OS Windows Phone --- hard to use with short-changed features; actually it irritates a great many first time Chinese buyers, they return the phone and get refund within the same day they receive it. While being a WP8 developer runs its emulators every day for now, personally I will never consider actually buying or using a Windows Phone without a call manager (call recorder, ATM, timed SMS/call), at the very least a call recorder. Until then, I have to use other mobile OSes. Apple refuses to let its phone do call recording, so Android is my and everyone's only choice. Android is the DOS and soon the Windows in mobile age since bigoted Windows Phone and iPhone refuse to add user-friendly features and open hardware access to all developers for them to make using a cell phone more enjoyable.

Wow,you did write a book here mate!