More on the Mango Friends and Family Pre-Cleanup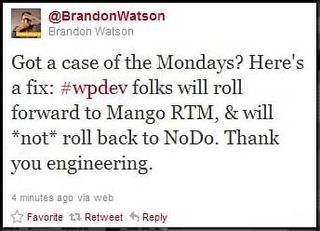 We reported sitings of a new update that has surfaced that is designed to clean up Windows Phones running the Mango Beta so that such devices can recieve updates from Micrsoft. There was speculation that this update will negate the need for such Windows Phone from having to roll back to Nodo before moving forward with Mango.
Brandon Watson has confirmed this belief over on Twitter that puts it out there short and sweet. Those running Mango Beta will not have to roll back to Nodo.
In reading the comments from earlier posts, it doesn't look like the Friends and Family Pre-Cleanup is being circulated just yet. It may be a case that those of us running Mango Beta will see these updates first before hitting the regular RTM update.
This is really good news for those running the Mango Beta, especially if you are amongst the many of us who forgot where that pesky back-up file is.
Source: @BrandonWatson
Update: Watson was asked just a few minutes ago "what about those running leaked RTM versions of Mango?". His response, "It's unsupported and I don't want to make any claims/statements about what will happen."
Windows Central Newsletter
Get the best of Windows Central in your inbox, every day!
George is the Reviews Editor at Windows Central, concentrating on Windows 10 PC and Mobile apps. He's been a supporter of the platform since the days of Windows CE and uses his current Windows 10 Mobile phone daily to keep up with life and enjoy a game during down time.
I'm going to hope this includes the leaked ROM, can't see any reason why it wouldn't as its the exact same version of the OS as the ones from the official channels.

I hope so too. Either way, we'll find out soon enough!

Yeah, hopefully they will cut us some slack and allow us(with leaked version) the benefit of the update as well.

should've stuck with 7712. if u dont get it then it's not their fault that u didn't stick to 7712.

Leaked ROMs, no, considering they're leaked versions passed what was released to developers

yeah im installing mango RTM back on my phone the SECOND i get home...... lol **** waiting.

Yeah, but I have a feeling that if you did not get the dev invite update directly, I dont think we are included in this friends and family deal. Thats ok for me, I know where my back up is and when I know that it rolling out to VZW, I will rollback then. I don't want to go back to nodo for any longer than need be.

if you're on the released developer versions (7712) you should get the update. if you're on the leaked RTM, you need to go back.

Anyone have 7720 RTM and can tell me how many keyboard languages you show...I was on 7720 RTM and couldnt find my backup so I rolled back to the beginning using firmware and now I only show 7 keyboard languages, whereas my wifes phone on 7712 has many more than that...kinda like the 'walshed' phone situation with nodo. Im just trying to confirm if its just my phone or if it was something with the 7720 RTM that was leaked.

Thanks appreciate the info!

Question,Anyone know the specifics about the 'voiding your warranty' warning when upgrading to the dev release and how that plays into the friends and family update that they will be releasing soon? I'm curious if I update my phone to the dev release, then get this minor update, and ultimately get the official sprint release, that they will not know that I had gone the long way of updating vs just waiting till the oficial release is made public, thus keeping my warranty. Is the warranty warning only there as a CYA that if your phone actually does encounter a problem, that you can't go back to Sprint and complain?Thanks in advance.

Pretty much.Only thing that is really going to matter is the time that you have mango on there before Sprint releases the update.

The "void your warranty" talk in the Beta update process means that you cannot take your phone into your service provider for repairs/exchange if you are running the Beta OS. If you had a problem you would have to revert back to NoDo (or the previous version your carrier offers) and then take it in.

I guess once they release the update to the final (like this site says tomorrow for Verizon), when it's released, I'll take my 7720.68 Trophy and try to upgrade it. If it fails, then I have to roll back to NoDO.I think I still have my backup....I hope (I do hope it's accepted as a upgrade tho, my wife would hate to see me sitting here just playing games on my phone to get where I was)

restoring back to 7390 does not take long, though some data will be lost in the process. No big deal here, though if it can be done without reverting, that would be nice.

I don't see what the big deal is. It takes less then an hour to revert back to NoDo from the RTM (I just did mine), and if you didn't keep your backup then that is on you. When the Mangoes are ripe just revert back to NoDo and then update your phone.

By reverting to Nodo you will lose any changes made to the phone since the backup - so a couple of months of lost texts/SMS and game saves. Not a huge deal, but still painful.

Yea, the save games are big to me, I got almost 20 xbox live games (yea, I'm an acheivement **** . Hate to start over on some of the games.

That is why I'll be dammed if I'm updating before I get the 250,000 block acheivement in angry birds.

The latest answere Brandon gave sounds better than this one: https://twitter.com/#!/BrandonWatson/status/118399238521630720

I am a WP Dev running 7.1 (7712) and have not yet gotten a notice of an update. Checked 30 seconds ago via Zune. No dice. Any other devs gotten this update?I'm running an Arrive on Sprint.

I think it starts tomorrow (US time).

I think they were trying to say that when Mango rolls out it will you give you this notification and then the Mango notification all at once.

Mango rollout on T-Mobile has not been committed to beyond "this fall." Sprint hasn't even made that commitment.AT&T and Verizon, in contrast, have announced specific dates.All this is saying is that when your carrier decides to allow you to get Mango, if you're running a "legit" pre-release, you'll get a push notification stating an update is available.If you're a poor soul stuck on Sprint or T-Mobile with no solid announced release date, this makes no difference to you one way or the other.

This poor soul is fine with Sprint. They put up their support page for the Mango update and have confirmed that the update comes out the 27th.