More Microsoft pop-up stores listed for Windows 8 launch and holiday period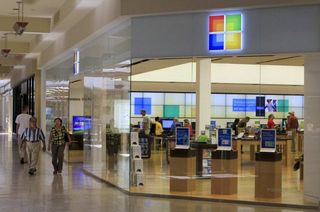 Microsoft has revealed the entire list of pop-up stores (or holiday stores) it plans to open throughout North America this coming holiday season. It's a positive sign to see Microsoft build a larger retail presence to combat its main competitor - Apple. 32 stores will open up shop in 20 US states, as well as shops in British Columbia, Toronto, and Alberta, Canada.
With the imminent release of Windows 8, coupled with new Office, Surface tablets and Windows Phone hardware, there's plenty of opportunity for Microsoft to build on its branding revamp to a more simplistic and modern feel. It's a common thought that Microsoft has almost become a new company to what consumers have grown accustomed to.
Here's the full list of pop-up stores that we'll be seeing in the near future:
Aventura Mall – Aventura, FL
Beachwood Place – Beachwood, OH
Cherry Creek Shopping Center – Denver, CO
Dadeland Mall – Miami, FL
Eaton Centre – Toronto, Ontario
Fashion Mall at Keystone – Indianapolis, IN
Fashion Show Mall– Las Vegas, NV
Glendale Galleria – Glendale, CA
Mall at Green Hills – Nashville, TN
Mall in Columbia – Columbia, MD
Metropolis at Metrotown – Burnaby, BC
Montgomery Mall – Bethesda, MD
Natick Collection – Natick, MA
North Star Mall – San Antonio, TX
Oakridge Centre – Vancouver, BC
Penn Square Mall – Oklahoma City, OK
Perimeter Mall – Atlanta, GA
Roosevelt Field Mall – Garden, City, NY
Ross Park Mall – Pittsburgh, PA
Saint Louis Galleria – St. Louis, MO
San Francisco Centre – San Francisco, CA
South Shore Plaza – Braintree, MA
Southpark Mall – Charlotte, NC
Stonebriar Centre Mall – Frisco, TX
Streets at Southpoint – Durham, NC
Time Warner Center – The Shops at Columbus Circle – New York, NY
Washington Square– Portland, OR
West Edmonton Mall – Edmonton, Alberta
Westfarms Mall – West Hartford, CT
Westfield Garden State Plaza – Paramus, NJ
Woodland Hills Mall – Tulsa, OK
Woodlands Mall – Woodlands, TX
Microsoft still hasn't supplied details and dates for when we can look to see these stores open their doors, though we'd guess for them to be ready by (or soon after) Windows 8's release. We're still waiting for the first Microsoft Store here in the UK - as is everyone else who resides outside the states. Here's hoping anyway, folks.
Source: The Verge
Rich Edmonds is Senior Editor of PC hardware at Windows Central, covering everything related to PC components and NAS. He's been involved in technology for more than a decade and knows a thing or two about the magic inside a PC chassis. You can follow him over on Twitter at @RichEdmonds.
Don't you think that Microsoft should release Win8 is this month, they are over delaying the launch.
http://technologyfeed.net

Agreed, I'm already running it on two of my machines. And release WP8 too!

No the drivers are really not ready yet. Hardware OEMs need time to get their devices up to speed. Even my Samsung S7 Slate has some driver issues since the RTM build came out and Windows 8 was practically built on this tablet.

I am using the same tablet with Win8 RTM and have absolutely no driver issues whatsoever. But I agree that drivers are not fully available yet, hence, the 3 month gap between RTM and general availability.

Anyone who's used a mobile device with an nVidia chipset / video device knows drivers are definitely NOT there yet, even after this week's beta release of their driver set. It's still too crash-prone to put into production (think BSOD every time you attach and remove a projector, for instance, or use Powerpoint in presentation mode on an attached display).

Why there is not a store in the Richmomd/Colonial Heights Virginia area?

I'm not entirely certain why they decided on Edmonton, AB instead of Calgary. Calgary has a larger population and is more centrally located. I could potentially swing in to a Calgary store on my way through, whereas I would have to make a deliberate trip to Edmonton.

I agree. For me Edmonton is a 5+ hour drive so no chance with that.

Dude, have you seen a map of Alberta lately? Edmonton is more 'centrally located' than Calgary. But as a person living in Calgary I do agree an MS store would do well being in Calgary. Hopefully one will open here soon!

I think you're confused as to what "centrally located" actually means. In this case it refers to population, not geography.

Sweet! There's a store coming to my town! I hope they put it right next to the Apple store!

Couldn't agree more with Kaylinator. Calgary would have been a much better choice with Chinook Centre being the ideal location.

I couldn't disagree more! ;) Living in Edmonton I think it's perfect. West Ed is much more than just a mall, its a major tourist trap. Chinook can't compete at the same level.

I think I'll have to make a road trip to SF.

Michigan is ALWAYS forgotten.... *runs away and crying*

My town is in the list! I wish some of them can become permanent after the holiday season.

Yes Columbia Mall in Maryland. We finally get some love and I'll be there. Oh yeah!

Haha... Yes! Woodlands Mall" #Houston,Tx

Don't quite understand that since we have a regular Microsoft store in Houston.

Are "pop up" stores just temporary ones during the holidays? Like a mall kisok? Or are they going to be more permanent?

I'm wondering about this too. Because the Cherry Creek Shopping Centre in Denver, CO is listed to get a popup store, but we already have a proper Microsoft store there in that mall. Not sure what to make of that.

Any news on windows pop-up store in the Uk...

Two stores in South Florida. Nice.


Excellent for Durham NC. The Apple store there is always jam packed. Hopefully the MSFT store has the same success. If these stores sell Surface tablets, I'll be there on day one!

Pittsburgh but not Philadelphia? Well how about that. :/ Well hopefully the new retail store they are opening in Newark, DE will be open in time for the holidays.

All these stores are too far away for us... in the UK!

I know how you feel. I live in Portsmouth and places like Texas and Florida are not exactly a walk away lol.

I'm surprised the Yorkdale Mall store in Toronto is not listed. Hope it's because this is just a list for pop up stores and not because the permanent store won't be ready.

No stores in Montréal, QC :(

well, edmonton does have the West Edmonton Mall, which if i'm correct, is the largest mall in alberta.

No love for Anchorage, AK

Still no Montreal love :(. I'd apply right away!

Two stores in Oklahoma? I can't believe it!

Two in Connecticut as well. One is already open...love it.

That's right! Oklahoma rocks!

Yeah, come to Montreal plzzzzzzz!

I shop at West Edmonton Mall and I've worked there. Over the holidays there is an average of 150000 shoppers DAILY. YOU may not come up here but many other people will. Everyone north of Edmonton is not going to drive past Edmonton to shop in Calgary. Then there are the people who are halfway between Edmonton and Calgary, they are more likely to drive here where they can do ALL there shopping at one place. See how that works?

Drivers need to be sent via Windows update or Microsoft should not support the manufacturer. Drivers give the OS a bad reputation at Microsoft's expense.

OKC...Yes! About freaking time the Apple store had some competition.

Huge news. Houston was a little far, as was Overland Park. Hope they put it up at least a week before launch, and let you pre-order it right away, so it arrives two days before launch like the Lumia 900.

West Hartford....Awesome!!!

Awesome Edmonton Rules.... Biggest Mall in Canada has its perks!!!!! Getting a store!!! Oh SNAP!

Yes chinnok might be an ok choice what about the brand new mall on the north end of Calgary??

Lol. Exactly. What new mall on the north of Calgary? EVERYBODY knows where West Edmonton Mall is.

I truly hate WEM, but I will definitely be there for this..!

That looks like the store I go to in Mission Viejo, CA! Has to be. I am surprised I dont see myself in that shot considering I am there all the time.

...and the whole state of Michigan continues to weep.

San Antonio yay! But they should have a permanent store is SA!!!

yessss Vegas!!!! I'll be there for the lunch day...

Ahh Microsoft listened! not only one store, but TWO in South Florida awesomeeee :)
Windows Central Newsletter
Thank you for signing up to Windows Central. You will receive a verification email shortly.
There was a problem. Please refresh the page and try again.