More Verizon 'Whitestone' aka Diamond 2 diagrams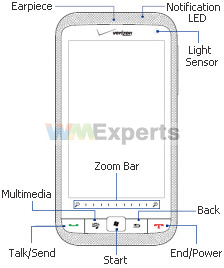 Though deviating from HTC's idea of the Diamond 2, Verizon sure has an idea of what its will look like (dubbed "Whitestone"), and it is basically the Touch Pro 2 sans keyboard, which many have been clamoring for. (Others have rightfully noted that's basically the Touch HD.)
We broke the first the image of what this October-destined device will look like for Verizon and now we have some layout diagrams to boot.
Some things to note are the inclusion of the unique "kickstand" and the stylus, which we're surprised is still there. Also is the dedicated "multimedia" button, which along with said kickstand is making this device very media-centric. And why not with that huge 3.6-inch screen and 5MP camera? Seems spot on. Oh, and how about that 3.5mm jack?
More pics after the break.
Windows Central Newsletter
Get the best of Windows Central in in your inbox, every day!
Phil is the father of two beautiful girls and is the Dad behind Modern Dad. Before that he spent seven years at the helm of Android Central. Before that he spent a decade in a newsroom of a two-time Pulitzer Prize-finalist newspaper. Before that — well, we don't talk much about those days. Subscribe to the Modern Dad newsletter!
WOW,WOW,WOW ! I just might have to leave T-mobile for this phone if HTC don't make a GSM model for the other carriers. This is the phone i've been waiting for.

I don't get why they don't move up to capacitive touch screens? Seems like there is an advantage there. Anyone have any ideas?

Why isn't HTC going to capitcitve touch screens for these devices. Anyone know?

No capacitive for many reasons. It's a ton of development time to get drivers and stuff ready for real-time, the OS still isn't great for it, resistive screens are starting to rock, and HTC doesn't like change a whole lot. Unless they get other companies to do it for them, then buy them.

Awwww, does my 16:01 time mean that post doesn't count tward the speakerphone?! Bummer dude =)

Will this phone be upgraded to WM6.5? WM7.0?

It will be upgradable to WM6.5 (assuming it doesn't launch with it, it still might) but no WM7. WM7 has some pretty high-end spec requirements that this device doesn't meet. Edit: Actually, I'm pretty confident it WILL ship with WM6.5 now.

1) Can't wait to map that multimedia button to something actually useful. I'm guessing that button's default mapping is to some Verizon media store which no one wants or needs. But an extra button only makes devices more usable. 2) What does a "back" button do on a WM phone? Is it just a re-named OK button?

GOD I WANT THIS ON SPRINT'S SERVICE.....
Pretty Please....

I have high confidence Sprint WILL get this phone, but not till after Verizon ;-)

Can't believe it! Once again HTC forgot the flash. When will they provide a complete device? Should be always something missing? It becomes very tiring at the end....

Stopped at T mobile Wednesday to play with the TP 2 - pretty much the same phone (GSM) with the keyboard. There were some glitches, maybe they didn't have time to set it up properly. The accelerometer was slow to recognize the change in position. The virtual keyboard in vertical was fairly accurate with haptic(?) feedback. took a few pictures in the store and camera seemed fine in "available" reasonably bright light. Friend with the TP1 said he got used to the keyboard, so the larger size of this one should be great. question is do we get this on release or wait to compare with the CDMA Omnia II probably due out around Thanksgiving? Or hold back & see which one drops to under $200 first? T mobile is asking $349 for the TP2.

Wait until you can one that comes with 6.5 out of the box. That's what I'm waiting for; why start with 6.1 and then have to flash a new ROM and restart all over again in just a few months.

Yes,great.I love the article, I have the same belief with you,so let me introduce the area to you.Now vivienne westwood Jewellery become more and more popular within all kind of people. Juicy couture is a kind of juicy jewelry . It won a good reputation. Vivienne westwood often held its regular discount activities,such as vivienne westwood Jewellery ,juicy jewelry and fashion vivienne westwood jewellery earrings so on.In these activities vivienne westwood sale got great success. juicy couture consists of four main aspects, vivienne westwood necklace and vivienne westwood bracelet,vivienne westwood earrings ,vivienne westwood rings,vivienne westwood pins,vivienne westwood keyrings,vivienne westwood sale,vivienne westwood online ,vivienne westwood uk.
vivienne westwood series are worthwhile than other juicy charms coutures. They have a lot of vivienne westwood jewellery,for example vivienne westwood necklaces, vivienne westwood earrings, vivienne westwood bracelet , vivienne westwood rings ,vivienne westwood earrings and vivienne westwood sale. Vivienne jewellery is a new jewellery brand,it include all vivienne westwood keyrings ,such as vivienne westwood online , vivienne westwood necklaces, vivienne westwood jewellery ,vivienne westwood and vivienne westwood pins and vivienne westwood sale and vivienne westwood uk so on .We assure you of our best services at all times.

Well, if VZW does like it has in the past, the stock ROM will suck. And anyone that knows HTC devices knows that you can customize the ROM to your hearts content....so not shipping with WM6.1 is not a deal breaker for me at least....the lack of a flash DOES suck. Will have to see how that plays out with the TP2 on VZW reportedly due out Aug. 27th online.
Windows Central Newsletter
Thank you for signing up to Windows Central. You will receive a verification email shortly.
There was a problem. Please refresh the page and try again.