More Windows Phone 8 features come to light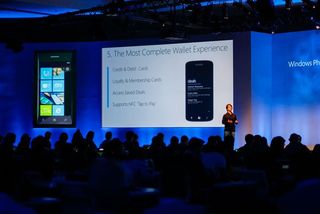 Yesterday's Windows Phone Summit gave us a nice serving of what Windows Phone 8 brings to the table. Joe Belfiore discussed platform changes that will expand the capabilities of our Windows Phones. We also caught a glimpse of Microsoft's Wallet app, a handful of new Nokia apps, and learned of Zynga's new interest in the platform. And then there's the new Start Screen.
Winsupersite posted a nice collection of some of the features we didn't see. Here's a few items that stood out.
Windows Phones will support varying screen resolutions which in turn will give consumers more choices to find which Windows Phone fits their needs and budget the best. We're already seeing this with the leaked HTC Windows Phone 8 specs.
Data Smart is a feature that is based on the metered broadband connection capabilities in Windows Phone 8. Data Smart will help users get the most out of their data plans by handing off data loads to Wifi whenever possible and by using a cloud based proxy service that limits the amount of data used by IE10 and other apps. The cloud based proxy service compresses web traffic and is reported to save about 30% in bandwith usage.
The Games Hub will become the Xbox Live Games app and will be modeled after the same app in Windows 8.
We'll also see SkyDrive support music and video storage that can be accessed directly from the Xbox Music and Video apps.
The camera app is in store for some under the hood improvements through a Lens app. The Lens app will let third party apps plug into the camera experience by mapping the camera button to an app other than the native camera app.
Skype will be more integrated with a Skype option that will be included in your contacts phone numbers and messaging links for those that use Skype. Skype will remain a stand-alone app that can be removed not only by the user but also the carrier or manufacturer. This one sounds like it is still a work deeply in progress.
Windows Phone 8 will not only appeal to to the general public but also the business market. Windows Phone 8 will provide always on device encryption, secure boot, Office 2013 based Office apps, device manageability capabilities and side loading of line of business apps.
We are sure that in the months leading up to the launch of Windows Phone 8 will come to light. As it stands now, the improvements and platform changes the Microsoft has shared with us it's hard to see Windows Phone 8 as anything but impressive.
Source: winsupersite
George is the Reviews Editor at Windows Central, concentrating on Windows 10 PC and Mobile apps. He's been a supporter of the platform since the days of Windows CE and uses his current Windows 10 Mobile phone daily to keep up with life and enjoy a game during down time.
They had to deliver something awesome and they did can't wait :)

Uh, I don't know but all of the above were already mentioned by Joe Belfiore in the Summit. Nothing of the above is new to me... Oh well, thanks anyway :)

Could be wrong but I don't think they mentioned anything about DataSmart or Games Hub.

Yup. Nor did they mention IE10 using a caching/compression proxy nor did they mention Contracts. Being a supposedly developer focused event I'm really surprised they left out contracts.

I do recall a brief mention of contracts. That is one of the more interesting areas I'm looking to leverage.

There were rumors of the datasmart going around but nothing official.

MicroSD is back boy yeah.....iphone sucks

To me, microSD support was a very pleasant surprise and my favorite "feature."

Interesting that the Music and Videos apps will supposedly have SkyDrive Support when the Windows 8 ones don't really. Well I guess they do through the SkyDrive app contract. Maybe it will be the same here? Would be pretty awesome for it to work the same way... for apps to be able to store and read from skydrive. Could have shared data between tablet <> phone <> PC that way. Contracts are definitely one of the best features of Windows 8 and having them on WP8 will be awesome (assuming it happens).

Actually, the Music and Videos apps in the Release Preview is not the finished version. Skydrive will be integrated in those apps in an awesome way when Windows 8 finally ships and they will be known as Xbox Music and Xbox Videos respectively..

I know they're not done but what makes you think they'll include SkyDrive support natively? It would seem like using the contract with the SkyDrive app would be the way they'll do it since that's how they're encouraging 3rd parties to do things.

It actually works now if you install the Skydrive application (not the metro version), add skydrive to your libraries ,and set it as your default save location.

i think the below suggestion should be taken seriously for us consumers and for microsoft in that for music or video bought from their ms apps (xbox music and video) should be stored seperatly without storage limitations from our skydrive allowance, otherwise it will end up feeling like a additional tax just for ms just to store it on our skydrives and our skydrive allowance will get used up in no time. if they would have to introduce drm i personally wouldnt mind this so long as the music is backed up on the seperate allowance when i bought it.

Sepatown. Is that from pootie tang. If so, then you and me are 2 of the 17 people who actually watched that. Wa Ta Da.

Make that three. Tipita ma tambi, tipita.

I love that movie, Pootie Tang was awesome. Haha.

It probably won't mean anything to consumers but I'm curious what the driver was behind changing Games Hub to an app, which I assume means it is removable.

Might not be removable still. Can't remove other Microsoft apps like Calculator in WP7.
Personally I find it annoying that games are buried in there and not in the main app list. Seems kinda arbitrary. I always go to the main list to look for a game and then remember "oh yea, have to dig it out of the xbox hub".

man if my 300 games + 200 apps where all in the same place
I think id lose it and just buy a Iphone.... .. thank god they have a game hub.
talk about a MESS

You can pin the games of your liking...

I was going to say the same thing. He's short changing the capabilities that are already provided. I've got FF pinned to my home screen.

Probably for corporations looking to make it WP8 the company standard.

So does that mean all my games won't be in one neat spot?

I still don't see any article on the active lock screen.

sounds nice. but please give us metro design back :(

http://windowsphone.uservoice.com/forums/101801-feature-suggestions/sugg...



hmm you mean bring back to usless gutter,,,
its still a MEtro Design....... here is info on what METRO is..
http://forums.wpcentral.com/os-discussion/187514.htm#post1626283

What I want to know is if WP8 will support more Bluetooth profiles. Specifically external Bluetooth keyboards. Any updates on that?

They weren't specific as to what profiles it would support but they did say that WP8 will bring the W8 Bluetooth stack which does support keyboards so my guess would be yes.

My assumption is the Game Hub will become an App so that it can easily be updated in the future without requiring an entire OS update. I'm sure it will work the exact same way as an App. But if they want make changes or add features to the Game Hub/App they will just have to push out an App Update.

Any more news on WP 7.8 features other that start screen

They just said the start screen and some other features. That's plural :)

Somebody (Thurrot?) posted the 7.8 Powerpoint slide from the MS presentation. The entire list for WP 7.8 was as follows:
1) WP8 start screen & tiles
2) Continued app development
3) 100k apps.
Or in other words: "hope you didn't buy WP 7.5 planning to benefit from a year or two's worth of updates, sucka".

Can't believe current phones like lumia 800/900 will only get the new start screen -.-

who said that would be the only thing they would get? I don't recall that being stated as fact yet!

Games hub will be an app so sysadmins can disable it I guess. The business or company hub has been shown as concept on some sites I've seen.

I really hope they find a way to allow wp8 apps to work with 7.8. I don't mind the missing hardware features and some missing functionality if I don't miss out on big name apps.

I don't think that will happen because of the kernel diff. And the fact that wp8 will support native code.. But still fingers crossed..

There's still a BIG feature missing, or at least they didn't mention that yet.
We definitely need a notification center!
Otherwise we'll have to scroll all the start screen to see what happened every time we miss a notification... Lol

Agreed. I'm really hoping for a notification center.

We really REALLY need a notification hub! :-)

I want a notification center also.

Just put live tiles u need on top of the screen, that's it ;)

I'm talking more about toast notifications from things like eBay or whatever. If you're not around when they come in they're gone.

Who cares about a notification center? Not my fault you can't use the live tiles efficiently

Maybe some of us don't want to place every damn single app as a tile on the start screen that we'd like to see notifications on, only to spend time to scroll and find what's updated.

That's why you can now resize the tiles, oh wait you don't want that either. Dumbfúck!

It's amazing how people act/react so immaturely over an opinion, during discussion about a piece of damn technology or electronics. A damn notification enter at that! LOL! I'd hate to see how people like you act during a discussion about something that's actually important in life.

Live tiles are not as efficient as a notification centre: some apps don't have it, it takes up screen real estate, you have to leave the app you are in to go to the start screen (very "touch and go" btw) and if you don't actually open up the app in a while, it stops working. And for example for the BBC news app, you get notifications on breaking news, but the live tile does not show these items but rather articles from the most read section, so if you miss a notification from that app, there is no way to know it unless you open up the app and check it, which is not the point of a notification.

I really prefer that MS make the notifications more reliable, that is toasts will be receive more timely and not delayed for dozens of minutes or hours even on WiFi. WhatsApp, Tango, Viber, iM+, Kik, all majority of the time will have these big delay in notifying a toast.
From testing Kik for example, I sent a message from my iTouch to my L800 (after having the L800 being in standby for more than 1 hour on 3G ), I see Kik tells me the message is sent and downloaded by the L800 but L800 does not wake up and show me the toast until like 10 min to over 1 hour or never at all showing a toast. Other times in repeating the test L800 will wake up and show the toast just a few seconds after a message was sent. Using WhatsApp, iM+ and Tango also yields the mixed results. But majority of time it is mostly delayed. Even testing the native MSN Messenger too yield the same mixed results.
I feel that the improvements in Mango for notifications are still not reliable compared to iOS and Android. I have feeling it has more to do with WP power management that prevents these toasts from displaying in a timely manner. I don't think it is a device issue and this is also repeatable on my Optimus 7 and my mother's Samsung Focus.
I hope MS will improve this by 7.8 and make the toasts as reliable as the native SMS.
Also would like 7.8 have USSD support! WP is useless when I travel and use a prepaid sum, WP is not able to do USSD to purchase a data plan.

I personally think the resizing options make up for the lack of a notification center.. You can easily get every app you care to be notified about on your start screen without the need for a load of scrolling..

Agreed, i mean how many apps do poeple really have that they need constant notifications about? I can only think of 4 or 5 that i would like to be notified of when there is something going on in that app. Text, email, calls, tango and of course WP CENTRAL app..

I hope that they do it like they did in the Zune HD because I sure don't want to see Microsoft go the Android way with the drop down menu. They could add the history or notification center to the left and the app list to the right.

And 7.8 will get none of it. Boo haaa!

Ok now show us the 7.8 features, that really matters to existing windows phone users. Despite buying a titan a month ago, its ok for me coz I'll be getting a wp8 device anyway sometime next year, the one with 4.7"

1. New Homescreen
2. Free Regrets

No one asked for your opinion so shut it

Can the carriers and manufacturers block the installation of Skype if they remove it? because god help them if they can...

Don't buy a subsidized device?

Give me a feature where if youre connected to wifi and if the 4g / lte speeds are faster (or vice versa) that the phone recognizes the better connection and switches over seamlessly. I dont know if this is possible, but it would be nice...

In addition to a notification center, I hope the 7.8 update will address the synching of mail to non-Exchange attached Outlook profiles. Finding out this wasn't supported after getting my Lumia was a bit of a disappointment.

I know windows mobile 8 will have Skype integration. Any news on if windows mobile 7.8 will?

WP7 uses the old ce kernel (aka wm kernel). So calling it WM especially now as it is a burning platform like WM6.5 is pretty accurate.

Wonder if they will every have VPN integration, or VPN at all.

I was wondering the same thing. Then I saw the update from Mary Jo Foley here (scroll to the bottom):http://www.zdnet.com/blog/microsoft/more-business-features-coming-to-windows-phone-8/12993?tag=content;search-results-river

Do they have a better PDF reader yet? The one on WP7 sucks.

That's on Adobe. I don't know if their half-assed app has ever been updated since its release. But maybe WP8 will get the same Reader app that is currently on Windows 8, which has done a pretty good job for me over the last several months.

Agreed it's on Adobe's part. As I heard, Windows 8 comes with a PDF reader, hence the question whether WP would get a native PDF reader.

What about an ability to load all of your apps and games in one shot when replacing a defective phone or upgrading? Even with Reinstaller you have to add each separately. :-/ I am on my second Lumia 900 and it has been locking up for a month now. I just can't stand to reload over 430 apps a 3rd time.

We will no more about consumer features in the next few months. My guess is they want to have them finalized and ready to show in addition to not wanting to give away all their goodies to the competition too soon. There is much more to come - Joe Belfiore

That's odd, I've haven't had an issue with my 900 outside of the purple hue issue on the dial pad/keyboard issue which Nokia patched

DUCK Yeah I love windows phone

Agree with the notification center but also pinning tiles is sufficient. I'm also hoping for folders.

Cloud saves for games would be nice too

I'd really like my Xbox 360 to recognize my device like it did with my old phone... weird how they don't communicate.

I believe last week it was reported that you will be able to play music from you phone on the Xbox. So I imagine it will be recognizing it soon

It said something about carriers or manufacturers being able to block/remove Skype...whats that about, and REALLY??

The business aspect looks really nice. Our company is developing in house iOS apps but the process is tedious and has to go through the entire verification process. What WP8 proposes could easily bypass that entire process and make enterprise apps a breeze. I know that will turn a few heads in the business world. Add in the company hub app and yeah, looks really nice. :)

I just want to delete multiple selected threads in messaging.

I hate to be mischievious :-] but I will get new WP8 device! My screen will get damaged and I'll trade it in for a different device at one of the local stores that won't be stocking the L900 :-D

Im mad....still no flash!! What wrong with Microsoft.

There a feature in iOS that i would love to see in WP.
Currently, if i put my phone down in the house and walk away, then it rings or text or email comes in and I don't hear it, then there is no additional alerts to let me know that I missed something. I would love too have the option that says something like, beep my phone 3 times every 2 mins if i missed a call or text or email. of couse amount of times and how often are customazible...
That is the only feature i really miss cuase when i get home, i don't keep my phone on or near me and it would be nice to have those alerts to get my attention that I missed something..

All good but must add better notification centre
Windows Central Newsletter
Thank you for signing up to Windows Central. You will receive a verification email shortly.
There was a problem. Please refresh the page and try again.