Luxurious Xbox accessories for the rich and crazy
Much has been said about the price point of the Xbox One X, with some commentators saying that it's too expensive.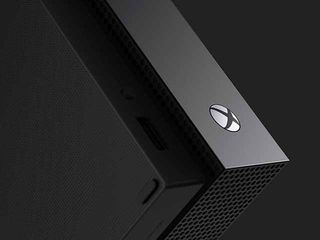 To get the equivalent 4K-capable power and media features in a Windows PC, you're looking at spending at least $1000, and people still buy those for gaming, making the argument a little moot. Regardless, I thought I'd play along, and take a look at some of the most ridiculously expensive Xbox One-compatible accessories you could buy to go along with your shiny new Xbox One X.
Openwheeler Racing Wheel Stand Cockpit
Forza is the ultimate modern racing game franchise, featuring by far the most licensed vehicles, advanced racing systems, and gorgeous visuals. If money is no object, you can enhance the simulation even further with a rig like the Openwheeler Racing Wheel Stand Cockpit.
The Openwheeler Racing Wheel Stand Cockpit is essentially a metal frame with places to mount steering wheels and gear sticks. It's designed to accomodate the Logitech G920 devices, in addition to all Thrustmaster wheels and accessories, making it compatible with Xbox One.
Every aspect of the rig is adjustable, making it an ideal companion for any Forza fan... that is, Forza fans with $450 to spare.
See at Amazon (opens in new tab)
Logitech G920 Driving Force Racing Wheel
What crazy racing simulator rig would be complete without the Logitech G920 Driving Force Racing Wheel and Gear Stick set? (what a mouthful.)
The Logitech G920 peripherals are widely held as some of the best steering wheels you can get, and this is the ultimate set for Xbox One. Complete with stainless steel pedals, genuine leather grips, dual-motor vibration feedback, and easily accessible standard Xbox controller buttons, this is how Forza was meant to be played.
This set includes the steering wheel, responsive floor pedals, and a stick shift solution, and they're all compatible with the Openwheeler race chair above. Do you have a spare $330? Because that's what this set costs!
See at Amazon (opens in new tab)
Turtle Beach Elite Pro Tournament Headset bundle
There are dozens of Xbox One headsets on the market, but few are as comfortable, as powerful, or as versatile as the Turtle Beach Elite Pro Tournament set.
This set will set you back around $350, and as an owner, I'll say every penny is worth it. This is the ultimate gaming headset, with few compromises. The TAC audio controller gives you unprecedented control over your audio, giving you the capabilities to hear audio cues that would otherwise be difficult, or impossible. It almost feels like cheating.
We have a full review of the Turtle Beach Elite Pro Tournament headset for more detail, but I can't recommend this set enough.
See at Amazon (opens in new tab)
Xbox Elite Controller
The Xbox One Elite Controller is so popular that Microsoft struggled to keep up with demand, proving that there are indeed Xbox fans out there with disposable income.
Unlike the regular controller, the Elite is fully customizable. You can swap out the sticks, d-pad, and even four extra buttons in the form of reverse paddles.
You might be wondering why you'd want to, but here's a couple of examples. Moving the typical 'A' jump button to one of the reverse paddles frees up your right thumb. This can be handy in games like Overwatch, and other shooters, where a jump would require you to briefly move your thumb off the movement joystick. Also, elongated joysticks can provide more precision as they're further from the pivot, allowing you to raise the movement sensitivity without losing accuracy. I've found this to be handy in Battlefield 1 when playing a sniper, for example. Furthermore, hair trigger locks allow you to activate guns a few milliseconds faster, which is great for unloading pistols.
The Elite controller isn't going to make you an overnight eSports champion, but it's certainly a step-up from the standard controller in terms of usability. And it's $150!
See at Amazon (opens in new tab)
LG C7 OLED 4K HDR TV
The world's top TV reviews site Rtings.com list the LG B6 TV as the ultimate set for 4K HDR gaming. However, that TV has been discontinued! So, take a look at its successor, the LG C7 instead.
The LG C7 supports both HDR10 and wide color gamut, making it Xbox One X ready. Rtings praises its low input lag and motion blur, making it sharp and responsive for intense gaming sessions. Make sure you check out their full review for more information.
If money is truly no object in your life, it looks as though the LG C7 is the best 4K TV you can buy for HDR Xbox One X gaming come November. It costs a rather insane $2500, though. Yes, you did read that correctly. OLED ain't cheap, friend.
See at Amazon (opens in new tab)
Samsung HW-K950/ZA Dolby Atmos Soundbar
If you're ready to go nuclear for your Xbox One X, you might want to consider Atmos-ifying your sound system. Dolby Atmos is a new technology that enables stunning theatre-like surround sound, allowing you to pinpoint audio direction and depth like never before. I heard Dolby Atmos in action at E3 2017, and the tech could prove even more revolutionary than 4K video resolution. However, current solutions are not cheap.
Say hi to the Samsung HW-K950/ZA Soundbar. With 4K HDMI pass-through, 15 built-in speakers (including 4 that fire upwards and two rear wireless speakers), this is one pile of tech designed for Dolby Atmos' ridiculously awesome spatial sound. If you DO jump on this solution, ensure you're using HDMI 2.0 cables, otherwise the pass-through for sound will not work. Typically the Xbox One S and X will support Dolby Atmos via its S/PDIF coaxial out socket, but you can send Dolby Atmos signals over HDMI with the right set up (opens in new tab). If you're spending $1200 on audio, make sure to do some compatibility research first!
See at Amazon (opens in new tab)
Kalamera Beverage cooler
You're chilling with your Dolby Atmos soundbar, your crazy LG OLED TV, your 4K games powered by the Xbox One X... but, something is missing. A cold beer.
The Kalamera Beverage cooler is an elegant solution for cooling up to 96 brewskis for long hot gaming sessions. At 33 inches tall, taking 22.4 inches by 14.9 inches of floor space, the Kalamera is popular across a wide array of Amazon reviews, beating various other solutions.
The cooler also has touch controls for temperature, and remembers previous set temperatures incase power is interrupted. Neat! You're going to have to really want cool beers though, at $500.
See at Amazon (opens in new tab)
There are our picks for some of the most insane and expensive accessories for those with far more cash than myself. If you're one of the crazy rich people out there planning home theatre set ups for the Xbox One S or X, drop some tips for fellow enthusiasts in the comments. For now, I'm going to go and cry over my finances.
Windows Central Newsletter
Get the best of Windows Central in your inbox, every day!
Jez Corden a Managing Editor at Windows Central, focusing primarily on all things Xbox and gaming. Jez is known for breaking exclusive news and analysis as relates to the Microsoft ecosystem while being powered by caffeine. Follow on Twitter @JezCorden and listen to his Xbox Two podcast, all about, you guessed it, Xbox!
My gosh! The prices of some of those things are eye-watering! Though, they look quite awesome, I'm probably going to get Xbox One S, or maybe the Ps4 pro. Not sure yet. Hopefully a deal pops up at Costco...

If ur considering the XB1S or PS4 Pro with a $150 price difference, why just not get the XB1X for $100 more? The difference in power is worth more than the $100 difference u would pay.

Lg oled 55c6 checked Samsung sound bar, coming soon

I have the Xbox One Elite Controller. It has a solid/heavy feel to it which is awesome. The regular controllers begin to creak after a while and the thumbsticks seems to wear out fast. So far, the only thing I can say is the right trigger has a slight squeak to it. Other than that, I've tried to use the paddles and it takes getting used to as you have to learn how to hold the controller again. I just haven't played enough to use the paddles though I want to and definitely can benefit from not having to remove my thumb ever again to hit ABYX buttons. I recommend it.

Surprised there's no HoloLens here for that ultimate Xbox game streaming experience!

That's for next year's revision of this article.

I bought the Openwheeler Racing Wheel Stand Cockpit for sexing up my lady. It has lots of places to mount... things.

I disagree on the TV if this is about luxury. The LG OLED65E6P is the top of the pack. It does all of the things listed AND still has 3D. It's last years model, but that's the only way to keep 3D.

I'd agree or like a Samsung 75" Q9f or Q8c if it's about luxury.

Does the Xbox One even support 3D?

$330 for an Xbox compatible force feedback racing wheel that includes three petals and a ball shifter? That's bargan basement. Try a Fanatc Forza Motorsport Wheel Bundle at the low low price of $1,299.95. https://www.fanatec.com/us-en/bundle/product/forza-motorsport-wheel-bundle-for-xbox-one-and-pc.html

Got this wheel set on sale a while back, maybe last year now for like $280? But i wanted it to use with my pc and xbox one. Now i still just need a darn stand I like lol.

god damn, had no idea this existed :O

Problem with LG TV is android OS.
And we have android on this site. Rather go with Samsung Tizen

LG dosen't run Android on their sets, they run WebOS. At least for the last several years. https://en.wikipedia.org/wiki/List_of_smart_TV_platforms_and_middleware_...

Oh ok. My bad. We like LG then.

Web OS is kind sluggish though. Navigating menus on new LG TVs can be annoying as there's always a one - two second pause when opening the menu.

The elite controller is definitely worth it. Don't plan to ever use a regular Xbox one controller.

Sorry but your definitions of luxury and expensive needs adjusting. Example most non-subsidized phone starts around $400, midrange tvs start at 2k, every major game console started at least $300 (and that's going back over a decade), etc., etc., .....

A bit of splurge https://imgur.com/gallery/9cWQW I built this for way less money than you'd think. I'm a major audiophile and videophile nerd with a life long passion of this stuff. I have worked with large scale professional av equipment as well as servers and computers. I am not rich, but a huge believer in doing research before buying... Let my research be your victory in blowing away friends and family!!

Explain your audio set-up to me.

LG C7 all day. Added to my best Buy cart. LOL

Pretty good list except for real high end sound I would have listed a Dolby ATMOS equipped Yamaha receiver, Polk Sub woofer, and Bose Speakers instead of a sound bar.

Bose is the apple of sound though... I agree it's better than a sound bar.... But for the same price has bose speakers you have dozens of better choices.... Klipsch, Cabass, triangle, etc... And I prefer velodyne to polk for subs but that's more about taste in that case

Alot of people looking for easy setup and easy placement. But yeah a receiver and separate speakers will always give you better sound of course. For me I have the Onkyo audio receiver with Onkyo speakers but I do have a Sony Soundbar when I play my video games.

If I was loaded I would do the same. Only the best for the most dedicated gamers.

i might eventually spring on the Openwheeler Racing Wheel Stand Cockpit and logitech. always wanted that setup along with a vr headset.....

If you are rich and think the best speakers you can get for your home theater is a soundbar, go ******* kill yourself.

If money was no concern, I'd have a dedicated basement/theater room with lounge/theater chairs, 4K projector with 140" screen and 12' distance. X1X and a closet with all components hidden. Elite controller, Dolby Atmos setup and a mini fridge to top it off. Since money is a concern, I'm currently settling for what I can afford which is a living room with 1080p projector (upgrading to 4K projector within a month), 102" screen at 9' distance, Onkyo TX-NR656 with 5.1 setup, a couch and a low profile, small component rack with XB1 (centerpiece of my gaming life), PS4 and Nintendo Switch. X1X will be a day 1 buy for me.