Motorola 'Atila' Revealed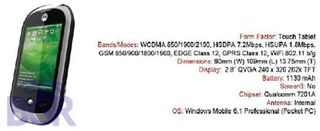 It's not just the Alexander that Motorola is cooking up, we're also getting the 'Atila.' BGR (natch) just dropped the news, it should be a WM 6.1 Pro/Touchscreen device sans physical keyboard. Other goodness includes full Quad Band Edge / Tri-band 3G, WiFi, GPS, 1130 mAh battery, Qualcomm 7201a chipset, and a size of 80mm x 109 mm x 13.75mm. That last, friends, makes it comparable to the HTC Touch.
It's not all goodness, sadly: we're looking at a 240x320 screen resolution. Offset that with what looks like a geniune trackball (yeah, we're a little jealous of the BlackBerry's trackball lately, sue us) and maybe it's not so bad.
The Atila isn't going to revolutionize anything, but it should be a cute little phone. Release it, Motorola, and release it soon.
Motorola? Who? They're still making smartphones? Why?
Windows Central Newsletter
Get the best of Windows Central in in your inbox, every day!
Thank you for signing up to Windows Central. You will receive a verification email shortly.
There was a problem. Please refresh the page and try again.