moTweets 2.2 headed to the Marketplace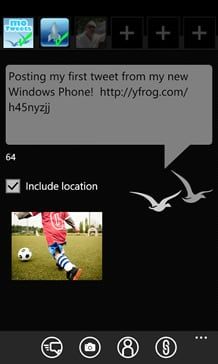 We're fans of moTweets 'round these parts, the features and UI make it one of the top Twitter clients for Windows Phone 7 at this point. Looking at the features that are coming in version 2.2 we can't help but get excited. In addition to fixes to GPS retrieval and some other bugs; Panoramic is adding themes, Facebook integration, and support for tools like Twitlonger and Plixi/TweetPhoto.
Keep an eye out for both the free and $0.99 versions of moTweets 2.2 in the Windows Phone Marketplace. The full moTweets 2.2 change log is after the break.
moTweets 2.2 Change Log:
Facebook integration (news wall, like, posting ability)
Themes (black, white, blue)
Twitlonger integration
Plixi/TweetPhoto support
Font size option (normal, large)
More Accurate GPS retrieval
Fixed an issue with Twitter Lists
Fixed an issue when trying to view protected tweets
Fixed an issue with certain RSS feeds not being read correctly
Fixed an issue with RT for some cases
Post screen now has auto correct for entered words
Windows Central Newsletter
Get the best of Windows Central in in your inbox, every day!
Just got an Arrive a couple days ago. Can anyone recommend the best twitter client for WP7?

This one is it... and it's getting better with 2.2.It beats out Seesmic which is what I've used for Android for a while now.

Seconded, moTweets is currently the best.

Thanks for the advice. I just installed the official Twitter client and it seems pretty decent, but a little hard to navigate. I'm going to go download this one right now.

Birdsong takes MoTweets to the cleaners.

"Best" is subjective, especially with Twitter apps it seems. I stuck with Seesmic for some time but found it a bit slow in terms of use and operation. Birdsong looks great but it's slow in loading the timeline. I'm not sold on the look of the moTweets interface as much as the others, but it's really functional. It's fast in updating and updates when you reach the end of your timeline (very cool), has a live tile which shows how many DMs you have per account, and it translates tweets, which is huge for me in following news around the world. Lastly, it just *feels* right for me. Again, subjective.

I've been using the 1st party Twitter App & while I'm not a huge Twitter user, the installed app is a bit on the 'meh' side.$0.99 isn't a bad deal at all so I'm in the process of installing moTweets now.The screenshots look really interesting.

YES! Finally, larger fonts. MUCH needed upgrade, I hate straining my eyes with most of WP7. All developers (and MS) need to allow for larger font UI (no I am not old, it's just REALLY tiny text at times).

So it looks like we have a winner for when I get my Trophy (whenever that may be). Plixi support was the one hangup I had with all of the WP7 apps available so far. Coming from UberSocial on BlackBerry, any app has a lot to live up to so I'm keepng my fingers crossed (maybe UberMedia can just buy up Panoramic like they did Echofon and Twidroyd)
Windows Central Newsletter
Thank you for signing up to Windows Central. You will receive a verification email shortly.
There was a problem. Please refresh the page and try again.