MouseCraft, a game of cat and mouse for Windows Phone and PC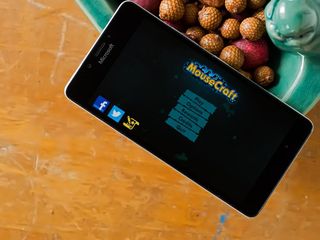 MouseCraft is an A to B puzzle game where you help a crazy cat scientist complete his mouse-powered invention. Available for both Windows Phone and PC, you help build a pathway and lead the mice from their exercise wheel to a stack of cheese.
Graphics and animations are top notch and gameplay has a Tetris-style feel. There are plenty of power-ups to collect and hazards to avoid throughout the 80 levels.
The only downside to MouseCraft is that the game lacks a trial version. Otherwise, it is a solid universal game and an enjoyable time waster.
The backstory for MouseCraft has a mad scientist trying to create a mysterious mice-powered machine. The machine is dependent on the mice reaching a pile of cheese and this is where your job comes into play. You will have to create a safe path that will lead the mice to the cheese.
You do so by dropping Tetris-like shapes into each platform level to fill in gaps, create steps, offer safe landings and lead the mice past dangers so they can reach the cheese. The main menu for MouseCraft has options to play the game, access the game's options, view your gaming rewards (achievements and stats) and view developer credits.
Options cover sound effects and music volume, turning on/off tutorials and language support. The game launches with a short video on the backstory and the tutorials will play throughout the game to cover the basics of gameplay and introduce any new gaming features.
The eighty levels of play are mapped out with new gaming features becoming available every three to five levels. The first few gaming are simple and straightforward to give you a feel for gameplay, but after you pass the fifth level or so, the game becomes progressively more difficult.
The gaming screen has your machine taking center screen, control buttons lining the bottom and sides of the display and your building blocks lining the top of the screen. The goal of MouseCraft is to place your building blocks along the machine where at least one mouse safely reach the cheese. You will also have secondary goals such as collecting gems that will allow the mad scientist to continue his tests.
Placement of the Tetris-styled blocks calls for you to tap and drag the individual pieces into place. You can rotate the pieces by using multi-touch and spin the piece. The control buttons, from the bottom left, include:
Undo Button: Place a piece in the wrong spot? Tap this button to remove it without penalty.
Fast-Forward Button: Once you unleash your mice, this button gives them a boost of speed to zip through the level quicker.
Play Button: This button releases the mice from their exercise wheel to head towards the cheese. There will be some levels you have the luxury of creating the path before releasing the mice and some levels, you will need to release them first.
Stop Button: A pause button for the game
Replay Button: This button resets the entire gaming level to let you start things from scratch.
In the upper left corner of the gaming screen has your tally sheet for the number of mice reaching the cheese and after level three you will also see a crystal count. The crystals, called Anima, will need to be collected in order to advance through the sections of the map. Advancing to the next level is solely dependent on the number of mice reaching the cheese.
As you work your way through the gaming levels, power-ups will become available such as bombs that destroy bricks to open up a path for your mice.
The appeal of MouseCraft is obvious with the outstanding graphics and animations and the challenges of each puzzle add to that appeal. Each puzzle has more than one solution. You can also replay each level to see if there is a better way to build a mouse path (or collect extra Anima if needed). The tutorials do an excellent job of covering new features as they become available and overall, MouseCraft is a gaming title worth investing in.
The only downside to the game is the lack of a trial version. Some will simply discount MouseCraft because of this fact. It would have been nice to have seen a trial version that gives you access to the first five levels or so. On the plus side, the $4.99 price tag does give you access to the Windows Phone and PC versions. There is speculation that an Xbox One version in the works and hopefully a means to synchronize gameplay between devices.
It is a game full of potential. All in all, we think MouseCraft is worth the price of admission and then some.
Download MouseCraft for Windows Phones and PC (opens in new tab)
George is the Reviews Editor at Windows Central, concentrating on Windows 10 PC and Mobile apps. He's been a supporter of the platform since the days of Windows CE and uses his current Windows 10 Mobile phone daily to keep up with life and enjoy a game during down time.
Tried it on PS4 about a year and a half ago. Decent game....

"There is speculation that an Xbox One version in the works and hopefully a means to synchronize gameplay between devices." This raises my singluar worry about 'OneStore': "Buy once, have everywhere" means one price. If it's 19.99$ on Xbox, and 4.99$ on w10m, you won't sell many Xbox licenses. There's a big emphasis, for various reasons, to charge higher prices for Xbox games. If I buy the game on phone, and get it on Xbox, does the developer really want to market it as a 4.99$ game? For higher-end games that wouldn't be on a phone in the first place, it's moot. You simply don't release for that device. I just hope it doesn't drive up the price of the more accessible games. The "fix" for this, and I really do expect it become the de facto standard, is for devs to release once and make IAPs to unlock the various platforms (Poki already uses this model on phone and PC).

I think ms can swing it with the cut that they take from various platforms. If purchased on xbox they take nothing. Who knows. Xbox may have additional features. Like dlc. Posted with Best phone ever: Lumia 950xl.

MS takes a different (that is larger) percentage cut of sales in the store based on country of purchase; they take a larger cut if the purchase was made with a prepaid gift card (the only store to do so); and they sure as hell take a cut of sales through the Xbox. This has the potential to balloon app prices on mobile, which would really hurt efforts to sell phones. As for your additional features thoughts, I definitely agree different platforms will have access to different content. In fact, I think MS could leverage this to increase buy-in on mobile devices. Rather than having a passive sidekick app for your game, integrate it into the product as an added (optional) feature (imagine Alien: Isolation where your phone is the motion tracker). Nintendo did this with some titles on the GameCube and GameBoy (I'm looking at you, Wind Waker, with your Tingle Tuner).

@GeorgePonder it'll be cool if when you review a game you put a score of your impression of the game... Say 1 to 10. Since you review mobile games :) PS. Just a suggestion Posted from Windows Central for Windows 10

Y no xbox live?!!!! Posted via the Windows Central App for BlackBerry Passport
Windows Central Newsletter
Get the best of Windows Central in in your inbox, every day!
Thank you for signing up to Windows Central. You will receive a verification email shortly.
There was a problem. Please refresh the page and try again.