Movie Maker 8.1 for Windows Phone is this week's myAppFree Deal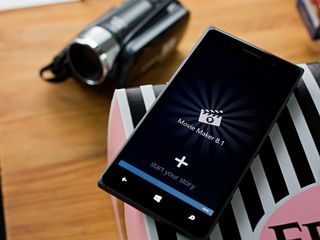 Looking for a feature rich video editor for your Windows Phone? Want to save a little money? Then check out Movie Maker 8.1 over in the Windows Phone Store.
With Movie Maker 8.1 you can mix videos, pictures and music to add a little gusto to your movies. The app normally runs $.99 but through myAppFree, you can pick up Movie Maker 8.1 free for the next 24 hours.
While still pictures are more my cup of tea, I have to say that the feature list for Movie Maker 8.1 is appealing. Along with full HD 1920 x 1080 video support additional features of Movie Maker 8.1 include:
No movie duration limits
Load and save your videos from/to SD card and OneDrive
Titles: customizable font (type, color and size) and background (color/picture/video frame)
Ken Burns effect (pan & zoom) on images with custom duration
Tools: frame grab, trim, crop, split, move, cut, copy, paste, delete, replace, merge, audio levels, detach audio
Unlimited undoes and redoes
Fully customizable MP4 and MP3 compressor: format, quality, fps and bitrate
Exclusive: 'tick' noise removal tool (pre-Cyan bug)
MP3 Studio: works with audio tracks only and compose your mp3 compilation
Extract single frames and mp3 audio tracks from a video
Accepted video formats: mp4, wmv, 3gp, 3g2, m4v, mov
Accepted image formats: jpg, bmp, png, gif, tiff, exif, ico
Accepted audio formats: mp3, wma, wav, 3g2, m4a, amr, aac
In addition to these features additional plug-ins are available through in-app purchase such as special effects packs, video and audio transition sets, share support for Instagram, YouTube and Facebook and more.
With almost 3,000 reviews, Movie Maker 8.1 nails down a 4.5 Star rating in the Windows Phone Store, which is spot on. The video editing app normally runs $.99 (with a trial version available) but through the myAppFree deal, you can pick up Movie Maker 8.1 free. If you like shooting video with your Windows Phone, Movie Maker 8.1 is a must have app.
Special Note: As an added bonus, the first 1,000 users can use the code "myappfree" and receive five free coins that can be used to play slots for a chance at getting a plugin for free. Here's how to redeem your code.
Under the three-dot menu choose "External Plugins"
Pick the plugin you want and tap the "Go to Store" link
Choose "Unlock Code" as the payment option and enter "myappfree"
From there you can go to the "Do you feel lucky?" option of buying the plugin where you play the slots in hopes of getting the plugin free.
The Windows Phone Store listing for Movie Maker 8.1 is already reflecting the deal but it may take a little while longer before the deal to appear in the myAppFree app. Oh and the code for the five free coins is active as well.
myAppFree
Windows Central is proud to be partnering up with myAppFree, a free app and service that highlights special deals for software on the Windows Phone Store. Make sure you download their app to keep track of all the specials they run weekly, as you'll never know what you may find.
Windows Central will continue to highlight select apps and games, such as Movie Maker 8.1, from myAppFree on a weekly basis as a benefit to the community.
George is the Reviews Editor at Windows Central, concentrating on Windows 10 PC and Mobile apps. He's been a supporter of the platform since the days of Windows CE and uses his current Windows 10 Mobile phone daily to keep up with life and enjoy a game during down time.
The problem is that this app is complicated ...

True, I uninstalled it due to that

Its not that bad, only used it a couple of times.

There's an easier one by MS...
Check out "Movie Creator Beta" for Windows Phone http://www.windowsphone.com/s?appid=db71b2c6-a486-4b80-b37f-5e94feae8d27

Of course, if it's by MS it's in Beta.... Most likely permanent Beta..

Rod , I've downloaded movie creator beta since its launch and I use it now ;)

I have used this app a number of times and have found it to be very straightforward if given the time. It is after all a very feature rich and versatile app.

Video editing by definition isn't exactly straight forward. If it looks complicated chances are it's more feature rich than something you're looking for.

Check this simpler (and may be better: http://www.windowsphone.com/en-us/store/app/video-memories/107a3926-3aa0-4248-9299-2a3b25445db4)

But that is to convert your photos into a video slide show.

I haven't tried it yet, as it is downloading right now. I was actually kind of stoked that it looked complicated if that makes sense. It appears to be quite powerful in the features it offers.

Only to those who put in the promo code back when wpcentral did promotion.

Yes, it was.....
During the world cup..... When Italy won a match.

Im waiting for Movie Maker 10.0❗❗❗❗❗❗

Lol, I expect that to be the next logical name ;)

Id think it'd be cause for ms to request that it be renamed

lolwut, why would microsoft request that a random dev's app change its version to 10.0?

Lol.. MS wouldn't request it... But, they'd probably change it on their own....
..........
Can you imagine if we still used apps named with 7.5?

It's for the second time in myappfree deal

What is the difference between movie maker 8.1 and movie creator beta?

Movie creator beta is/was developed by Microsoft

When go to MyAppFree I dont see Movie maker. I see "Chicken Story 2 VIP". What gives? I'd love to have the paid version of Movie maker!!!

Go to store...... & search this application.......

Use the link from this article.

Did both of those. Problem might be that I already have Movie Maker installed as the free version. I'll remove it and then give it another try.

That's because Movie Maker 8.1 will be showcased from midnight (London timezone)

There needs to be a way to cut and scrub music when you add it. Unless I just don't know how.

Once I could figure out how to trim audio/music but now I can't figure it out. Its not an easy App to use. Editing music shouldn't be complicated.

To trim a track, first tap it on the timeline, then click the "Trim" button from the toolbar.

Great job venetasoft. It's not a difficult aap. Very fluid and cool features. Been using it for months

Ok this is cool. I have already downloaded the movie maker sometime back and with "myappfree" code I got the instagram upload plugin free. Atlast I can upload saved and edited videos from my phone to instagram.

Sadly I don't want do deal with the minor nuances(bugs) that black paired with 8.1 cause. So unless I could download thru the emulator it's a no go

Thanks for the 5coins, I won 3 plugins..

The RNG of your phone must be broken :D

Random number generator ;)

So I didn't win 3plugins for real?

This "unlock" slots thing is not cool. Not only did I not get anything unlocked, I was supposed to get "free spins" with the matching sets. I got matching sets twice, only got one "free spin". I know this is supposed to be promotional, but this method only served to be a frustrating waste of my time.

Some symbols give free spins only, you need three globes to win a plugin. Chances are very high, you were simply unlucky :S

Amazing app. Helped me a lot.

It is quite complicated looking buy I agree to include all the req features there is not much alternative. All I need is simple crop and resize video quality though do Video Tuner is perfect for me

Played my 5 free coins for the instagram plugin and lost...! Only if only the native instagram app gave upload video features. But we have to pay for those on windows phone...

To get 5 coins more for free, just show some love to MM leaving a kind review on the Store, than email me and I will send you a new code :)

Just by messing around with this app for a bit I have noticed how complex it can be. But the more I have played with it the easier it is. Just gotta get used to it. Good app :)

Won unlimited Instagram posts. Which I'd the main use I give to it. So awesome. :)

Why in the hell would anyone try to edit a movie on a phone? Good god.

Maybe not a 4 hours movie, but it's sometimes useful to be able to quickly compose a small video (ie of a party, birthday, journey, etc) adding the some pictures, titles and part of other videos, and share it via email, instagram, youtube :)

Saved me three times at school :)

Hey anyone tell me how to download vlc player in my Lumia 625

I don't understand. I got an unlock code for the desktop version. Where did it go? Ventasoft, some help please!

From to the plugins page, select a plugin then tap the unlock code button.

With 5 coins I ended up unlocking none of the add ons. Thing is my last spin said I earned a free spin but it didn't work. When I went to spin again it just said, you don't have any more, give a five star review for more coins. Hmmmmm.

Downloading now, hope it's worth my few megabytes

Why don't you check another option here (Video Memories) http://www.windowsphone.com/en-us/store/app/video-memories/107a3926-3aa0-4248-9299-2a3b25445db4 See a demonstration video of Video Memories: https://www.youtube.com/watch?v=zRUvf_nU2_g VM can provide ~40 smooth transitions effects, pan-zoom effect for static images and more....

Again ;) ? Please don t spam here...

App isn't downloading.
On pending since morning.

Install it manually by downloading it from computer...

Well keep us updated to the new better myappfree deals....

Awww man.. I missed it!! Is it possible to get it for free another time??

Please update for W10m! AWESOME!!! yes, willing to pay!
Windows Central Newsletter
Thank you for signing up to Windows Central. You will receive a verification email shortly.
There was a problem. Please refresh the page and try again.