Movie Maker 8.1 receives major update with Instagram video upload support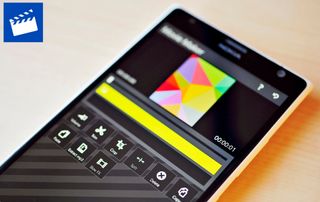 Movie Maker 8.1 for Windows Phone is the ideal app for those who love to use the video recording capabilities of Windows Phone 8.1, specifically with the ability to edit those short films. The app has today been refreshed with a bunch of new features included, including the ability to upload videos to Instagram. Not only has the developer added requested features, but Movie Maker as a whole is becoming more open, collaborating with other platform developers to make the app even better. Let's just say the future looks bright for this app.
Interested in reading about what's new in version 1.1.7.0? Here's the changelog:
Instagram Upload (IAP) – the first native Windows Phone 8.1 app to upload videos to Instagram (after Instagraph on WP7/8)
YouTube Upload (thanks to the external app "Upload to YouTube", which we just covered)
Live Movie Maker for Desktop Final release – one click import and export to and from a pc via W-Fi, auto-pairing on 99% of domestic networks
New Zoom + Rotation transition (think "old batman TV series" style)
Downloadable background music library
Redesigned UI: two-level UI and new tool categories
"Unlock code" menu to let users easily enter promotional codes (old codes can be re-used to restore the unlock if necessary – but shouldn't be needed)
"Extra content" page to check out all the IAPs purchased and look through all those available
Also, as lightly touched on in the above changelog, new content will now be offered as in-app purchases with each listing packing a trial period of 24 hours to allow users to test drive functionality. It's a neat update with plenty of work happening behind the scenes to pave way for future updates. We highly recommend this app. What's more, Venetasoft is giving away a limited number of copies for free to Windows Phone Central readers again!
Simply download the trial (if you haven't already done so)
Fire up the app and tap the menu to bring up extra options
Hit "Have a promo code?" and enter "_wpc_code__" (all lower case) into the text box
Enjoy
Please note that if you're experiencing issues with the code, we've contacted the developer to see what's up. The free trial is available with some limitations (10 seconds video length, no undo/redo or project management, just to name a few) but we're sure many will part with their cash as it's a superb app.
Rich Edmonds is Senior Editor of PC hardware at Windows Central, covering everything related to PC components and NAS. He's been involved in technology for more than a decade and knows a thing or two about the magic inside a PC chassis. You can follow him over on Twitter at @RichEdmonds.
Developer is really working. This app deserves an award.

Waiting for official wp 8.1))

The preview is rock solid (and easy to install ;)

Awesome! I bought the app yesterday :D

cool! small letters "wpc_code" works for me. Thanks Venetasoft and WPCentral! *first time to unlock using a code. :-)

I confirm that. WPC_CODE gave me an Invalid Code error but small letters does the trick.

You can't use the Back button to exit the app. Why ? Not exiting, not suspending, nothing.

Little bug...Fix under certification now :)
Just hold down the back button and close MM if needed, then select the 'continue last project' menu from the start page.

When is the Windows RT app coming?

@venetasoft you fu#%ing rock!!!

would be cool if when trimming the video... you can set the length u want and slide it left or right along the video... kind of like nokia ringtone maker... you select the length of the ringtone you want like 15sec or 20 sec... then you slide that along the mp3 to select the part you want for the ringtone... something like that for the video would be nice... cuz i was having a hard time selecting exactly 15sec for instagram upload video...

Good idea, I will do it asap :)
Thank you !

Very excited. Can't wait to try this bad boy out.

Waiting Windows RT version!

Working on it....Anyway the "Live" MM for desktop interaction is now full. You can import /export to/from your PC over wifi with just one click with 0 configuration ;)

Make sure you let us know here when it is ready on RT, it looks like you've done a fantastic job on the WP version.

Win RT version shares a similar UI, but with a big screen will be awesome to use !!!
I'm waiting some tech responses from Microsoft support, then it will be matter of days :)

Sounds great! I went ahead and bought the phone version too, just now, everyone has been waiting for video editing on WP forever and you've really brought it!

This is great, I'm really waiting for a good video editing app for Windows 8.1 RT.

I was uploading a video. I locked the screen and the app crashed!

Instagram video upload under lock screen is unsupported... Please do not exit/switch the app for the moment.

Thanks for video upload, I took the app when it was free (Go Italy).

Unsupported for now or its an API restriction?

:crying: again offered free still not got ... still in wp8 not able to download ...o my god not again pls bring the 8.1 rollout fast...

You can easily install the preview, it s quite solid.

Yes, they are missing the cool stuff

Seriously, install the preview for developers. I've been on the 8.1 preview since day one and have had zero issues.

I can't upload a video in Instagram Beta .. :'(

You can with Movie Maker now :)
Anyway with the new wp8.1 APIs is incredibly easy for any app to exchange data with others. I m sure the official Instagram app will sooner or later support it too with next updates...

Venetasoft pls give the app for one day when wp8.1 releases ...

Or you could buy it and help to support a hard working developer.

Indeed, devs like these need to be rewarded for their hard work.

I installed the app when it was free (Italy) ....so will the code do me any good?

A free app (paid 0) is unlocked by nature, no you do not need it.
All old unlock codes are still valid too, just re-use it in case you format your phone or your app got locked for some reasons.

How can I upload a video on Instagram ?

To upload to IG, tap the "share" icon from the appbar, then click the IG icon (first on the left).
Video must be between 3 and 16 seconds. To choose the thumb for the video, just move the timeline and select a frame.

Sorry, my bad I found. Should I pay for the Instagram video, cuz I downloaded it when it was free.

The code "wpc_code" it says Sold Out. Does MM remain free for me ? Cos I updated from the free version you offered because of the Italian match.

If you downloaded MM while free (Brazil WC 2014 3 days deal) you do not need the unlock code as the app is paid, so unlocked by default.
Early adopters, who paid the app regular price, have ZoomRoration TR + Backgound Music Library IAPs for free :)

The app crashes when I enter the promo code :(

I downloaded the app when I was free, should I pay to get the instagram upload feature ?

IG upload is a iap (extra) content as we need external hardware to do that (Azure)...

I already purchased this app. Any code to unlock extra content?

Early (paid) adopters will always be privileged, you should see two iaps for free right now: ZoomRotateTR and Background music Library.
Anyway stay tuned here on wpcentral, new things will happen :)

Thank you. I can only suggest more filters. I really love Movie Maker, will be nice to see more languages soon.

Tomorrow (or maybe later today...) 6 new Real time FXes !!!!!!
Multilanguage under development in these days too (need volunteer translators here ;).

Spanish (MX) volunteer here!

I can translate to German and russian :)

Please contact me at support[at]venetasoft.it, thank you very much:) !!

I want to help with the translation into Spanish of this application . What I have to do?

This is one of those apps you don't regret buying on the first day it was released. We need more developers like this. Great work!

This is THE BEST video editor app. So awesome. Love it so much

Can we get vine upload? I would love to be able to do vine edits and upload them that way

No social will be missed ;)
If official 8.1 apps will not support share target scenarios, we ll try to do it by ourselves, "WP style" ;)

Best part, the developer is actively answering users questions in this thread. Great support, thanks!

Lol I payed and then it went free... That's life! I payed out of £20 bonus money and now I only have 74p left. I really want to upload to instagram D:

As an early adopter, you have special content for free in this version ;)

Great app though.... Never regretted buying it. I don't have a pc so this is perfect for me. And the thanks for the free content! Kudos.

Why the "have a unlock code" menu appears in the full version? That ridiculous.

I plan to create IAP specific unlock codes too in the future...

But that IAP appears on the shareware and disappears in the full version. Have this menu in the full version suggests that something is missing in the full version.

The paid version does not include IAPs.
Early adopters had two IAPs for free, but others are available if needed.

Maybe to show you all that you have or even more likely because the dev plans to continue making new content. Does it bother you that much?

Finally Video support is here....Cooll!!! Em lovng it

Hey Rich. You can share the low-poly image displayed? I have that picture please.

Loving this app, keep it up ventasoft!

Cant get instagram upload to work

Can you upload to instagram without having to buy the full version?

Yes, you can but IG IAP only.
A IAP purchase include trial limitations removal too :)

I'm still on the Instagram free trial, and i can't upload any videos :( It only will says 'Something Went Wrong. Retry Later. Good job btw. P.S. an option to rotate photos in editing would be perfect!

Please contact me at my support email so I can investigate. Thank you :)

The free code has been all used up, hasn't it? :( Oh well, I probably will buy this app, it sounds really good. My problem is that as I'm using the WP 8.1 preview, to use Cortana I've switched my country to USA (I'm, from Argentina), so instead of paying for apps in my own currency I have to pay the price in dollars and it ends up being more expensive, it seems. The local currency prices are fixed, whereas if I buy it in dollars the exchange value changes (and it's going up :s)

The only problem is that this app drops down the quality of the rendered video. Rest all is perfect with this app.

Oh, does it? A lot? There should be an option to define target render quality. I don't know if there would be enough processing power or free space in most phones to do a 1080p render, but well. In all, it's cool to be able to edit videos from your phone.

On 512MB devices, on effects and transactions only, I use low resolution frames to avoid memory issues. There is some room for improvements, anyway ;)

Venetasoft...Not interested in wp8.1 preview....waiting for fully polished wp8.1.... Thats y ... Anyway thanks for great support to wp & reply to feedback...:clapping:

Can I get the latest code? code "wpc_code" can no longer be used .. Please :))

Version 1.1.7.1 with some fixes is available.

I bought the app and the plugin, still not working the upload to instagram. Appears the message "Something went wrong. Retry later.". is it just with me?

Instagram support, Heck Yeah I've been waiting on this!!!

MM version 1.1.7.5 shortly available on the Store. Changelog:
- fix: back button issues :/
- fix: instagram upload for > 10 sec. videos
- fix: ZoomTR In next update 6 new real time Effects, stay tuned !!! If you find bugs please write me at support[at]venetasoft.it, thank you :)
Windows Central Newsletter
Get the best of Windows Central in in your inbox, every day!
Thank you for signing up to Windows Central. You will receive a verification email shortly.
There was a problem. Please refresh the page and try again.