Movie Moments, Microsoft's first video editing app for Windows Phone 8.1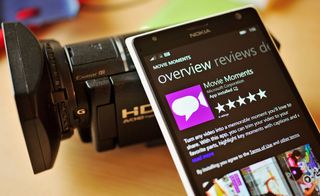 We've been looking forward to video editing apps coming to Windows Phone for a long time. The release of Windows Phone 8.1 allows developers to build such apps, which is why just two days ago Movie Maker 8.1 was the first video editing app to come to the platform. Today Microsoft is releasing their own video editing app called Movie Moments.
Head into the Windows Phone Store and you'll find Movie Moments for Windows Phone 8.1. It's a new video editing app from Microsoft that we've already since on Windows 8.1. You'll find that the Windows Phone version of Movie Moments shares a lot of features from the Windows 8.1 version. That's because it's a universal Windows app. Here are those features you can look forward too:
Pick your favorite 60 seconds. You can trim from the beginning, middle, or end.
Highlight your favorite moments with fun, colorful captions in a range of styles.
Add music that matches the moment. We've included a few songs for different moods, or you can use songs from your collection.
When your movie is exactly how you want it, share it with family and friends right from the app.
You're not going to be making the next indie movie that wins awards at Sundance with Movie Moments. Instead you will be making great 60-second clips that you can easily share through OneDrive or Facebook.
We'll be going hands on with Movie Moments later on. In the meantime take it for a spin and let us know what you think of the new app.
Download Movie Moments for Windows Phone 8.1 from the Windows Phone Store.
Download Movie Moments for Windows 8.1 from the Windows Store (opens in new tab).
Via: Windows Phone Blog
I'm loving that video editing apps are finally coming to Windows Phone.

Yes! Yes! You, me and the rest of the world.lol No but seriously, this is great.

Cool & all , but 60 seconds ? Uh well.

Its in the name, Move Moments; a moment is a short period of time.

Or battery for that instance..

This app is ok i guess. The other one has a lot more features. Hopefully Microsoft comes out with a full video editing app. And perhaps one that works with win8 as well.

I could have sworn I saw this icon and app name in my Windows 8.1 update start screen

I bought Lumia 925 to make videos. That's a good news.

Wow, now is there any chance we get music convertors and editors like handbrake in wp?

Not quite like Movie Maker 8.1, but still awesome. Besides it serves a different purpose. I'll try creating some vines with it.

It's best for vines and instagram videos, by the way, it make a perfect companion to movie maker 8.1, you can make short films in it and adding them to movie maker, and you can use it more than once, so they are perfect together :)

How can you upload a video to vine. Does it allow you to choose pre-made videos? Vine app 6tag?

It's not available right now, but i will ask Rudy if he could make this available (the developer of 6tag)

Yes's.. But the sad part is.. Only Microsoft and Nokia are working for it.. Not the developers.. Like WhatsApp.. Its discomforting..

what is really interesting is the online app store. I already had this app on my surface so when i clicked the link to install to my phone from the web, it showed that it was "Already Purchased" with a note below that it was designed for Win8 and Phone. This was a little confusing but you can see how they can see that I already "own" this app. The unified store is coming; slowly but it is on its way.

It's is here, i see alot of universal apps these days :)

Can I clip a section from a two hour video??

We all know what you are planning on doing :P

I honestly don't know what you mean. I have a concert video (Depeche Mode: devotional tour) that I would like to trim down. That's why I ask. If you think I'm trimming a porn video, you're wrong. Sorry bud. :)

LOL
But seriously, trimming support in the app is only limited to 60 seconds.
How will any song fit in 60? Do it on a proper computer.
:)

I'm not trying to do a song, just a clip.

Lol, maybe you should do this at a PC

Try movie maker 8.1 by venetasoft.

Nice, i could really use this app when i am on a city trip tommorow with friends.

Great app, wish I could upload the results to YouTube

Nokia video upload should be able to do that, that is if this app saves the clips to your phone first which I'm assuming it does.

I'm sure there's another app that does let you upload your videos.

I think that you can, with windows phone 8.1 , it's available to upload files throw the browser, but i didn't try a video

Cool. Was just mulling over this after the Reading List news and voila!, Sam's already here with the news.

But it doesn't supports transparent tile

Why not make jay the developer.. He works hard.

I still trying to figure out why we are talking about 8.1, when the majority of window phone users don't have it and have no clue when it will be available for installation. All I'm saying is when 8.1 is finally released by your phone carriers, we will have to go back over all these new apps and features..

Nearly all WPCentral readers (no stats, kinda obvious) are on Dev Preview 8.1.
Users here, and not on 8.1 preview are a handful.
FTW

Tell Microsoft and developers to stop releasing things related to 8.1; news coverage will dry up. And tell all the readers here to stop talking about it and asking about it.

I tried it and loved it. Seriously it is awesome. Need more apps like this. BTW OFF TOPIC: Anyone else having issues with WPCentral app? It will give me Exception Error every single time I fire up the app then I will have to restart my phone to make it work (Even then it doesn't always work :(. )

So it wasn't that devs didn't wanna make apps for WP, it was because they couldn't. WP is such an inferior OS, its sad :(

I like the application. It could do with some filter effects, adjustable music/video audio balance and perhaps longer than 60 seconds. Very fast on my 1520.

app crashes as soon as I try to record something...

Lumia 1520 OS Version 8.10.12359.845

Just record it separately and import into the app...

Yea ofc...just listing an issue with the app

Sound Recorder, please? Pretty please?

I have £3.50 of my app voucher left. shall I get this app or go for movie maker? Yes I know this is free!!!!

Write me for a free code so you will own both :D

I emailed you at support@venetasoft is that the right address?

Thanks for that offer but note I'll happily pay for your app. This voucher was given to us by Nokia to support amazing devs such as yourself and keep sorry for the platform growing.

It was expected, maybe later, but expected... Anyway Movie Maker has different usage scenarios, and will grow with TONS of features, that s space for all, I hope....
The only important thing is WP users are happy, and the platform grows up to N.1 OS in the world, some devs could be sacrified for this :'(

Dammit, wasn't meant to say"sorry for platform growth" it was supposed to be "help the platform grow". I blame word flow for that.

Just tried to purchase your app but realised that I have a small issue. I'm in the UK but changed region so I could use cortana and now my cards and voucher details wont work on the store. I need to update my info to match USA region. Does anyone know how to get round this. Don't really want me around with account details but do I want to lose cortana but if I can't buy apps then she will have to go. :'(

I think you can just purchase it on the wp website. Not tested but I think that should still be on your local region.

They are symbiotic apps.
Movie Moments gives you great transitions and fine grained editing...Movie Maker allows you to merge multiple 60 second moments into one big video!
Get them both :)

Now if we could upload videos from the phone to Instagram with 6tag it would be awesome!!!

Let Rudy Hyun know! I'm hoping he adds this functionality to 6tag too.

I want an audio editing app. As an audio podcaster it would be great to have some mobile functionality

You can do some audio editing with MM, just add a foo image, set duration as desired, than add your audio tracks and compose your music.
Finally tap "extract mp3" :)

This flips my glance screen upside down! Restarting the phone fixes glance.

This is most likely a platform issue with landscape Store Apps, not problem with Nokia, remote desktop, or Movie Moments. Posted via Windows Phone Central App

This is most likely a platform issue with landscape Store Apps, not problem with Nokia, remote desktop, or Movie Moments. Apps should not be able to effect one another in this way. Posted via Windows Phone Central App

Why is it when I go to the "Related" section of the store, I don't see the other windows phone 8.1 app?

This would be nice for Vine and Instagram...IF we could upload videos to any of those services on WP at all. Oh well, maybe once 8.1 is official.

With 8.1 portings, all apps will hopefully implement the share contract, so every app will exchange files each other. Will be awesome, believe me :)

I just want an app that can let playback your videos in slow-mo without having to go through the whole editing-not-full-screen-video ish

Do you mean that you want to add slow motion to videos without having to launch an app? (from the Photos app)

While that would be nice I honestly just want the slow motion for video playback...... for when your want to analyze a video.i coach so this would be infinitely helpful!

Oh I see. So if you go to Photos, tap on a video, you want to be able to just have a setting to manipulate playback speed, kind of like MediaPlayerClassic or a DVD player? That makes sense.

Yea exactly like I'd go to edit in the photos hub and it would be one of the choices..... Like the recent this party Movie Maker kind of lets you do it but its not as fluid quick because their I'd no way to press edit in the photos hub

Store seems to be down. Of course, since DP, connectivity sucks.

Well it works great injunction with movie maker. Moments allows you to add and edit the 60 sec clips adding affects or text. You can put together a nice Movie when adding these 60 sec video edits to movie maker for a full length movie. I think ill start using my video camera more on winPhone. Thanks developers and GO MICROSOFT/NOKIA

I'm waiting for 6tag to be able to upload existing video,, not only just video recorded from app,

It's very nice and chill but increase the trimming time because one minute it's very small

Microsoft has updated the app, following their rule (to obey own rules) there's no change log.

The only thing that was changed was the rate and review button from the settings page. It was just a minor bug fix. Posted via Windows Phone Central App
Windows Central Newsletter
Get the best of Windows Central in in your inbox, every day!
Thank you for signing up to Windows Central. You will receive a verification email shortly.
There was a problem. Please refresh the page and try again.