Movies Anywhere can now be linked to your Microsoft account
With little fanfare (so far), you can now start linking your Microsoft account with Movies Anywhere.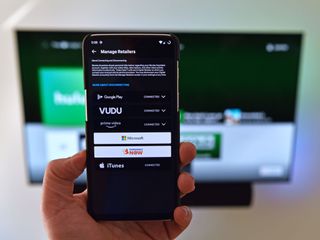 (Image credit: Windows Central)
Update: Through the rest of the month, Movies Anywhere is offering a free copy of X-Men: Days of Future Past when you sync your account with your Microsoft account. For more info, head to Thrifter.
Microsoft briefly revealed today that it was hopping on the Movies Anywhere bandwagon, opening up your Microsoft Store purchases to be synced across services like Google Play, iTunes, and Amazon. While we have yet to see an official announcement, the cat's out of the bag and you can now link your Microsoft account with Movies Anywhere.
To get started with linking your accounts, you'll have to stick with the Movies Anywhere mobile app for now. The website doesn't appear to have been updated just yet, but the Microsoft account option is currently available on mobile devices. Simply log in to Movies Anywhere, select "Manage Retailers" from the hamburger menu, and select the "Microsoft" option. From there, you'll be asked to sign in to your Microsoft account and give Movies Anywhere the required permissions to access your library.
Once you're all linked up, you should start seeing your eligible purchases from the Microsoft Store synced to Movies Anywhere and any other digital locker services you're signed into. Your purchases on Google Play, Vudu, Amazon, and iTunes will also be synced up with your Microsoft library.
One big caveat to all of this is that Movies Anywhere is still a U.S.-only service, so you're out of luck if you're located elsewhere. Participating studios may also be a roadblock, as Disney relies on agreements with studios to decide which movies are available to be linked across accounts. Currently, the list of studios that have signed on to Movies Anywhere includes Disney, Fox, Sony Pictures, Warner Bros. and Universal. Paramount, Lionsgate, and MGM still haven't jumped in.
Still, this is a big boon for Microsoft, as its Movies & TV app isn't available on Android or iOS ( at least not yet, anyway). With Movies Anywhere integration, you'll now be able to access all of your eligible Microsoft Store purchases no matter what service you have available across your devices. That goes the other way too, bringing purchases from iTunes and other libraries to your Windows 10 devices and Xbox One.
Windows Central Newsletter
Get the best of Windows Central in in your inbox, every day!
Dan Thorp-Lancaster is the former Editor-in-Chief of Windows Central. He began working with Windows Central, Android Central, and iMore as a news writer in 2014 and is obsessed with tech of all sorts. You can follow Dan on Twitter @DthorpL and Instagram @heyitsdtl.
So excited to see this happening. Makes Movies & TV that much gooder :P Also, try the VUDU DVD-to-digital option - scan your old DVDs, convert to digital shows up in your library. Win-win.

Especially if you have T-Mobile and use the Vudu Credit they give out every once in a while. Free disc to digital convert!!

By the way the press statement said it does not work on wp. However, after syncing via the movies anywhere web app I have the full collection on w10m on jp elite x3. And the movies look real good and sound great on this device using the ms w10 movies and tv app.

Maybe they meant the movies anywhere app? I'd assume the movies and tv app would easily.

Ps. Dan thank you for making this happen. I believe it was your efforts in calling out MS that drove this. And separately if they see sucess here maybe a grove like service could return through the Spotify partnership. Something akin to movies anywhere between MS and Spotify perhaps. Just hoping of course since I prefer the grove app experience and its better Cortana integration.

lol, would love to take credit, but I think Microsoft just knew it needed to do the right thing ;) Glad it worked out for you.

Same here, added all 139 my windows phone, weirdly it asked me to sign in again, but it's working fine... and I'm in the UK, the site allowed me to link my Microsoft account no problems, and I got a free copy of X-Men.

Hi, how did you get it work in the UK.
I have tried signing up for a Movies Anywhere account normally and through a US VPN and it wont let me create an account :(

Check this out Dan. I downloaded a movie I bought on vudu to my WP from movies and tv then cast it to an onkyo through Chromecast. This is so sick. I can't wait to check on my Xbox if we get atmos too.

And I have said this many times before Xbox video was a Dolby Vision and streaming atmos lossless partner so....here we are. If Andromeda is this good it will be well worth the wait too.

That dialog is the kind that I never accept though. Look at the words: Movies Anywhere will be able to see and update your info even when no using the app. Seriously? Microsoft need to improve these kind of warnings. What Info will be updated? What info can they See? I really don't want them updating any info! The dialog needs to be explicit and say what the info is. E.g. is it the Movies I have. Or is it my personal email. I have a LOT of 'info' in Microsoft accounts...

It'd be your movie collection, so that you don't have to waste time syncing when you load the app.

Why do you believe that the policy you are (appropriately) concerned about is Microsoft's fault? It is pretty clear that the "we can update your data even when you aren't using the app" stuff is coming from Disney. I've seen others complaining about this policy and the US only restriction and blaming both on Microsoft. This is Disney's service. The US restrictions and lack of privacy are Disney's policies. The band wagon effect has made this service attractive to companies like Microsoft, which Disney refers to as "retailers" as far as Movies Anywhere is concerned, because if your competition is already on a popular service, you better be there too. I think Movies Anywhere has the potential to be very useful because it did bring my Amazon and Movies & TV movies together on my PC and Xbox. I don't see why anyone wants to watch a movie on a phone but having them available on a Surface Pro when I travel is a good thing. That said, this service merits watching closely because of its ownership by Disney which is in the process of buying up the 21st Century Fox studios and will have accumulated significant power to promote its own offerings, its upcoming Netflix-like streaming service, and which technologies it allows customers to use.

So excited that this finally happened! Congratulations Microsoft.

Too bad all I had on my MS account were TV shows.... almost all freebies that they gave out. On the plus side, a lot of my UHD titles appear in Movies and TV as UHD. Big win considering that between services, some titles don't carry over as UHD.

That's good to know regarding UHD movies transferring as UHD

Do they show atmos like they do in vudu

It actually worked for me too, while i'm not in the US

When is it coming to Canada?

About 10 years before the rest of the world probably...

There's always the VPN approach. Mostly works - only wrinkle we had was iTunes since it would not accept a Canadian iTunes account, but Google Play, Amazon, and Microsoft all had no problems using the Canadian account as long as I first created the MA account "from the US". But yes, of course it would be a lot better if it was officially available.

Woohoo!! Now I can watch these anywhere I go. Good call, Microsoft!!

I wish it applied to the tv shows. I have alot of them and none carried over. Maybe in the future.

Once you link your account, you get X-Men Days of The Future Past for free.

Well, I don't see Days of Future Past in my collection after linking. :(

The movie will show up. In my case it took about 12 hours.

Anyone know a way to get this running outside the US?

that's no movies anywhere... should be named movies US

Well, close to half of my collection shows up, which isn't exactly small. So, this is a great thing. I'm glad Microsoft got in on this. Now, if the other studios stop holding out, I could access close to all of my content. Although, I would much rather have a dedicated Movies & TV, then I could watch everything that I've ever purchased. Either way, I'm glad to have something. This makes it easier to wait and see if MS will make an app. If not, I will just have to be content with this. It's certainly much better than having nothing. The Movies Anywhere app is really nice, especially since I can connect other services to it, as well.

Movies Anywhere …..ppfft. Should be called, Movies USA.
MS strikes again.

It's Disney, follow the blame more closely please.

I went to the Moviesanywhere website and directly proceeded to connect my Microsoft account. It worked.
Then I clicked on the Explore tab and immediately found the "Get a Free movie when you link your Microsoft account" banner on the top carousel. When I clicked it, I found that I was already registered! Don't let this happen to you. Edit: Now the movie "X-Men Days of Future Past" did show up on the My Movies tab.

Nice. I missed that, too, but it has now gone through. Not a great movie, but still, it's free.

Kudos to Windows Central for highlighting that this service is US only, that's not something Android Central would do. Of course I would like this service to be worldwide seeing as it is an online service and there shouldn't be virtual borders in place but I understand that it comes down to licensing.

I recall the leaked page mentioning a free movie (X-men Days of Future Past) for linking to Microsoft. Is that happening if you link right now?

Yes it happened to me when I signed up and connected my Microsoft account. It took like 15 min though. The promotions runs through the end of August I think, it states it on the movies anywhere website.

So U.S.A only? No great loss.

I just set a Movies Anywhere account and attachedy Microsoft account and I can see and play my movies through the Movies Anywhere service.
Windows Central Newsletter
Thank you for signing up to Windows Central. You will receive a verification email shortly.
There was a problem. Please refresh the page and try again.