Microsoft is working on Movies & TV apps for Android and iOS
New iOS and Android apps for Microsoft's Movies & TV service are in the works, according to our sources.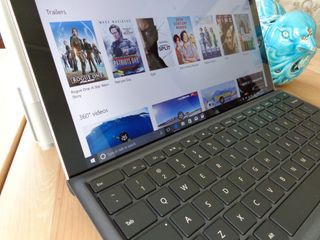 Ever since Microsoft announced that it was no longer focused on Windows 10 Mobile, the company has been working around the clock to bring the best of Windows 10 to iOS and Android. This effort has worked well for Microsoft, with apps like Edge and the Microsoft Launcher gaining millions of downloads from the Apple and Google app stores. In 2018, you can switch from a Windows phone to an Android device and continue to use most of Microsoft's software and services.
Microsoft Movies & TV on Android and iOS
There are still some missing apps, however. One of those apps is Movies & TV, which is only available on Windows-based platforms like Windows 10 PC, Xbox, and Windows 10 Mobile. If you're a movie buff with a large collection from Microsoft's store, the lack of an iOS or Android app is unfortunate. It's also likely a barrier for any potential new customers looking to buy movies or TV content. But it appears Microsoft is now finally working on bringing its Movies & TV service to iOS or Android, according to sources familiar with the matter.
My sources suggest Microsoft is building these apps to give consumers more of a reason to buy content in the Microsoft Store. While most people have moved over to streaming content via services like Netflix, there is still a whole lot of content that isn't immediately, or ever, available to stream. Lots of people buy digital movies and TV content, and Microsoft has a huge store that a lot of people seemingly ignore or don't know about because there is no mobile companion app for their phone.
These apps should minimize that barrier for a lot of people and further solidify Microsoft's commitment to its digital offerings on the Microsoft Store. Last year, Microsoft killed its music-streaming service, which saw many people question whether Microsoft was going to do the same to its Movies & TV service. Microsoft says that it continues to remain committed to Movies & TV, however (mostly because of Xbox), and these new mobile apps should help with that message.
Microsoft and Movies Anywhere
I'm also told that Microsoft is also set to announce that it's joining the Movies Anywhere program soon. Movies Anywhere is a program that allows you to watch content purchased from different supported digital stores wherever you want. For example, If you bought a movie from iTunes, with Movies Anywhere you can play that same movie in Google Play, because both Apple and Google support Movies Anywhere. This is a popular service that many people can't live without, which is why Microsoft is working to rejoin this program.
We said Microsoft needs to join Movies Anywhere back in November 2017 if its movie service is to have legs.
Regarding a release date for all of these apps, I'm told not to expect them soon. Work is currently ongoing, and the apps will show up when they're ready. Are you interested in a Movies & TV app for iOS and Android? Let us know in the comment. As someone who is "all-in" on Microsoft's digital ecosystem, I can't wait to be able to play my content purchased from the Microsoft Store on my Android smartphone.
Windows Central Newsletter
Get the best of Windows Central in in your inbox, every day!
Zac Bowden is a Senior Editor at Windows Central. Bringing you exclusive coverage into the world of Windows on PCs, tablets, phones, and more. Also an avid collector of rare Microsoft prototype devices! Keep in touch on Twitter: @zacbowden.
good, what about photos and maps?

Exactly...still waiting on the Photos App 😑

Yeah! I would like to have the Calculator too... Android Calculator is so bad!

It needs to be named "Films & TV" for everyone outside of the US

Whoa I never noticed on my desktop (UK) it's named "Films & TV" 😨

Considering almost nothing is shot on film any more, I think Movies and TV makes more sense in this day and age.

....and its cancelled before its release!!! hee hee hee :)

Or discontinued at anytime after it releases … Zune, Groove (the original), Groove music, …

You took the words right out of my mouth... 😁 Photos and maps too please...

+1 on maps!
We need this.

Good! I hate splitting up between ecosystems for different devices.

This is great news I have movies on my MSFT acct I would to see on my VUDU acct. Great news all around Zac, I already am signed up with movies Anywhere this will help the Movies and Tv App as well.

It never made sense why Microsoft didn't support ultra violet movies anywhere from the start. I could have had a large collection of movies and tv shows from the get go to help me ease into using 'movies and tv' app.
Aside from that, looking to incorporate some other services, such as Plex would be huge. On a side note, I have idea why they thought it'd be a good idea to rename it to 'film and tv' here in the uk. no one calls them that, we call it the Telly. pff TV.. what were Microsoft thinking.

The stupid thing is, they DID support Movies Anywhere from the start. They were a launch partner when it was DISNEY Moves Anywhere, but they either backed out or Disney cut them off.

I hope this app will have some of the great features that VLC has on Android, like controlling volume or screen brightness via gestures.

I wish they one day bring the Store app as whole on Android devices too. I finally moved to Android and miss the store a lot... especially with the purchase of my Xbox games.

It would have to be sideloaded (as Amazon does), as Google doesn't allow other store apps in the Play store.

You do realise you can buy games on the Xbox app right?

Microsoft always waits so late to do "duh!" things. Habits are what drives sales and I'm sure many people have already gotten into the habit of buying their movies and tv content from other places. Their decision makers need to get grounded.

I gave up on Movies & TV and switched to Amazon Video. It's embarrassing that Windows 10 launched about 3 years ago and we are finally getting cross platform movies & tv. Pathetic. I will consider switching back if it's good.

MS was actually in on this early on, before the library was re-branded. They were a launch partner for Disney Movies Anywhere. I don't know if they backed out or Disney cut them, but just like with smartphones, they were in there early and could've made an impact but something cut them off.

It's awesome about MA!! I'd love to have all my 500+ iTunes movies in the Movie & TV app. That would be awesome.

did you struggle to read to the end of the article?

Do you not understand how MA works?

You CLEARLY didn't see my actual post. >_> Both of you.

I'm confused. Daniel commented somewhat in defense of you.... Edit: Never mind, I guess. haha

@Necro, I saw the pre-edit version 😉

That wasn't his original post ;-)
Looks like he has now read the full article....

Why buy on iTunes if you use movies and tv. Buy from Microsoft

there are those of us that already made that mistake years ago and hoping that we would be able to get our content that we have already bought freed. Or we did not even buy it from iTunes we only uploaded our digital copies to iTunes and now we can not get them out of iTunes. This is one of the 99 ways that Apple holds you hostage to their hardware. Like Blue vs. green i.m. colors or only sending some of the i.m. over their system and not over sms(cell so that people say my iPhone got all of the texts your non-iPhone must be broken.....

Don't know why you are complaining. MS does the same exact thing. Plus a lot of people started buying from iTunes well before MS had their own.

Not the same. Movies that had been uploaded to WMC from a digital copy all I needed to do was copy the file from file explorer to phone, tablet and it would work, Apple you do not have this choice. Currently yes if you by from the MS M&T then yes, but digital copies from disk no.

I bought movies from iTunes back when Microsoft didn't have a platform. Movies Anywhere freed those movies up to other platforms. Now I just need Microsoft to add Movies Anywhere because I have movies on it that are tied up.

If things are the same as they where with Disney Movies anywhere. You will only be able to get those movies out of iTunes if you have an active apple ios device. I had Disney Movies that I was never able to get them out of iTunes, and I did not even buy them in iTunes in the first place, it was a digital copy that I had the chose of loading to iTunes or WMC. I made the wrong chose at the time and now my digital copy is inside the apple wall and the only way to get it out is to get an ios device that can be up to date with the latest ios app. and I have to log on to it every 3 months or it will be taken from my anywhere library. Apple only let the happen so long as it was tied to hardware that they sell.

Until MA is official, I'm out.

Movies Anywhere inclusion would sway me. It's the only reason I don't buy anything on Movies & TV right now anyway. Granted most everything I watch is through my Xbox One anyway, but I like to have my options open should I or anyone in my family decide to watch on PC, phone, tablet, Roku or Amazon device, or smart TV. We have them all and they are all well covered through the miriad of apps that support Movies Anywhere and our extensive library.

Don't care about the app. The Movies Anywhere support is the big announcement (when it happens).

Yes that is verrrrrrryyyyyy necessary!!!

I agree, I'm looking forward to watching my Windows Store movies on my Android phone. I was wondering about how Microsoft is going to release this app, is it going to be USA first and then the rest of the world or is it possible for Microsoft to release it globally at the same time?

Haha don't hold your breath on this working anywhere outside the US. It's the MS way.

I don't see why not? They already have the distribution system through Windows Store, Windows mobile and Xbox. What else could be standing in the way of releasing globally?

Don't ask us. Ask Microsoft.

I would think that anywhere which can currently buy/rent movies on PC/Xbox would also get the app. All of those regional licensing agreements are already in place and shouldn't need to be altered just because there's another variant of the app.

I wonder if MA is playing hard ball with Microsoft and Microsoft is using this as a negotiation tool? It does in some way accomplish the same thing as MA other than you would not be supplying service for you competition. Right now when I use MA I most often by on Vudu as they have the lowest prices (in my experience) and then I will watch them on YouTube or Amazon as they quality and speed of the stream is better. So as I see it Amazon and YouTube are providing a service to Vudu who can now under cut the competition by not investing in improved services and just sell at a lower price. Right now for me it is a win win. I get a lower price and then good streaming service.

Also with the app you would get all media forms not just the ones that have signed up with WA. TV show would also be good this way.

Big corporation can work on both, but I hope they announce Movies Anywhere the moment it is ready and not wait on the Android app. The benefit of Movies Anywhere is I can watch the movie on my Xbox with Movies and TV, on my phone with Android video, and on my wife's Mac with iTunes. While having an app available on Android will be great for the purpose of having another competing store, announcing Movies Anywhere has to be a priority.

Movies Anywhere doesn't carry your TV shows over so I hope they make a app for Roku.

Why? I don't watch movies on my phone. Do people actually do this? I watch on a big screen through an Apple TV. If MSFT brought out a device for TV I would buy it but the app means nothing.

Some people like to leave the house occasionally.

I guess I'm stuck in my ways
I've always use my PC's and tablet as main devices
For media so I never really bothered me that it wasn't available for IOS and Android.
I may watch a YouTube video on my phone, but that's about it. But I'm glad it coming to other platforms

Nothing to get excited about since Windows 10 version isn't even half decent.

They need to sync their movies and tv shows service up with movies anywhere...

:))) Android and IOS already have far better Movie stores...and who on earth would ever trust them after they killed Music? besides desperate fanbabies like Rodney and GeorgeArm?

You still have not seen the movie The Draughtsman's contact did you? "Your thoughts are as empty as your......."

Neither Amazon or Google play support surround sound on my pc because they're web apps only for windows. Netflix + Hulu have UWP apps, and Microsoft store movies work fine.

Yesssssssssssss it's about time!!!! Now just give us photos and keep making Ms launcher and swift key better with more giff support!!!

They had better give us the option to download movies on Xbox too cause dealing with lag blowwwwwsssss

Downloads did work when MS was tied into Disney Movies Anywhere before the re-brand.

At last! I've been waiting for this for a while!

Don't really care about the Movies & TV app, but would love for MS to bring the Photos app to Android. Miss the access to both my local and OneDrive photos from one app so much...

These apps will not be useful if you cannot set them as default...

It is really always very great/awesome to knows about just about anything going on with your devices ALWAYS .

Cool. I will definitely use it if they make it compatible with Android TV devices.

There focus should be on apps such as Photo's and Maps , but the Movies and Tv app will be still a good app , I think Microsoft should ask the users what app/s they want on android as a priority , I would pick Photo App myself

How about bringing Groove back and having music in the store also!

Please join Movies Anywhere!

Absolutely no reason to bother unless it supports Movies Anywhere. I assume this will also, like edge, use the native APIs which mean it won't offer some of the nice unique features to Movies and TV like its MKV support. Or maybe they'll build on top of the VLC API.

I would love to see this on Android tv. Currently Microsoft seems to have a wider selection of uhd HDR content than Google Play does. At least in Canada.

I don't even use this on Windows 10, so I'd have no use for it on Android. I use Amazon and Google on PC and on Android.

Yes. I am ready to access stuff I couldn't access before because W10M was killed. Also, Movies Anywhere Alliance means there is now a chance I will buy from Microsoft again. It has allowed me unprecedented freedom. Buy a movie on Amazon, iTunes, Disney, or Vudu and watch it on any of those four! Perfect. Now, add Microsoft, a service which is home to a few dozen purchases, and now my entire library can be united! DEFINITELY keen on this. Yey, for customer choice.

well I stopped buying movies why? they killed groove. this wont go far enough to make me trust that I should buy more movies and tv shows. if they want our confidence dont remove the hub on xbox and replace it with games pass.

If you're willing to buy digital at all, this should make you more willing to buy movies from MS. It means that even if they do kill their service in a year like Groove, your purchases will live on in the other stores.

Glad to hear it. It's still a bit short of where it needs to be for me to fully embrace digital movies:
- Needs all the studios on board.
- Needs to be more reliable for things like special editions with multiple versions. I've found that sometimes the theatrical will sync but not the extended, or sometimes neither.
- Needs to be officially in Canada so I don't have to use a VPN to access it.
- Ideally also include TV For now, I will continue with my strategy of buying the Blu-ray combo pack, ripping it and putting it into Plex, and putting the digital copy into Google Play which may or may not end up syncing. One foot in each until they develop MA sufficiently to be completely reliable on its own.

Before you can do the movies and tv apps on ios or Android device manager I want movies Anywhere going first ,really don't feel apple/Google will support the ms apps before they are in movies Anywhere ,hurry up and get movies Anywhere going then you can do the movies and tv apps on ios or Android freely!

As someone who has been getting 4k uhd digital movies for awhile only vudu supports Disney movies in 4k while you can get the best bang for your buck with looking at iTunes,fandango now and vudu! If it's ma compatible get the best deal and be happy with ma but if you want the best deal it might be iTunes with all 5 mi for $29+ tax in 4k but then you need to get a 4k Apple tv to watch the movies! I've been able to get great deals on both fandango now and iTunes while using vudu for the Disney movies in 4k! Still have to get the other studios and tv shows supported by movies Anywhere but it's not even a year old! It will happen not sure about when but movies Anywhere the app doesn't have 4k support and movies I have in 4k on either vudu or iTunes aren't all in 4k on Amazon who have no 4k movies for sale and support the least amount of 4k content between iTunes and vudu even fandango now has more 4k than Amazon!

Why is Movies Anywhere US only?

Why is it taking so long for Microsoft to build a TV and Movies app for android?? I would really like to have my TV and Movie purchases available on my android phone and tablet for the kids to watch on car journeys or just in another room??

3 years later and nothing has happened. Sure, MS joined Movies Anywhere but since it is not available for non-us users, we are still stuck with Windows devices. I just want to watch my movies on my fire tv. 😭
Windows Central Newsletter
Thank you for signing up to Windows Central. You will receive a verification email shortly.
There was a problem. Please refresh the page and try again.