Microsoft is working on Movies & TV apps for Android and iOS
New iOS and Android apps for Microsoft's Movies & TV service are in the works, according to our sources.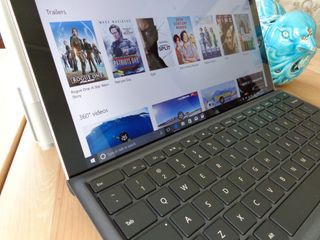 Ever since Microsoft announced that it was no longer focused on Windows 10 Mobile, the company has been working around the clock to bring the best of Windows 10 to iOS and Android. This effort has worked well for Microsoft, with apps like Edge and the Microsoft Launcher gaining millions of downloads from the Apple and Google app stores. In 2018, you can switch from a Windows phone to an Android device and continue to use most of Microsoft's software and services.
Microsoft Movies & TV on Android and iOS
There are still some missing apps, however. One of those apps is Movies & TV, which is only available on Windows-based platforms like Windows 10 PC, Xbox, and Windows 10 Mobile. If you're a movie buff with a large collection from Microsoft's store, the lack of an iOS or Android app is unfortunate. It's also likely a barrier for any potential new customers looking to buy movies or TV content. But it appears Microsoft is now finally working on bringing its Movies & TV service to iOS or Android, according to sources familiar with the matter.
My sources suggest Microsoft is building these apps to give consumers more of a reason to buy content in the Microsoft Store. While most people have moved over to streaming content via services like Netflix, there is still a whole lot of content that isn't immediately, or ever, available to stream. Lots of people buy digital movies and TV content, and Microsoft has a huge store that a lot of people seemingly ignore or don't know about because there is no mobile companion app for their phone.
These apps should minimize that barrier for a lot of people and further solidify Microsoft's commitment to its digital offerings on the Microsoft Store. Last year, Microsoft killed its music-streaming service, which saw many people question whether Microsoft was going to do the same to its Movies & TV service. Microsoft says that it continues to remain committed to Movies & TV, however (mostly because of Xbox), and these new mobile apps should help with that message.
Microsoft and Movies Anywhere
I'm also told that Microsoft is also set to announce that it's joining the Movies Anywhere program soon. Movies Anywhere is a program that allows you to watch content purchased from different supported digital stores wherever you want. For example, If you bought a movie from iTunes, with Movies Anywhere you can play that same movie in Google Play, because both Apple and Google support Movies Anywhere. This is a popular service that many people can't live without, which is why Microsoft is working to rejoin this program.
We said Microsoft needs to join Movies Anywhere back in November 2017 if its movie service is to have legs.
Regarding a release date for all of these apps, I'm told not to expect them soon. Work is currently ongoing, and the apps will show up when they're ready. Are you interested in a Movies & TV app for iOS and Android? Let us know in the comment. As someone who is "all-in" on Microsoft's digital ecosystem, I can't wait to be able to play my content purchased from the Microsoft Store on my Android smartphone.
Get the Windows Central Newsletter
All the latest news, reviews, and guides for Windows and Xbox diehards.