Microsoft Launcher with Cortana is truly great on Android
If you have never seen Microsoft's Launcher for Android in action with Cortana today is your lucky day. Here is our quick video tour of this productivity-focused launcher.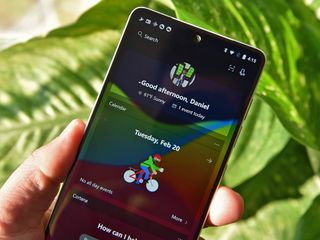 The Microsoft Launcher for Android has been out for four months now and it is steadily picking up features every couple of weeks. The latest significant addition is Cortana, which is just the beginning of some deeper integration Microsoft is doing with its services.
As I use the Microsoft Launcher for Android on a few of my phones (see my three favorite and why they're the best for Windows Phone users) it was time to do a proper video hands-on and tour.
While many of you have seen screenshots of Microsoft Launcher for Android, you may not have seen it all in action and today we change that.
Besides Cortana, the Microsoft Launcher for Android lets users customize the side cards for quick access to To-Do notes, reminders, OneDrive documents and last used applications, quick contacts and more.
You can read more about Microsoft Launcher for Android in our earlier full review from October.
Oh, and for those of you lamenting the unavailability of Cortana for Microsoft Launcher for Android in your region, make sure you read about a quick trick to enable it.
For now, check out my video overview of Microsoft Launcher. And before you ask, the icon set I use on my phones is called 'Viral' (opens in new tab).
See at Google Play (opens in new tab)
Daniel Rubino is the Executive Editor of Windows Central, head reviewer, podcast co-host, and analyst. He has been covering Microsoft here since 2007, back when this site was called WMExperts (and later Windows Phone Central). His interests include Windows, Microsoft Surface, laptops, next-gen computing, and arguing with people on the internet.
It is great and the only issue I've run into is when Cortana is the default, I can't use speach on my android watch. Oh well.

Got to admit, it looks really cool!

Daniel, I know you're from CT like me. How are you so tan?!?

He said why in the last Ask Dan video. He was on vacation.. I think Mexico? Honestly, as soon as I heard vacation, my mind went away somewhere...

Yeah, a week vacation in Playa del Carmen. I can get quite dark. Sicilian heritage in action.

Id love to be able to use MS Launcher.
It worked for a while. Now it crashes every time I try to load it. I've tried just about everything short of a phone reset. Its ridiculous that its not working on a GS8+ I dont have anything weird installed on my phone either, so that shouldn't be an issue.

MS Stores carry the GS8, GS8+, GS Note all loaded with MS Launcher. I tried them all this past weekend, seamed to work at the store. They also had a Mate 10 with Launcher for sale.

I bought S8 and S8+ from Microsoft store, and it did not come pre-loaded. I had to install it manually on both.

Had this issue everytime there were 3 updates it failed had to clear memory then uninstall the app, reboot then reinstall and all good.

One of the first things i did when i bought my S8 was install the MS launcher and it works flawlessly. Maybe take it into your carrier if you bought it there and ask them to fix it? Did you do a factory reset? I hope your phone wasn't infected with anything bad... That's the only thing i dont like about Android phones. The andoird operating system isn't good enough to protect itself unlike W10M and iPhones. Sorry pal...

I have a GS8+ and never encountered this issue. Been using it ever since the phone first came out and it was called Arrow launcher.

Devan - try resetting the app in the MS Launcher settings. It used to be a common problem after updates.

I had that issue a *lot*, but since this Cortana update, I haven't had any crashes... yet. Last time it took awhile before the crashes started. So far, I've had it a bit and it's worked just fine. If you do enjoy it and the crashes were the only thing that stopped you previously, I'd say give it another go. Unless you're referring to this version. In which case, that sucks and I'm not sure why it wouldn't work on such a mainstream device.

Im using it on my gs8+ and it works fine.

I personally use SquareHome 2 - Launcher. It is a Live Tile type launcher. There's lots of customization and I like the familiar look. Plus, I've notice a few tiles will actually show "Live Tile Notifications."

It's not just about looking like windows phone tho. The Functionality in this launcher I can't do without now. Try it for a few weeks and you will see what I mean.

well, it's no real live tiles ... but it's the closest thing on Android so far that allowes me to see all information i need on one screen. Together with "wave up!" my phone stands next to my computer screen and i just can wave it up to see what's new. Even while having dirty fingers from eating, or do some construction on my train set. No other launcher gives me the "full package" of info just at a glance as squarehome / launcher 10 does - except real live tiles. MS Launcher has some nice ideas - but it just wastes so much space with borders and distances between objects. I'd love to use the "recent"-card onto one tile on my screen.

The tiles are a waste of space tbh. Hardly any of them are live and notifications get the point across just fine. The whole feed in ms launcher is invaluable to me (because I use a lot of Microsoft services). Could never move to another launcher now

I'm running the beta version on my BlackBerry Priv... It's one of the best launchers on Android and for Windows phone converts a big plus over iOS... Not to mention the ability to set Edge and Cortana as your default browser and ai assistant...

Is this Cortana having the same nigh-uselessness as it has on Windows outside the US?

Try watching the video. It will answer your question for you.

Sarcasm, Google it, you'll get why I asked

About to find out myself. I couldn't pass up BOGO LG V30's from T-Mobile (with 2 projectors). I really didn't want to switch, but we can't even do simple things like web browsing anymore. I can now tell you how truly annoying it is when you are trying to find out information and you can't even open PDF files! I hope for the best with the next mobile movement, but unless they try to fix things on the customer and dev side, I'm not sure what will happen.

You call it great when only way to activate it is through voice or preset text?

Well that's a limitation of being on another platform, no deep integration.

What? adding a text field along side the voice button is not possible in the launcher? I actually was expecting to be able to pin cortana to a new page and get the same UI as available in the cortana app. Or better yet, replace the whole feeds page with cortana cards UI (adding any missing ones that are currently in the feeds page).

it does not change the hole os language see it as a win win

That's a limitation of Android, not Cortana.

There are many ways to activate Cortana on Android.
Tap the microphone icon in the MS launcher search bar in the MS Launcher. (new)
Tap the microphone icon on the Cortana widget in the MS Launcher. (new)
Use the home screen Cortana Mic widget
Use the lock screen button.
Make a regular shortcut on your home screen to open Cortana (type your question to Cortana, or voice)
Set as your default assistant and long press Android home. The only thing you really cant do is say "hey Cortana" like you can on Windows and have it pop up.

I am talking about the cortana UI in the launcher. I use the long press home button to launch cortana app right now and I am happy with it. It's just the launcher UI that is not good.

Therefor, it's completely useless to me. That is a critical feature for me--hands free activation and use.

Not exactly the same, but just download the Cortana app et voila.

Still waiting for Cortana on Android in French...

And in portuguese from Portugal (not from Brasil)...

Alexa rolling out to 80 countries in 2018, Google Assistant to over 50. It's starting to look like do or die time for Cortana.

or English outside of North America/UK/Australia

They let you write on Android Central too?

If they only wrote about Windows Phone, this site basically wouldnt have any mobile news.

I write wherever I damn well please. I'm Daniel Rubino. Bow. Also, pfftt...AC. I care about Windows Central :P

I liked this review. Your icons were pretty sweet. :) I also use the microsoft launcher and have the news feed on the right screen! I never use assisstants. I made the mistake of getting a samsung phone so now i have the bixby button turned off, and i never use google assistant or cortana. I find it crazy that 3 assistants have been forced upon now, Samsung's dedicated button was the worst idea. Thanks for the review Dan. :)

It's OK. My biggest issue with Bixby and Google assistant is Bluetooth usage. Bixby nor Google assistance allow for full voice interaction for hands free texting experience. You can send, but not reply. It's rather annoying. Cortana did it nicely and I miss it, when I'm driving. The other thing I dislike is navigation interruptions, when streaming music. I don't know if it's phone specific or Android. Even with navigation set to only have sound come through the phone speakers only, it still causes pause in my music. Windows 10 Mobile didn't have that issue. It's extremely annoying, when the navigation gets chatty.

Ugh, Android is so ugly. I'm close to making the switch though. *sigh*

You can make it look nice. Just choose launchers, icons, and wallpapers that work together well.

Ugly? Nothing can be worse than the tiles that was used on windows mobile, or on windows 8 or on windows 10 for that matter.

I made the switch at Christmas. It is a dumpster due of an is and it is amazing the Ms Apps that work better on windows phones. I thought I was missing out with outlook mobile but it is way better on windows phone. Cortana is a shadow of herself on Android. Edge is nice though and ms launcher has some perks. I am having live tile withdraws tho.

That's an old thing to say, considering there's no single Android look.

It is ugly. It takes some work, but there are ways to make it better.
Launchers help. Icon packs can help.
My favorite customization is the Samsung themes. I found one that does a dark theme similar to Windows Phone. The notification pull down, dialer, text messaging, and other OS apps, menus, etc are black with white text. This has been one of my favorite reasons to choose Samsung for Android. HTC's and Moto's themeing doesnt go as deep to allow for things like this.

Cortana lost me cause of being not available in Germany, the Invoke! (Not Cortana on PC) :/

Personally Daniel I.actually like Microsoft launcher for android.

Hey Cortana does not work.

If u have a Samsung just say "hi bixby, open Cortana". Then say " hey Cortana..." Lol

it's ok, but I want full cortana integrated in the launcher and also a lockscreen option... so don't need to install cortana and nextlock anymore

I agree. Cortana in MS Launcher is not as complete as the Cortana app. I've found if you want to use navigation, you need to use the Cortana app.

Squared Launcher 2 + Microsoft Apps app is better, it almost feels like WP10...

It is beautiful but Microsoft should include Oreo notification dots setting's , and continue on pc is not working properly . Unable to open the webpages . I don't know it is the bug with android or Windows. Please help me out how to fix it if you use continue on pc feature.

Try the "ask a question" section in the forums. This isn't really the right place for that here.

I honestly dont feel this launcher has any advantages over the launcher on my Samsung S8 when it comes to the MSFT ecosystem. I can still use my exchange accout to add calendars to the home pages and its much easier to add reminders through Bixby.

It does. For one, you can add a Documents screen and go right into whatever cloud documents you were working on. That's my favorite feature, actually. It's not in the video, but should have been, as it's the single most relevant bit if you're one of the few left in the MS ecosystem.

As far as Android-style launchers go it's pretty good. The problem is most of us WP fans don't like Android. I wish would could get a *good* WP launcher that also works well in the new phones with narrow screens.

"Microsoft Launcher with Cortana is truly great on Android" Maybe - if you lives in US. In Norway, not so much.

Conveniently, I do live in the US!

I will use my 950 for another year. Give the whole android/iOS MSFT integration a bit more time.

I don't see the point to be honest since most if not all of those functions are built into Android, if the phone have an awful launcher installed by the manufacture then fine.

I specifically mention that there are lots of other good launchers out there, but if you're hooked into Cortana, Bing, MSN News, OneDrive, Office 365, and Outlook then this is a good launcher. That's the point, which I thought was pretty clear.

Not even close. No hands-free voice activation. In fact, not much hands-free use whatsoever.

I should have bought an Android

The random President of Finland at 3:37 :-D Good old Cortana!!

Any idea's where to download that cool wallpaper?

Answer: from the launcher itself

Launcher works fine on my Moto G5+. Nice review. Thanks Dan.

Sorry it's OK but far from great, you guys are letting them get away with too much, but maybe the bar is low compared to other launchers

I disagree, so there's that.

Any way to get voice activated "hey Cortana" to work when adding appointments for example?

I can understand the move away from live tiles as mentioned in the video but there are some of us that still wonder how the "live tile" ui might be emulated in Android. Can you do video reviews of Launcher 10 and SquareHome2 even though live tiles aren't necessarily Android codex?

I want to use MS Launcher, but the only thing preventing me is it's missing a really important feature - long-press shortcuts (Most launchers use this now). It could also use some more subtle animations. Once they add the long-press shortcuts though, I'll definitely use it.

Here's the thing. They do have long press shortcuts, but it only works if you keep your homescreen unlocked (so you can freely move icons around). Once you lock your homescreen to prevent accidentally moving icons/widgets around, that function is lost. I do hope they fix this soon. This is really the only thing I don't like about MS Launcher. I switched from using Action Launcher and so far, I'm really pleased!

The thing i hate most is that the dock icons dont give space to the navigation bar on my gs8+. I have it set to auto hide when not in use. Dock does however respect the nav bar when nav bar is set to be static.

This actually looks really, really nice. Super fast and slick, plenty of convenient options in the right places and a clean style overall. I want to stick with my Lumia 950 as long as it's secure, but knowing the experience on Android is this good, the switch is going to be a lot more painless.

I've been using it for a few months now. I was starting to enjoy it but today I really started missing my Lumia 640. I downloaded my old WP launcher. I think I'm going to stick with it.

I could never get cortona to work on my phone, she would always crash

Hi, I´m a former Lumia Windows phone user and really regret Microsoft did not continue with these great phones. A few days ago bought a new Nokia 6 Android phone and came over your article about Microsoft Launcher and installed it and everything looked good and Cortana was as polite and funny as on my old Lumia. However I had to uninstall the app - because - no notification on sms-messages. Usually there should be a small red dot with a number on your textmessage icon, but as long the Microsoft Launcher were active - nothing. Of course there came a sound when you reseived a sms but nothing to see on the screen. How can you fix this?

Open launcher setting in Microsoft Launcher > Personalisation > Home Screen > Notification Badges (turn this on)
Windows Central Newsletter
Get the best of Windows Central in in your inbox, every day!
Thank you for signing up to Windows Central. You will receive a verification email shortly.
There was a problem. Please refresh the page and try again.