Movies and books we're into this week
The first weekend of November is here, and so is the latest collection of movie and book recommendations from the Windows Central editorial staff.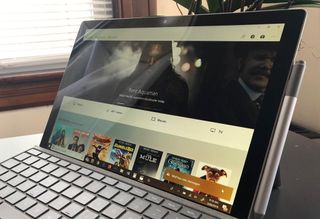 (Image credit: Windows Central)
Looking for something good to watch, listen to or read? We always are. That's why we round up all the movies, shows, books and tunes our writers and editors are into each week.
This time around, we have a movie about some lovable and lifelike animated toys, another about some really slimy aliens and a book about the gritty underworld of Boston in the early 1950s.
If you don't find what you're looking for here, we have more where those came from. Just hit the link below.
More media recommendations from Windows Central
Movies
To Infinity and beyond (and back … and then beyond again)
Recommended by Al Sacco, managing editor

I cannot say I'm much of a fan of animated films these days, but I'll still watch anything Pixar. That's because the quality of animation, and really, the quality of everything, in the company's films is simply unparalleled. Toy Story 4 definitely didn't disappoint.The characters are mostly familiar, at least if you've watched any of the previous entries in the series (and if you haven't, watch those first). But somehow, the Pixar team keeps a similar story fresh by introducing a few new (plastic) faces and a relatable, heartwarming story.The animation is top notch, as is the writing, and like all Toy Story films, the voice acting might be the best part, featuring a pile of well-known film actors doing their best to lend genuine life to their cartoon counterparts. Oh, and this movie looks a-ma-zing on a 4K TV.
Bloody mystery
Bad Times at the El Royale
Recommended by Dan Thorp-Lancaster, news editor

Bad Times at the El Royale thoroughly surprised me. It plays out like a mystery mixed with a heist flick, and there's never a dull moment as you try to figure out just what the heck is going on.The premise of the movie is that seven strangers show up at a dilapidated hotel that was once a popular casino destination. Without spoiling too much, each of these strangers has their own secrets to protect, which end up overlapping in what turns into a bloody showdown.The acting is superb here, largely held up by the performances of Jeff Bridger, Jon Hamm, Dakota Johnson, and Chris Hemsworth. I highly recommend giving Bad Times at the El Royale a watch if mysteries are up your alley.
Chest Burstin'
Recommended by Rich Edmonds, staff reviewer

Wanting to enjoy a solid horror experience this past weekend had me return to Ridley Scott's world of Alien. The original, starring Sigourney Weaver, is an exceptional movie that everyone should watch at least once in their lifetime.Alien follows the crew of the Nostromo as they investigate an alien distress signal, inadvertently picking up and bringing aboard an extraterrestrial life form with violent and lethal survival instincts.
Brutal winter
Recommended by Jez Corden, gaming editor

The Revenant won Leo Dicaprio a coveted Oscar, and for good reason. Inspired by supposedly real events, explorer and hunter Hugh Glass is left for dead by his own hunting party, following a savage mauling at the hands of a grizzly bear in 18th century frontier America. Navigating roaming bands of bandits, crossfire between native Americans and encroaching settlers, and his devastating wounds, Glass sets out across the wilds in search of redemption.
TV
Nine nine!
Recommended by Sean Endicott, news writer

Christmas specials are old hat. Now, it's all about Halloween specials. And no series has an annual Halloween special that's as consistently good as Brooklyn Nine-Nine. For years, Halloween has turned the 99th precinct into a heated heist in which members of the squad try to prove they are the king or queen of Halloween. Some highlights include an imposter corgi stealing the wrong cummerbund, a Charles look-alike, and some undercover action from people conspiring against Jake. Each year builds off the last while still having enough standalone character to be watched in any order. Personally, I love Holt's plans the most.
Books
Dirty ol' Boston
Serpents in the Cold — Thomas O'Malley and Douglas Graham Purdy
Recommended by Al Sacco, managing editor

Set in the rough-and-tumble Boston of 1951, and featuring an array of notable landmarks and destinations around the city, this book is not only an homage to Boston and the noir genre, it's a love letter to the past that's particularly relevant at a time when American cities seem to be gentrifying faster than Apple can fix bugs in iOS.The story features two unlikely protagonists: A local war-hero who consistently finds himself on the wrong side of the city's Irish gangs and his junky friend who recently lost his wife to an OD. They find themselves wrapped up in a series of murders that, as they investigate, turn out to be related to said Irish gangs and a set of clandestine land development deals that aim to "revitalize" the city's seedy Scollay Square neighborhood, while displacing thousands of underprivileged folks who live there.The book takes place nearly 70 years ago, but it was published in 2015, and as a Bostonian, I can say it mirrors some of the change that is happening today … while working in some ol' fashioned Boston gangster charm. It's a great read.
How are these for kids?
Scary Stories to Tell in the Dark
Recommended by Cale Hunt, staff writer

A movie going by the same name is or has been in theaters recently, but the original Scary Stories to Tell in the Dark book series will forever be the best possible version. Written by Alvin Schwartz and illustrated by Stephen Gammell, these two teamed up to create something truly terrifying when read and viewed by children. I have no idea how these books are marketed at eight year olds, and I likely have some sort of psychological damage from reading these when I was about that age. Still, I won't forget this series anytime soon. If you have children who claim they love a good scare, put them to the test with this three-book series.
Get the Windows Central Newsletter
All the latest news, reviews, and guides for Windows and Xbox diehards.