Movies & TV gets updated for Windows 10 Mobile with new playback shortcuts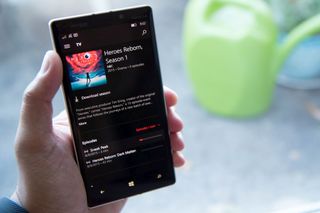 Movies & TV received an update for Windows 10 Mobile that brings the app to parity with its desktop counterpart, which was updated earlier this month.
Here's the changelog for version 3.6.1272:
Easily find movies and TV shows similar to the ones you love, right in the app
Better keyboard and mouse shortcuts for full-screen playback
Bonus content purchased with a movie is now shown on that movie's detail page. No more extras cluttering up your gallery!
One of the new shortcuts is the ability to (finally) toggle full-screen mode by double-tapping on a movie. Subtitle support is still inadequate, but with Microsoft adding new features constantly, we'll likely see better compatibility for subtitles in future updates.
Download Movies & TV for Windows 10 Mobile (opens in new tab)
Thanks Mathew and Richard!
Windows Central Newsletter
Get the best of Windows Central in your inbox, every day!
Harish Jonnalagadda is a Senior Editor overseeing Asia for Android Central, Windows Central's sister site. When not reviewing phones, he's testing PC hardware, including video cards, motherboards, gaming accessories, and keyboards.
I wish they added the ability to skip 30s back and forward. It really helps me on mobile.

I'm receiving a ton of app updates on my W10 PC right now: MSN News, Sports, Money, Weather, OneNote, Twitter (again), Word, Excel and PowerPoint Mobile.

Disney movies not allowed on mobile? I see mine on the pc, not on my phone...

I was watching one earlier.

You could try the "Restore purchases" option in settings, that seems to resolve most of the content sync issues on Mobile.

It's great that Disney movies show up now. Just needs vudu support.

What is the approx. Date of Windows 10 mobile official release ??

I think roughly October/November. So only one more month til things get real! :)

Microsoft would like to know the answer to this as well.

Isnt this a universal app? Hoe come it updates later than desktop versiom?

I think developers have the option to send app updates to each device type independently.

These aren't third party developers-----we're talking about Microsoft's own apps here. Why aren't they creating universal apps for desktop and mobile *on their own platform*? If they don't, why would third party developers???

Universal Apps are not quite a one size fits all solution, while it is possible to create an app that runs on every device, the app would be limited to a smaller set of APIs and therefore limited in features. For each device you target you will most likely want to bring in the API set for that device family, I.e. One API for phone that desktop doesn't have and one API for desktop that phone doesn't have. There are a lot of APIs that run on multiple device families and again the Core API set that runs on ALL device families. Because of this for a good and well designed app you need to fine tune parts of your code and your UI for each device you are targetting, this is much less work than having completely separate apps and for me at least it is a developers dream come true, however, there is a lot of misunderstanding around the Universal platform hence why there are a lot of comments asking similar questions you did. Desktop has been released and has a large user base so they are focusing development on the desktop code, they then port the same changes necessary to the mobile specific code and maybe other device families as well and that is why the updates don't come at the same time, they want to release any update for a device family the instant it is ready.

AGAIN....need to support our locally owned tv shows and movies not bought from Microsoft. Stop worrying about only selling me more crap, because I'm not buying anything until you fix this issue first.
Secondly, I try free pilots to get a feel for a show all the time. On average, I only like about 1 out of every 10. There is no way to permanently delete videos that we dont like. They reappear after sometime and everytime after a device refresh or hard reset.
Lastly, add ast forward and rewind using scrubbing. While you are at it, why dont you beat Apple to the punch to something for once, and get a tv streaming monthly deal going? But I'm sure we will wait until Apple does it, then six years later we will get a half ass backed version of it. The people in charge of the media apps need to be fired. They have no vision or clue as to how these things should work.

Yeah... This guys a geniuses. W ?

What's the latest w10 mobile build? Still on 512?

Still crashes when tap on north east - south west facing arrow.

Pfff. Still crashes when going full screen

I wish universal apps were actually universal. Why is the mobile app being updated and the desktop one isnt?