Best movies, TV shows, and music to combat quarantine fever
OK, staying home for a loooooong time was kind of novel at first. But at Windows Central, we're all starting to go a bit nuts. This set of movies, shows, books, and music is definitely helping.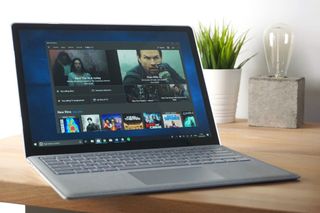 (Image credit: Windows Central)
Another week, another seemingly endless quest to find stuff to do — after we finish "working" from home, of course. Thankfully, while it may be tough to find toilet paper, hand sanitizer, and frozen vegetables have, there is no shortage whatsoever of great films, shows, reads, and listens to dig into.
Below you'll find all the movies, TV shows, books, and music the writers and editors of Windows Central are into right now, including a very dark (literally, it's filmed in black and white, mostly at night) movie about insane lighthouse keepers, a TV show about a landmark American war, and some synth tunes that we challenge you not to dance to.
We also have plenty more where those came from, from past weeks. Just hit the link below.
More media recommendations from Windows Central
Movies
It's hard to kill what you can't see
Recommended by Al Sacco, managing editor

Another "home premier" movie that went digital instead of hitting theaters first, this remake of a classic creepy tale is not at all the best version, but it's modern and stylish, somewhat scary, and very tense.The story: An abused wife runs away from her bastard husband, a la Sleeping With The Enemy. The husband, who is some crazy optical scientist, apparently figured out a way to make himself invisible. As you can imagine, that's terrible news for the wife.The movie effectively builds tension throughout, as the characters try to navigate a world where the bad guy could be standing directly in front of them at any time. It's a bit over the top, and it's not exactly tough to find plot inconsistencies. But it's still worth a watch, for sure.
Don't go spilling yer beans
Recommended by Samuel Tolbert, freelance writer

This horror film is unusual, with a minimal cast while being entirely shot in black-and-white 1.19:1 aspect ratio, which emphasizes the grimy, bleak tone. And boy is it bleak.The Lighthouse follows Ephraim Winslow (Robert Pattinson) as he accepts a job working at a lighthouse under the eye of Thomas Wake (Willem Dafoe). As the two men work in cramped, confused, miserable conditions, obsessions emerge over the "enchantment in the light," and tensions brew stronger than the liquor the two chug.While The Lighthouse isn't your traditional horror film, it's still well worth watching, with otherworldly ideas and bleak seamen's lore mixed with some of the rawest, cabin fever-induced acting seen in a long time. This film embodies the very ideas of the sea: it's powerful, violent, lusty, and unstoppable.
Prep for Final Fantasy VII
Final Fantasy VII: Advent Children
Recommended by Jez Corden, gaming editor

Final Fantasy VII Remake is just around the corner, and there's no better way to refresh your memories of the universe with the excellent sequel movie Final Fantasy VII: Advent Children.Set primarily in Midgar, the neo-dystopic city from the first part of the original game, Cloud returns from solitude to investigate the mysterious appearance of disease and shadowy figures that are all-too reminiscent of an old enemy.Featuring cutting-edge animation (at least for 2009), Final Fantasy VII Advent Children is an excellent game-to-movie title with stunning scenes, great fight sequences, and intriguing plot elements for fans of the original game.
TV
Documentary Perfection
The Vietnam War: A Film by Ken Burns and Lynn Novick
Recommended by Cale Hunt, staff writer

Ken Burns and Lynn Novick are masters at creating well-paced, thorough, long-form documentaries, and The Vietnam War is a perfect example. The problem? Setting aside nearly 18 hours of regular life to watch all ten episodes can be tough. But thanks to self-isolation, there's really no better time to sit down and ingest this documentary one episode after another.The Vietnam War covers both sides of the story, pulling in more than 100 interviewees to discuss their experiences. It's all interspersed with live footage from Vietnam and the United States, including combat, protests, and the aftermath. It's heartbreaking. No matter how old you are, this documentary has something to offer, and I recommend it to just about everyone who's looking for an excellent way to pass the time without feeling like it's been wasted.
Is this now?
Recommended by Dan Thorp-Lancaster, news editor

Westworld is probably my favorite series from the last five years. It's a dark take on the future of artificial intelligence in a world where artificial humans, who don't know they're just actors in a demented play, are used to fulfill the most carnal desires of humankind.The series is currently on season three, and it's taken quite a few twists and turns to get here. More importantly, it asks some deep questions about what it means to be human, how far our morals go, what type of life we value, and what happens when AI becomes self-aware.If you have yet to dive into Westworld, it's worth going back through seasons one and two. Just be prepared for some shocking twists along the way.
Baby Yoda
Recommended by Richard Devine, reviews editor

Americans have probably seen The Mandalorian, bought the merchandise, then watched it all over again. But for those of us in new Disney+ markets, the time is finally now to see what all the fuss is about. It's still being trickled episode by episode, but the first few are up now to at least get you started.Just in case you're not familiar, The Mandalorian is set in the time period between Episodes 6 and 7 of the Star Wars saga, following the downfall of the Galactic Empire. The Mandalorian is a bounty hunter, and the season kicks off with a huge bounty and, of course, Baby Yoda.So far, I'm impressed, and since I've somehow managed to avoid spoilers, for the most part, I'm looking forward to seeing how the rest of the season pans out. Then when we've got all the episodes, I'll go back and binge it one sitting.
Music
Summer Blues
Scandroid - Dreams of Neo-Tokyo
Recommended by Rich Edmonds, staff reviewer

Scandroid is well established in the synth community and produces some exceptional tracks, but did anyone think fellow artist Dance of the Dead could take Neo-Tokyo and enhance it with an incredible remix? I sure didn't until I threw it on and immediately thought, "woah."Summer is just around the corner, and we're all trying to stay positive in these troubling times. Music like Neo-Tokyo is what keeps me going through the day, and the entire Dreams of Neo-Tokyo album by Scandroid is pack full of quality tunes.
Get the Windows Central Newsletter
All the latest news, reviews, and guides for Windows and Xbox diehards.