Movies, TV, music and books we're into this week
Time for another roundup of movies, TV shows, books and music the writers and editors of Windows Central are digging right now.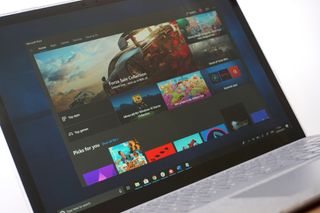 (Image credit: Windows Central)
After a long work week, sometimes you need to just veg out on the couch in front of the TV or stereo, or curl up with a good book. Nothin' wrong with that, at least that's what we say.
This week's batch o' media recommendations from the merry writers and editors of Windows Central includes a film about a diabolical Superman of sorts, a show that features a wacky cast of community college students, a serious collection of synthwave tunes, and a rather violent book about three generations of the same family, told in "hallucinatory realism" style. Yeah.
We think you'd do well to check these current recommendations out, but if nothing really interests you, that's cool too. We have plenty more where these came from at the link below.
More media recommendations from Windows Central
Movies
An evil Superman?
Recommended by Daniel Rubino, executive editor

Perhaps attributable to the times and plethora of Marvel comic book movies but there's been a resurgence of "anti" hero films and media (see "The Boys" on Amazon Prime). Brightburn is one of these movies that spins a classic comic hero a bit differently and asks what if Superman was evil instead of good?Produced by James Gunn (Guardians of the Galaxy 1 & 2) and with an excellent cast including Elizabeth Banks Brightburn is a fun romp that will consistently shock. If a kid has unlimited power, strength and can fly and seemingly did not care about lowly humans, this is the result. The horror and effects are outstanding, and the little plot twists will keep you on your toes. Brightburn is one of my top films of 2019 mostly because it's just fun even if a tad evil too.
Semi-raunchy romcom
Recommended by Al Sacco, managing editor

If you're like me, and you miss the glory days of the Apatow Comedy, which I treat as a genre unto itself, you're gonna like "Long Shot."Featuring Seth Rogen, a familiar face from many a Judd Apatow, movie, and Charlize Theron, the flick picks up right where those Apatow movies of yesteryear left off. It's kind of raunchy at times, borderline dumb and slight over the top, but also really funny. It's the story of a jaded and jobless hipster journalist from Brooklyn (Rogen) who gets involved with a politician (Theron), both professionally and personally. Hilarity ensues.Rogen and Theron are surprisingly charismatic together, and the writing isn't exactly sharp but it is witty. I really liked this one.
For Funsies
Recommended by Dan Thorp-Lancaster, news editor

DC's film universe has caught a lot of flack for being too dark — especially when compared to the glut of fun Marvel movies out there. So when Shazam! hit theaters, it was a gigantic breath of fresh air.I'll be the first to admit that I wasn't too familiar with Shazam before this movie, but I was so glad I went to see it in theaters. It's just a lot of fun and doesn't take itself too seriously. Think DC's version of Spider-Man: Homecoming (thoug the latter is still better).Now that Shazam is on video, I'm going to dive back in and give it another shot this weekend.
TV
6 Seasons and a Movie
Recommended by Sean Endicott, news writer

It's back to school season, and what better way to celebrate than with a marathon of Community, the quirky comedy based in a community college?Following the Greendale gang through their adventures is something I do at least once a year, but the show just came to Amazon Prime in the UK, so I have an excuse to watch it. For anyone who hasn't seen the show, it's a meta comedy that flirts with the fourth wall. Many episodes are in different genres, ranging from a Law and Order parody to a Star Wars-themed campus-wide paintball war. If you're on the fence about checking it out, some of the people involved Community include the Russo Brothers, Dan Harmon, and Donald Glover.
Music
Relive The 80s
Dance With The Dead - B-Sides: Vol. 1
Recommended by Rich Edmonds, staff reviewer

Synthwave has been making a comeback in recent years and Dance With The Dead is one of my favorite artists when I want to return to the 80s. Fusing together a perfect mix of synthwave and metal, each track on B-Sides: Vol. 1 is amazing, especially when you have a killer sound system to really crank up the volume.My personal favorite track on this album is Skeletons in the Attic, which has one of my all-time favorite melodies. Should you be a fan of Pertubator, you'll want to check out Dance With The Dead.
Books
Hallucinatory realism
Recommended by Cale Hunt, staff writer

Red Sorghum by Chinese author Mo Yan is a blending of folk tales, family woes, war, and red sorghum. A lot of red sorghum. The plant is the backdrop for a collection of tales told out of time that make up this violent novel, told in the first person and made up of three generations of a single family. The timeline drifts around and the action is seen from various people, often without much of a break signifying things have changed.It's all part of Mo Yan's "hallucinatory realism" style, and so far — I'm about halfway through the book — it's been a wild ride.
Get the Windows Central Newsletter
All the latest news, reviews, and guides for Windows and Xbox diehards.