Movies, TV, music and books we're into this week
Time for another collection of movies, TV shows, books and music, as recommended by the writers and editors of Windows Central.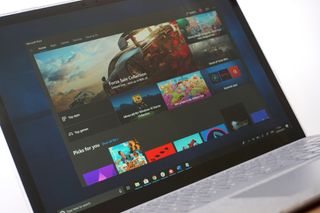 (Image credit: Windows Central)
The weekend is nearly upon that. So get ready to curl up in front of the TV, media player or with a good book (or ereader).
This week's batch of recommendations from Team Windows Central features a super stylized film with the city of San Francisco as a leading character, a "sexy" show set in New York, and a authentic and gritty novel based in D.C.
And if these aren't up your alley, we have plenty more where those came from. Just hit the link below.
More media recommendations from Windows Central
Movies
Stylized San Fran
The Last Black Man in San Francisco
Recommended by Al Sacco, managing editor

San Francisco is one of America's great, most glorious cities, and it's never looked more memorable than in this flick.It's the story of a mostly homeless man in the San Francisco area who makes it his life's quest to maintain (and maybe even reclaim) the old Victorian home in the city that his grandfather once owned — and that he may or may not have built. The neighborhood is at the center of the wave of gentrification that continues to transform San Fran from artsy and alternative haven to modern tech-centric hub. That means it's out of reach for all but the very wealthy.The plot is simple, but it's the shooting, scenery and music that really make this film pop. It's beautiful and poignant, and the lead actor — who based the film at least partially on his own true story — delivered a pitch-perfect performance that left me thinking about the movie for days after watching it.
TV
New York, New York
Recommended by Jez Corden, Senior Editor

Sex and the City is one of the greatest HBO shows of all time, and I recently discovered it was on the Xbox TV store in its entirety.Sarah Jessica Parker plays Carrie Bradshaw, a sex and culture columnist in New York City. Her friendships, relationships, and conquests form the basis of magazine column, as Carrie and her other 30-ish-year-old successful professional friends stumble from strength-to-strength, from crisis-to-crisis.
Music
The wait is over
Recommended by Richard Devine, Reviews Editor

Hey so, Tool is back, in case you hadn't heard. An iconic band last seen 13 years ago, and who until recently wasn't available to listen to digitally on the major streaming services.So, this past couple of months has been like Christmas come early for Tool fans. Fear Inoculum is upon us, and I still don't really know how much I like it. That's the thing with Tool, it usually takes a while to fully digest. I do know that it's one kick ass album, though. Pneuma, in particular, is a stand out track.
America's Tragically Hip
Recommended by Cale Hunt, staff writer

Love 'em or hate 'em, R.E.M. created an impressive collection of work in its time. I've gone back to 1992 for Automatic For The People, the eighth album released by frontman Michael Stipe and company. It's a rather moody album, exploring all kinds of grim stuff that we think about as we get older, but it's uplifted by complex melodies and bright string arrangements (many actually composed by Led Zeppelin's John Paul Jones).The album includes the mega-hit "Everybody Hurts" that most people have no doubt heard, but it's really as a whole that the album is best enjoyed. It begins with the ominous "Drive" and ends with the funereal "Find The River," with all kinds of pleasing music between.
Books
D.C. noir
The Man Who Came Uptown — George Pelecanos
Recommended by Al Sacco, managing editor

In this crime-fiction novel set in and around Washington, D.C., there really aren't any "good guys." Even the protagonists can only be categorized as such in comparison to everybody else in the story. The plot is basically an ongoing web of scams and robberies, with the characters all trying to get over on each other without getting caught.Pelecanos's writing is dialogue heavy, and it's laced with sharp language and (mostly) authentic-sounding urban slang. The book is gritty and raw, and unlike many similar books in the genre, it feels like it could be real. It reads like a season of the epic crime show "The Wire." And that's for good reason; Pelecanos produced and wrote for the show.
Get the Windows Central Newsletter
All the latest news, reviews, and guides for Windows and Xbox diehards.