Visualize your daily activities with MS Band Health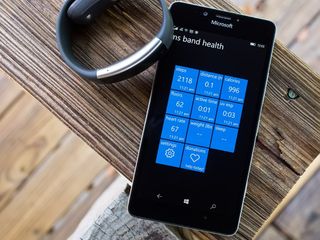 MS Band Health is a supplemental app for evaluating and monitoring data collected by your Microsoft Band. Available for Windows 10 PC and Mobile, this free app provides detailed charts for your daily activities such as steps, calories, distance and more. The Windows 10 app also offers support to synchronize data collected from a Fitbit Aria SmartScale.
MS Band Health does not sync directly with your Microsoft Band or Fitbit Aria SmartScale but instead synchronizes with information on the Microsoft Health and Fitbit servers.
While MS Band Health isn't a replacement for Microsoft's Band app (formerly known as Microsoft Health), it's a nice supplement to monitor and visualize your daily activities.
The first order of business when MS Band Health is launched is to set up permissions the Windows 10 app needs to access your Band or Fitbit Aria data. This is a painless process that involves logging into your Microsoft and Fitbit accounts and giving MS Band Health permission to access the data.
Once permissions are established, MS Band Health synchronizes your data and presents your current daily totals in a series of tiles on the app's primary display. These tiles include steps, distance, calories, floors, active time, UV exposure, heart rate, weight and sleep time.
Also present on the primary display are tiles to access MS Band Health's settings and a donation tile to tip the developer. Settings cover options for units of measurement, the various goals (steps, distance, etc.), logging into/out of the Microsoft or Fitbit accounts, and the typical feedback/developer credit information. While I was able to change the units of measurement, I was unable to change the various goals listed. This could be a bug in the app or the developer designed this for viewing only.
MS Band Health's strength comes in the visualization of the Band data. Tapping on a category tile sends you to a detailed page for that activity that breaks down your monthly performance. For example, the step data determines the average, maximum, minimum and total steps taken for a thirty-day period.
A bar graph illustrates the performance for each day of the month. Tapping a specific date, breaks down your activity per hour, along with the average, maximum and minimum performance and the times these measures were achieved. You also see the total performance for the day.
The visualization that MS Band Health provides for your Band data makes it easy to see where your active days and hours rest. You can use this data to manage your active hours more evenly or find times of the day when you need to step it up.
MS Band Health isn't a complicated app and presents the information in an easy to use fashion. It lacks the ability to export your data, which would be a nice feature, and I did experience a stability issue when launching the app from a Lumia 950. MS Band Health occasionally crashed on launch as it attempted to synchronize the data and it required a restart of the phone to correct things. I did not experience any stability issues when running MS Band Health from a Windows 10 PC and hopefully, the developer can iron out this bug.
MS Band Health does have some room for improvement, but overall the free app is a nice supplemental Windows 10 app for reviewing your Band activities.
Download MS Band Health from the Windows Store (opens in new tab)
Windows Central Newsletter
Get the best of Windows Central in in your inbox, every day!
George is the Reviews Editor at Windows Central, concentrating on Windows 10 PC and Mobile apps. He's been a supporter of the platform since the days of Windows CE and uses his current Windows 10 Mobile phone daily to keep up with life and enjoy a game during down time.
This is almost funny following yesterdays article.

Yes. Just in time for MS to cancel everything band...
........
Oh. Well. All that we can hope for now is a Surface Watch, which actually would have more consumer appeal, and be more marketable beside a Surface Phone. Hopefully MS is consolidating all of their hardware around the Surface brand, which is the best way to go.

No surface watch. Another Band is coming later next year.

Why do you need a "link" to believe it? What is another "link" going to say that makes it real or not real?

Thank you, Sean, @LCpl Woof: I do not have a link to give you. I am the link.

Yeah you just have to believe..... Lmao Posted via the Windows Central App for Android

Tell me... What information do you have that would lead you to make such a claim? Honestly.

Look at the Band announcement from yesterday and find my replies.

I know what people are saying.."It only said THIS year there won't be one", but just look at the discouragement on the band developer site. They state in red text the SDK is no longer available (It actually IS available still via Nuget where 99% of us would get it from) BUT the fact they are actively discouraging any app development means that whatever device comes in to replace Band (if there is a replacement) almost certainly isn't going to be compatible with existing Band apps otherwise they wouldn't actively discourage new app development. If they bring something new out it will be a clean slate by the looks of things. Which is both good and bad - bad in the sense that Band 2 has been abandoned now and any apps people like myself have developed won't be around much longer. I was 75% done moving one of my Band apps to UWP including adding about 3-4 new features to it but I'm unsure whether to complete the changes right now as the number of Band 2 owners is going to drop over time as the existing devices start to fail and can't be replaced. I might still do it, but only after I've got other work out of the way rather than trying to prioritise it a little. Truth is, none of us know for sure. But MS are doing what they can to bury the Band in it's existing form

Your replies aren't confirmation.. Lol. Unless there are links that have a proven source, which WC wouldn't've reported already.

I know things. For example, how is Arlington, Texas?

Yep, we can only hope. It will be interesting to see if they actually do have another Band in the works, like that mysterious one Panos Panay was wearing in a video that he not-so-subtly covered up when he realized he was being filmed. It just doesn't make sense for MS to keep pushing updates to apps, releasing new apps both for the Band/Health in general as well as updates to Win10 Mobile if they didn't have some future plans for all of this? I think 2017 is going to be the make-it-or-break-it year for MS when it comes to Band and W10 Mobile. If they don't release a Surface phone and a new Band, they might as well just close the doors on that side of the house entirely as the industry will officially ditch them like they did with Blackberry.

Lol. We said that 2013, 2014, 2015, and 2016, would be the make it, or break it, year for WP/WM.... But, honestly,, I agree. 2017 will most likely be the straw that broke the camels back, unless something no less than amazing happens.

If there's going to be a new fitness wearable, it won't be the Band as we know it, and I think it's going to need all new apps writing for it. On the Band developer site they actively try to discourage people developing for it now, with red text stating the SDK is no longer available. Any new wearable is going to be a complete reboot by the looks of it. The SDK IS actually still available, but they clearly don't want us writing new apps or porting our WP 8.1 apps to full UWP

Band 3 is more fitness orientated, water resistant, etc.

Yes, my sources say that band 3 will be a tiny golden chip injected under the skin with 3-year battery life and customizable wallpaper. Oh, and supposedly ms will give it for free to all loyal fans. Release date is early 2017. Or 2026. Not sure yet

Im just sad they have given up, imagine what the people who put all thier time and effort into this app must feel knowing MS pulled the rug from thier feet for future hardware. Hope im wrong.

Do they know about yesterday's announce? Hello MS get real.

Would have downloaded this if it supports Fitbit Charge HR.

and if the Fitbit Charge HR would sync with anything close to a smidge of reliability...

Instead of this app which would be nice I guess if my band 2 was still working, why won't MS activate the GATT servers so we can use our fitbits to get smart notifications in the ms ecosystem. That would be much more helpful in the short and long term!

GATT support's coming with RS2, so if you're on FR, hopefully it won't be too much longer; For those who don't want to be on FR, alas it could be a long wait (support must be built into the OS).

Also FitBit will probably need to update their app to access the local GATT server - Who can say if they will or not. I have no idea whether or not they regularly update their current app? Any users notice if it gets much attention compared to the iOS and Android apps?

Any users notice if it gets much attention compared to the iOS and Android apps?

Yes it does, perhaps not on the same level as Android (I also have a Note_4), but still quite respectable. A few months back they were still very keen to support it, there was an active thread on their forums where they explained they were ready, but just waiting on the necessary changes to the OS, & that as soon as it was done, they'd be ready to "flip the switch". I dunno about "now", things could've changed...

Erm....wtf is the point of this article given the band cancellation?

did your Band stop working after yesterday?

My thought exaclty... People already owning Bands aren't affected at all

Actually, it stopped working on Saturday. I wrote about it on the forums http://forums.windowscentral.com/microsoft-band-2/441311-my-band-just-cr... So yeah, to answer your question, it did stop working. Now the bigger question is, will Microsoft be able to fix/replac eit, seeing as they've canned the band hardware division. Here are some solid facts: The band and band 2 weren't particularly well made. Lots of people have had issues. The problem we now face is that we're wearing redundant technology that probably won't last very long. And when you're band runs into an issue you're going to have little or no support. And that's what makes this article a joke. Writing about a software platform when just 24 hours earlier the only hardware that supports it was cancelled is stupid

It was NOT cancelled. They said nothing is being released in 2016 and that they sold through their stock of Band 2. Stop throwing out wrong facts

http://www.theregister.co.uk/2016/10/04/microsoft_ends_microsoft_band/ There are about 100 articles online just like the one above. I'm not a hater. I'm a Band fan, have been since day one. I'd love to see a Band 3, but there are some legitimate concerns out there that it's not going to happen. Microsoft have a terrible track record when it comes to this sort of thing. They develop to a point then suddenly walk away. You know what would clear this up....an actual comment from Microsoft. And not some vague rubbish about how they'' continue to support the platform. A hardline, no nonsense comment that says "yes, we will develop a new band next year because we see a future in wearables and want to be in that space" It's the same with Windows Mobile. All we ever hear is how they'll support the platform, with absolutely zero hardcore evidence that we'll ever see another Microsoft Surface/Lumia phone. When Microsoft break up the group responsible for creating the band, remove the SDK and make a vague comment about continuing to support Band 2 without making any reference to a follow up product, it's pretty evident they're seriously pulling back from the wearable space

Any replacement though is looking to be a full reboot, not compatible with existing apps such as this one. The reason I say it, is MS is actively discouraging us from further developing any Band apps by saying the SDK is no longer available (It actually IS available....but they seem to officially state it's no longer supported in any way whatsoever and you should NOT use it for new apps)

It'll still have the same warranty it had before yesterday happened. My brother in law is still regularly getting his band 1 replaced whenever it falls apart and that's 2 years old. They seem to restart the warranty every time he gets a replacement. If they haven't run out of replacement 1s think you're fine with replacement 2s. Or just moan, whatever is easier

As developers we ARE affected IMO. Is it still worth writing a new app that makes use of Band? or for me to finish the final bits of porting one of my Band apps to UWP? They are questions we have to face when we're developing these apps in our spare time. The number of Band 2 users is going to drop over time now as they break and can't be replaced. I have to send my Band 2 back for the second time this week, unfortunately I think they probably replace as many as they sell overall which can't have helped the Band at all. Can't help but thing the reliability issues were one of the biggest nails in the coffin. These were really well liked devices aside from that. MS are actively discouraging any further or new Band app development with the current SDK, likely pointing to any possible replacement being a complete reboot and not working with existing apps.

I wonder what's next, new sporty MS Band 2 for sale tomorrow I bet.

Great, now all I need is for my Aria to communicate with my new wifi router

This coming from the guy whose company has effectively ruined Motorola again

What's this everybody is saying about band cancellation?

People jumping to conclusions because there is not a Band 3 being released this year and no more Band 2 available to purchase due to no more stock

And MS publically stating that the Band SDK is no longer available and shouldn't be used to develop further for the Band - The SDK part is the most disconcerting. If it was just business as usual then fair enough there doesn't need to be one EVERY year. I'm not saying there won't be some sort of wearable next year, but it's not going to be the Band in the way we know it

http://www.theregister.co.uk/2016/10/04/microsoft_ends_microsoft_band/ http://www.gizmodo.in/software/Microsoft-Just-Killed-Its-Awful-Fitness-T... http://www.digitaljournal.com/tech-and-science/technology/microsoft-quie... There are dozens of articles like this

I just don't understand this company. They produce awesome products, never advertise them so nobody knows they exist and then kill them without explanation. Super frustrating. Then again, I wonder why he specifically said "this year". Maybe they'll be releasing a similar product under a different name, or maybe Band 3 is simply delayed until next year?

I think the failure rate has to have been a big problem. They must replace as many as they sell (or more). I've owned one of each and had to have them replaced for completely different reasons. Everybody I talk to on a MS Band Skype group has had theirs replaced at least once. Tons of people here have too. When you factor in some people going through 2-3 bands from a single purchase it's not wonder they've stopped making them

I guess we can have the app and get a Fitbit or something? Sad to see MS Band being discontinued

OMG! It was NOT discontinued/canceled/anything else. They sold through their stock and do not have a new one being released this year

No manufacturer removes the listing of a product from its store just because its out of stock. Nor would they remove the SDK for it. MS does this all the time. They will never release a formal statement stating that they are abandoning any format that doesn't have a direct replacement. Don't believe me, go hunting for one regarding Windows Media Center.

SDK is the main point to consider. In bright red text they state it's no longer available - You CAN get it still and develop a new or existing app, but officially it's been pulled and the message is NOT to use it for any new app development.

Although I still use Windows Media Center... Microsoft has done this type of thing MANY TIMES over the years... this is not the first and DEF not the last...

SO ? What is the point ? Microsoft offically kiled of the Band and Band 2... It's almost pointless now. The Microsoft support for their Mobile products has been a joke in the last year... Makes me question if I will ever buy a mobile based Microsoft device ever again... Phone, smart device of some type... never again... And over the years, i have spend thousands of dollars on Microsoft hardware from the very first HPC/PocketPC to about 6 different Windows Phone devices.... last time...

I installed this yesterday on my phone and then discovered it was automatically installed on my Xbox one too. That's the first time ive had an app do that

Ah cool. Great app. I will go and order a my Band 2 now. Oh Wait...

Dan, if they plan another band the ask thing may be because it will be a complete new OS. There were reports they were trying to get a w10 iot certain working on it but failed. New hardware and a working w10 iot version would require a completely new ask wouldn't it? Heck they may even plan (though I doubt it) on an os update to Band 2 that requires a new ask.
I hope they continue with it. I've tested a dozen or so fitness trackers and the Band 2 is by far my favorite. But yes, I I've needed a replacement too

grr ... everywhere it says "ask" it should say "sdk" .... damn autocorrect! :)
Windows Central Newsletter
Thank you for signing up to Windows Central. You will receive a verification email shortly.
There was a problem. Please refresh the page and try again.