MSN Weather for Fast Ring finally gets its Transparent Live Tile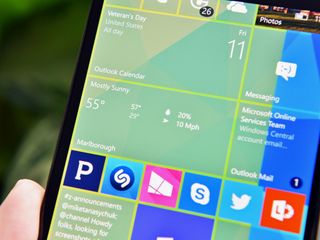 Little by little Microsoft is bringing user-requested features to the Windows 10 OS for PC and Mobile. Today, we see a small but popular request put to action: transparent live tiles.
The default MSN Weather app for PC and Mobile today was updated to version 4.17.72, but only for those in the Insider Fast Ring (we haven't tried the other Insider rings just yet). The standard production branch is at 4.16.15.0.
The big change is simply that by default the Weather Live Tile is now transparent. Previously, the Live tile was always a blue color with clouds reflecting the current weather conditions. If you prefer the old style, there is no need for concern as transparency is an option under the app's settings.
In the scheme of things, this is a small addition, but it goes a long way for those on Mobile who desire a clean, clear Start screen. Hopefully, Skype won't be too far behind.
For those on production aka non-Insider builds, you'll likely get the update within the next few weeks.
Download MSN Weather in the Windows Store (opens in new tab)
Thanks, Loren B., for the tip!
Windows Central Newsletter
Get the best of Windows Central in your inbox, every day!
Daniel Rubino is the Editor-in-chief of Windows Central, head reviewer, podcast co-host, and analyst. He has been covering Microsoft since 2007 when this site was called WMExperts (and later Windows Phone Central). His interests include Windows, laptops, next-gen computing, and for some reason, watches. Before all this tech stuff, he worked on a Ph.D. in linguistics, watched people sleep (for medical purposes!), and ran the projectors at movie theaters because it was fun.
Finally! A welcome addition

Is this heaven? Am I dead?

this is somehow news worthy

Still no wind speed in meters per second for the countries that actually only use that. I've submitted that as a feedback since feedback became available. Just shows that Microsoft outside US has no influence what so ever of what comes out of Redmond besides translations. O_O

Please quickly come to production

Why not hop on the Release preview? It's almost always as stable as production but you get the updates a little sooner - usually a week after fast ring for apps.

Now add animation to the live tile

This is such a highly requested feature I'm genuinely surprised Microsoft held themselves back with only one of their native apps. What about, news, finance, and office tiles. For that matter why not all live lives with an option for transparency by default? Why must it be be developer controlled? by the way I'm noticing there is a bug with the weather app secondary live tiles. The fourth or later secondary live tiles for this app aren't showing the weather tile, only the weather icon tile. All other tiles do flip to show the weather. Is on both a Lumia 1520 and 950xl, even after a factory reset and reinstalling and resetting the app. Anyone else noticed this problem? Is this a bug or has a limit been set by the developer of a maximum set of pinnable location secondary live tile for this app?

Hmm, I only have one tile for this app - and it does not flip after the latest update (no forecast on live tile - only current weather)

Did that to me too. Go into settings, toggle the transparent tile off and back on, then return to start. It started working for me.

Of course, you have to be on fast ring too... For now.

A welcome addition. Personally, I prefer the non-transparent tile in the case of this app, but having more options can't be bad, and many people wanted this. So thanks MS :D

I was always puzzled how Microsoft apps don't have transparent tiles. There is a leadership issue here. You have to lead your own platform. Next up should be Office and OneNote.

OneDrive has a transparent tile btw. If you disable the show photos on the tile option, it will revert back to a white cloud on a transparent background.

Yeah but Onedrive lacks option to have the "blue icon with white cloud" back. And I miss that tile :/

I just want lock screen support back with Bing Daily Image support.

Which app is that in image for windows central tile?

Lol, now that I am finally gone :) Daniel, W is at what <1%? Of those, not even half are on WM10. Of those, only small segment are on fast ring. Why do you pollute the news stream with these news?

Why do you pollute the news stream with these news?

Cause I can. Beauty of being the boss.

Why do you pollute the comments on an article you should have ignored?

So I was the only one liked the old live title? The live title with background photo like raining or sunny is the only reason I'm using it

Nope, you're not the only one.

no I like that but I take it this gives choice? I hope

No many people DO like the background, but it's great to now have a choice :) (Right now I set it to transparent, but I'll probably put it back to background depending on my mood... hehe)

I like it more as well :D

Having it as option is a must, all apps should make transparent optional!!!!

That's just the simple straightforward solution. It's practically a no-brainer - just make it optional.

Off always Off, a real image of how the weather looks is 1000 times more beautiful than a transperency image that doesn't represent anything.

Unless you have a beautiful image as wallpaper already and want to see info from tiles as an overlay on that background...

No. a real image of weather live tile changes dynamically according to the wearther status just like news live tile it changes with real news images and headline. static transparent images are boring and what most of those who asks for transparent tiles doing are killing the beauty of live tiles.

The beauty of Live Tiles is that they give you the info you want in a quick glance. What they look like is "beauty in the eye of the beholder". You might prefer the images of clouds on the tile, I prefer to see the temperature and conditions with my own background. To each his own, there is not just a single right way to go.

Yaaay my suggestions has been heard.

Is it Mobile only, because I can't find it on my pc (fast build)

Windows 10 on PC's doesn't support transparent tiles

Yess so I can finally use this app again when it lands on Production!

This is so simple, and so great at the same time. We all know that Live Tiles are a huge UI gain over icon grids in iOS, and widgets in Android, never seemed as great. Getting transparency is the best way to make a start screen look clean, and I'm excited to see this come to all other MIcrosoft Apps. I wish that this could be an OS level toggle, but dream big, right?

And lock screen support? When?

Exactly, transparent tile is ok and all, but weather on lock screen is so much more vital, and it was not available forever now... then again, it took them how much time to make a transparent tile? We will never see lockscreen weather...

I love my start screen with the great balance of transparent and coloured live tiles and this coloured tile looks really good on my start....happy to have both the options.

Nice! Now do One Note
Word
Excel
Power Point
Skype
Office Lens

Ohh I need transparent tile for one note .

There's an app for that. Or at least there was.

Now let,s start adding more apps......

But they seem uncapable of displaying 24 hour clock. The problem is that they use UI language to determine the date and time format, and not regional settings as they should. Strangely, this worked in 14901, but has been broken ever since.

Guys down voting here should know they have an option to use the non transparent tile so what's your problem?

this is a welcome feature. Should be an option for all apps, specially MS apps. Also, I quite fail to understand why we still do not have extra large tiles and windows spotlight feature in W10M when they have been available for PC for such a long time. Also, since W10M the lock screen apps like Awesome Lock and Lockie seem to have been broken as they automatically stop working within a day.

Neede for msn news twitter skype and store too

why so small fixes and "features" takes microsoft so long to do? i mean, microsoft is a big company and has long history in making software and this is just disappointment

What about mobile version and smallest tile? Does it has info and icons already?

What's strange is that I've had the tile show the current temp when it was set to small...however, it didn't always work. Most of the time it showed the app icon.

I kinda wish there was a bit of translucent elements like clouds or the sun still on the transparent live tile. To add a bit of dimension

Windows Central guys you always have the best wallpapers!

So why don't all Microsoft apps have this?

Why don't they just make it system wide? Apply the translucency setting to all tiles not just the "transparent" ones. You'd still see a colored tile but could see through it.

Awesome! Thank you, Microsoft. Please tell me News and the others are soon to follow?

cant wait for the glance support for weather

Yay! Looks great! The only thing missing is the actual weather icon on the main tile lol... it only shows the number values but not the icon like it does on the reverse side.

Very much welcomed & now please do Skype Preview.

Jesus it took long enough

Facebook messenger needs a transparent tile, it ***** up my startscreen

People actually use this app? It wasn't even on the list of top weather apps.

Skype, OneNote, Word, Excel, PowerPoint, LinkedIn, Facebook, Messenger, Spotify also need transperancy.

My issue here (and will always be my issue ) is the icons on this live tile. still blurry ever since.

This has been bugging me ever since the new MSN weather app was released... for some reasons, it seems it does not bother other people. I don't know if they don't see it or don't want to see it but it looks like everyone is okay with it. it's like a basic feature of live tiles. If you want to get it right, make it legible and not blurry. Maybe fixed next year.

I miss the weather live tile of Windows 8.1 so much...

I won't activate it, I like that it shows the sky behind the numbers, and you can see what the weather is like

I'd like to have the weather on my lock screen for WIN 10.

You'll get it in another year.

Jesus Christ. That only took over a year. It's a wonder why I switched to Android. It took over a year to do something this simple.

I wonder when Skype will get the same feature...

Now what I need is to use weather apps on lock screen like what we use to do on windows 8.1......

I think transparent tiles are ugly. Thankfully, I can keep all the tiles a nice, solid, clean color. MUCH more readable.

Why only for fast ring? What's to test on such small change?..looks cool, and when live tile don't work there's no ugly blue square ;)

I'm still waiting for the Android version to get a transparent widget. I'm hoping and waiting.