Post to all your social networks with MultiShare and UniShare, both with recent updates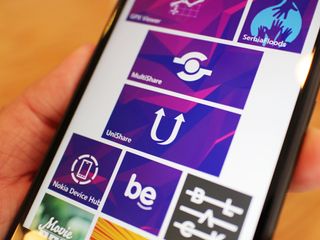 Windows Phone 8.1 removed the ability to post status updates to multiple networks through the Me hub. Two apps have emerged, Multishare and UniShare, to address the missing functionality. Today we're checking out the two recent updates to these Windows Phone 8.1 apps who are duking it in the social sharing war. Do let us know which of the two you're using to post updates with.
MultiShare
Head into the Windows Phone Store and you'll find MultiShare at version 1.5. This is a pretty big update that brings the following:
Now with image upload!
Now available also in Czech, Finnish, German, Indonesian, Portuguese, Portuguese (BR), Russian
Support for LinkedIn (In this release we don't support image upload yet)
Links are displayed better on Facebook
Fixed a critical bug on Lumia 1520 (potentially also on other devices)
The message "Too long for Twitter" won't be displayed if you are not connected to Twitter
You don't have to choose Facebook Privacy settings each time
Moved the "attach an image" button to the app bar (much cool, such amazing, wow!)
Privacy policy
You can now remove attached images by clicking on the preview
You'll now get a confirmation message
The app bar is finally localized
You can share your position (Twitter only for now)
Now you can scroll in the post page
CloudSix support
If you are a developer, now you can share a status via a uri scheme. Contact me for details
Now you can write your status with your voice
Improved startup speed
Now tweet counter show 117 left characters when sharing a photo
Fixed a bug when disconnected from Twitter
Fixed a bug when not completing Facebook login
Improved app icon
Now the app import text when sharing a link
Pretty huge update for fans of MultiShare on Windows Phone.
Download MultiShare for Windows Phone (Free)
UniShare
There have been a few updates since we last covered UniShare. The app is now at version 0.7.2.0 in the Windows Phone Store. Here's what's new in this latest update and the previous update:
Integrated UserVoice for Feedback, Support and FAQ
Integrated about page
Fixed error when website description gets added to the update text instead of title
Images can be shared from the photo hub, no matter if .png (like Screenshots) or .jpg (like camera roll)
Tweet-Counter now shows correct value of 110 left characters when sharing a photo
Shared links is importing the additional text like title that is sent out from the sharing app (was missing until now, we heard you!)
Keyboard is closing now when hitting the send button
Some interface tweaks
Minor bug fixes and UI tweaks
UniShare is another excellent app for quickly sharing updates to multiple networks. Take it for a spin and let us know what you think.
Download UniShare for Windows Phone (Free)
Windows Central Newsletter
Get the best of Windows Central in your inbox, every day!
Deja vu' read this post before...hmmm

Pretty sure you haven't, as both apps have had tremendous development since we last wrote about them. Multishare's big update came earlier today in the Store.

Oohh ok....so this's some kind of an updated post....nice.

Came yesterday in where I live

What does it say after the "via ..." for each app in Facebook, Twitter? I liked how the Windows Phone flag icon would show up next to the "via Windows Phone" caption.

Multishare says via windows phone 8.1 unishare says via unishare

I've been using One Love, but this Multishare update looks worthy of a try.

Why no mention of sharit?

Great question! Simple answer: never heard of it. I see it was buried weeks ago in our email. We may take a look.

Yea it has a pretty UI and allows multiple fb and twitter accounts....almost mentioned One Love but I remembered I only have it because of an article from here a couple weeks ago lol.

RoyBoy... Other than multiple accounts, how do you think Sharit compares to the other two mentioned in the article?

Multishare gave me a couple problems posting to Facebook occasionally ur can't post which is why I ended up sticking with unishare but I will give multishare another shot with the new update

I have been using IFTTT. The best feature is that it will post Instagram pics to Twitter using native Twitter cards. It is also platform agnostic, set it and forget. I even have it upload all of my posted photos to a folder in OneDrive.

Coming soon: TwitFace ...

Unishare is very fast and i love using it

I urge Sam to give us the wallpaper he is using on the pics!!!

That wallpaper can be shared? :D Please Sir :D

+2520 Haha yeah that wallpaper is awesome we wants! :D

I want that wallpaper too

:/ the voice of people is the voice of god! Now ... Give it to me!

is there a table-like side-to-side comparison of features for those two apps?

Looks like still can't check in and tag people. Until this happens I can't use either of these apps for everything but good updates.

It seems these two can not work simultaneously, yah?

Y i cant update my lumia 1320 windows 8 to windows 8.1..pls help tnx.

Hah, I made the new MultiShare icon! ;)

anyone have the link for the wallpaper?

not sure on the wallpaper sam using but you could try the app theme+ .