Check This Out: Museums of The World - explore the world from your couch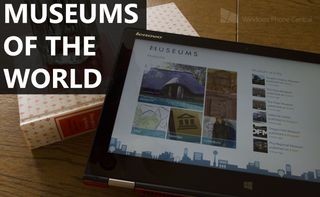 Museums can offer up the history of the world underneath a simple glass showcase, but the issue arises when we remind ourselves that museums are fixed structures in the real world (you know, that thing outside your house). Luckily thanks to the internet and an application by Samantika LLC., you can know explore objects and collections from around the world from your favorite soft and fluffy couch with a Windows 8 PC.
Before opening the application itself, the "Museums of the World" live tile gives you a rolling look at various museum sites around the world to explore. Once you have gotten bored of the live tile and want to dig into the real content, you can click in and get started.
Upon opening the application, the main functions will be presented including: Museums, Map, Favorites, and Collections. You can use the Map functionality to check out local museums in your area or you can go global by selecting the broader "Museum" button. If you don't care about the buildings that house the art, you can simply click into the "Collections" menu and browse the latest.
While the application does not require membership, signing up for free through Facebook will allow you to save your favorite content for later viewing along with the ability to interact and comment within the community. Think that Picasso is "oh so overrated"? Leave a comment and tell the world.
Overall, the application works nicely and allows you to browse content from many large and small museums on planet Earth, but the catalogue collection of viewable items is still growing. You will find most museums will simply have open times, directions, and a map listed – but, no online art.
That being said, there is so much content from around the globe to explore that you probably won't care. This is a museum app, so you are probably either going to be delighted to dig your nose into something new or you will simply yawn and wait for the next game related feature we post. Either way – you can check it out and download it from the Windows Store by clicking here (opens in new tab).
Are you a fan of museums or do they simply bore you?
Windows Central Newsletter
Get the best of Windows Central in your inbox, every day!
Am I the only person that has created a fake Facebook account for all these "apps" and "programs" that requires a Facebook login?

There are 7.138 Billion people in the world. I guarantee you are not the only one ;D

Lol thank goodness! I think it's weird how Facebook wants to know everything I'm doing but I only signed up this year

Anyone with reasonable intelligence should have a second account for that purpose!

I only have one account, but I only use it for this type of thing, contests, or occasionally looking up info on Forza. Facebook just doesn't seem that big of a deal to me.

Its not, I barely use it but people seem to swear by it.

Anyone with reasonable intelligence should build an app that has more than Facebook as an option to login / sync content. There are other ways to sync content (SkyDrive for example).

There is beautiful museum of the devils, in Lithuania...

I agree, this would be great on Windows Phone. Really like it.

It's already on Windows Phone search for "Museums" in the store and the first result should be Museums Mobile!!

Hey, Michael, how did you get your hands on that Lenovo tablet?

Is it still ok to explore the world, just not from my couch?

There really needs to be a push by Microsoft for apps to allow logging in with a Microsoft account. It's a bit sad, but there's hardly any sites out there that allow you to sign-in with a Microsoft ID, while there's tons of sites that push you to do so through Facebook, Google or even Yahoo!.

WP Central is a bit slow with this, it's been out on Windows 8 for a while!!