MusicBee for Windows 10 is an almost-perfect music app
Music streaming is growing in popularity but if you still download music MusicBee is an incredible music player.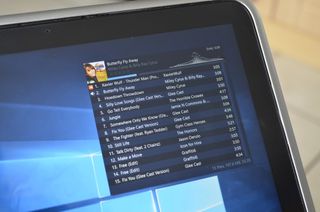 MusicBee packs a plethora of features into a music player that is highly customizable. It has all the standard features of a music player and many more that enrich the listening experience.
One of the best sets of features is MusicBee's tagging and organization system. It automatically imports album art and other information from iTunes and other sources, but also has options for you to alter information manually.
The app is available on Windows 10 PCs for free. If you'd prefer to download it outside of the Microsoft Store or are on a system using an older version of Windows, it's downloadable from their website.
See in the Microsoft Store (opens in new tab)
Features galore
MusicBee does a lot of little things right. It has gapless playback, 10 and 15 band equalizers, cross device syncing, and even has Grove Music streaming support (rest in peace).
It also has compact and mini playback menus. The mini playback menu hovers over any windows on your screen and presents a lot of information. When your cursor is over it you have music control options and when you're doing something else it shows a set of wave bars for the song playing. You can also expand the mini playback menu to show and select other songs on a playlist.
Apart from music playback, it also has auto-tagging and manual tagging support for media information such as art and genres.
MusicBee has a services section that allows you to search and stream music directly from SoundCloud. You can also view music recommendations, upcoming music releases, and upcoming concerts in your area, though concert information seems to only work in some regions.
Customization
MusicBee has a tab based interface that you can customize. You can add and remove tabs for things like music and playlists and manually edit how panels appear within the app. The app also supports quite a few skins, though many of these are artsy names like "Jazzberry Jam" that make you guess what they look like. The default design looks a lot like iTunes but you can move pretty far away from that design if you'd like.
MusicBee is a perfect example of having features and options that many people will never touch. The default settings look nice and work well so if you don't want to play around with the app you don't have to but for those who want to tailor the app to their taste, there are plenty of options.
Summing things up
MusicBee doesn't have any killer features that by themselves make it a one of a kind app. Instead, the developers have put together an app with so many features and options that the overall experience is excellent.
It's not often that we review an app and can't find some faults or ways that we'd improve it. This app comes very close to that. Anything that we'd ask to change about MusicBee is either a very specific nitpick or something that comes down to personal taste. If you have music or podcasts that you want to play on your PC we absolutely recommend trying MusicBee out.
Pros:
Loads of features for music playback
Highly customizable
Free
Cons:
See in the Microsoft Store (opens in new tab)
Windows Central Newsletter
Get the best of Windows Central in in your inbox, every day!
News Writer and apps editor
Sean Endicott brings nearly a decade of experience covering Microsoft and Windows news to Windows Central. He joined our team in 2017 as an app reviewer and now heads up our day-to-day news coverage. If you have a news tip or an app to review, hit him up at sean.endicott@futurenet.com (opens in new tab).
Need UWP!... Needs to be "mobilized" for the future.

its not even available for android and ios you think it will become a UWP

I agree with someone below, UWP is kind of a negative for me. I don't like the Windows 10 UWP look near as much as I liked the Windows 7 Aero look. I also thought Microsoft required UWP for inclusion in the Windows Store? Maybe that was just a strong suggestion. It sounds like it's worth checking out. Right now I use the old Media Player, but have used Media Monkey in the past, Groove, and some older Zune software that was still available for download last I looked.

Let's see...I don't care about customization because I'M NOT STARING AT MY SCREEN WHILE LISTENING TO MUSIC. I use MP3Tag to curate all our music before it even becomes part of our library. I don't want anything to do with iTunes. We don't do playlists--we play strictly from our library, by artist or album. Groove already does that. Windows Media Player already does that.

If you don't have anything constructive to say dude, don't say it at all, Music bee is amazing app and if your not going to be constructive. Then yea.

Foobar2000.exe for me, anytime. I'll check it out tough.

I like FB2K too, but it's not very robust when not shut down correctly (for example, if the power goes off or your PC locks up.) When that happens, it often throws errors on next startup.

I'm a big fan of MusicBee. The main thing I like about it is the ability to link multiple genre of music for one song/album/artist which is very useful for me. As an exemple I could link an artist as being metal/progressive metal/progressive, so it will be in my queue for any of these categorie when I play music by genre which is what I do most of the time.

I use it since years the best music app by far

Does this have Last.fm integration? Sounds worth checking out if it does.

MusicBee is the best player I've found for using external mixers/DACs. You can choose the playback path and bypass the Windows drivers completely. For true 24/96 playback this is a must.

bypass the Windows drivers completely

Huh? Without Windows drivers the external DAC wouldn't work anyway. I think what you mean is avoiding the OS' onboard processing from messing with the audio.

I would use this if it was able to play music downloaded from my Apple Music subscription.

When will there be finally a music player that supports videos as well?

I do believe AIMP and FB2K support this.

Foobar2000 does not support videos. But it has issues of retrieving all mp3s from my SD card even, so I cannot call it a "decent player".
AIMP does not show any hits in the Store on the other hand.

I've been using it for years now, the only music player that made me ditch Winamp, after more than a decade of daily use.

I thought we all just switched to spotify. anyway, yeah, I miss those winamp skins

Spotify is great for casual music listeners but not for hardcore packrats who have their own collections. FWIW, I use it in conjunction with AIMP, FB2K, and MusicBee.

Still rocking Winamp with classic skin. I cant get used to another player.

I'm still preferring Winamp, too. What is does for me is this: I can drag a few folders of songs to it and play sequentially or randomly. It automatically lists all songs, even those in a folder in a folder (artist) in a folder (album) like Amazon stores them.

I tried it out for a few minutes and wasn't overly impressed. The biggest advantage - to me - is being able to change what double-clicking a selected song does (add to queue, play now, play it next, etc.) This is pretty useful for those of us who flit from track to track in our libraries as it means you can switch to another song immediately without blowing away your current playlist as many other players force you to do. It's also cool that tag management and folderization are built in, though I never tested those. However, I found the UI design rather basic and not very space efficient. The far left column of the 1st tab is wasted and I couldn't find any obvious way to get rid of it. MB also emphasizes album art a LOT, which is problematic if your library has a lot of those missing. IMO if I were to rank Windows desktop music players, my list would be: AIMP Foobar MusicBee I'm not hating, BTW. Maybe I just haven't spent enough time with it.

any chance they could add a milkdrop visualizer for Mixed reality.

I've been using MediaMonkey ever since Zune died and don't regret it. Back when I was still using Windows Phone it was the only way I could consistently get my music on my phone without having to use the cloud. BTW, forcing people to use Groove to get music on their phones was one of the worse moves Microsoft did and it's part of the reason I left and use Android today.

This review barely touches the app. It is not just a simple music player. It is a full featured media manager like iTunes or MediaMonkey. You have last fm integration, podcasts support, tag editor, fetches missing tags and album art from the web, m4b audiobook support (with resuming from last paused position), syncing music to the phone and solid dark themes. Hell it even supports Groove Music I think. They say they do on their site and there are Xbox music marks in the 'related artists'

It looks like Media Monkey's interface.

MusicBee was THE real replacement of Winamp in terms of ergonomy and functionalities. And being not UWP is truly a pros for now. UWP design lost so much space and to me UWP isn't a finalized and ready for production apps. It's funny for small apps and utilities with small number of functions but that's all which is not the case of a music player like MusicBee.

The one thing missing from all these except MEDIA PLAYER is syncing to your phone when it's connected to PC via cable. That's why I don't use Groove.

I'm a fan of Voltra Desktop Player these days, it supports FLAC and other lossless, has a dark mode, tag editing, list or album view. Plus, it's visually appealing! I like album art.
Windows Central Newsletter
Thank you for signing up to Windows Central. You will receive a verification email shortly.
There was a problem. Please refresh the page and try again.