My Little Pony brings love and friendship to the realms of Windows and Windows Phone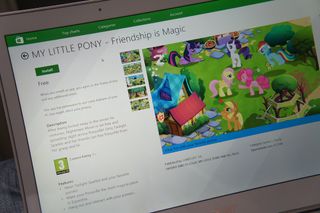 My Little Pony has been released on Windows 8 and Windows Phone, published by popular game developer Gameloft. The title tasks players with freeing Ponyville from the grasp of Nightmare Moon and bring light and friendship back to the land. Join favourite ponies, including Rainbow Dask, Fluttershy and Applejack as they attempt to halt Nightmare Moon and restore peace to Ponyville.
Here are some highlighted features on the store listings:
Your favorite ponies are here: Rainbow Dash, Fluttershy, Applejack and more!
Make your Ponyville the most magical place in Equestria.
Play fun mini-games with your ponies: Ball Bounce, Apple-Picking and Magic Wings!
Interact with your friends and feel the Magic of Friendship!
Enjoy official TV show voice talents featured in the game!
The game itself is available for free on both the Windows 8 and Windows Phone stores and we're sure many young fans are going to love this latest title from Gameloft. It's worth noting that while Friendship is Magic is free to play, it's possible to purchase in-game items with real money. Parents can configure settings to ensure children can't carry out said purchases.
Thanks, sri_tech, for the tip!
Windows Central Newsletter
Get the best of Windows Central in your inbox, every day!
Rich Edmonds was formerly a Senior Editor of PC hardware at Windows Central, covering everything related to PC components and NAS. He's been involved in technology for more than a decade and knows a thing or two about the magic inside a PC chassis. You can follow him on Twitter at @RichEdmonds.
ehh.. I got daughters heh

Excuse ME! What happened to hidden gems series??

I was wondering the same thing.

Wait up. Monday morning has just started in USA. Saturday and Sundays are off-days you know...

Well not everyone has 1GB RAM phones so most of them can't try it, that's why it's not included in 'Hidden Gems' series. WPCentral wants to give everyone equal chances of winning :)

I didn't mean it should be about this app, I was wondering why there wasn't a hidden gems yesterday.

1gb ram for this one ???:o are you kidding me?????

Gameloft is trying to troll us. They make games like Asphalt 8 & Six-Guns for 512 MB RAM, but not this xD

I mean seriously!! What are they trying to say?

Well they'll optimize it for lower RAM phones sooner or later, personally it's better to wait for a smooth game rather than a shitty one.

LOL was wondering the same...

It's one of the top rated cartoons out there right now. Of course they're going to make a game.

512mb support will be coming to this game as well! EDIT: Just saw Paul's response and he hit the nail on the head with it (:

I wish you guys would get used to this idea. Gameloft releases games without 512 MB support first because it's easier to make games with more RAM. Then they optimize the game and release a 512 MB version a few months later.

You should also add only for 1GB RAM Phones :)

It's from gameloft so I will be sure to avoid it.

Yeah, if its like their games on android it will be Crashloft lol.

So Gameloft crashes on Android too? I thought it was a Windows thing and that they didn't pay too much attention to the port.

Nope, its a Game loft thing :P

Read their support forums for a lesson on how not to do customer support.

not compatible with 512 ram

Great - something else for my daughter to commandeer my phone that isn't netflix or angry birds epic ;)

Just a warning I have the game and they have not updated it. It is way far a head on apple and android but they won't update it for my laptop or on windows phone. This female brony is very upset

"Parents can configure settings to ensure children can't carry out said purchases." I presume that putting a PIN code on the WP Wallet, and running the game in Kid's Corner will be enough to prevent any IAP's? Otherwise I won't download it.

Yeah... PIN code on Wallet works too..

Also firing up airplane mode before handing it over (with kids corner active).

My wife and daughter play this on Android, so I'm excited to see WP get this so I can start phasing out android. I hope they keep the games a coming :)

I'm with you. With this and those Toca games now on Windows my kids love I can start to get them off iOS.

Dying.
Better forget it, than remaining in reflection of false hope ;)

I don't really understand why a My Little Pony game would be Xbox...?

Why not? There are a few Disney games on Windows 8 that are Xbox enabled. #SaveXboxWP

Not sure we can handle more love and friendship in the WP community but I'll download for my kids. Thanks,

Gameloft were one of those who were greatly supporting 512 Mb phones with even making asphalt 8 work work no flaws but now they are not considering us.
Sometimes they want to deliver games fast and then slowly promise it like dungeon hunter 4.

Just like with GTR2, MLP will get 512mb support with an update to the game. Hang in there!

My daughter will be all over this one. That's her favorite show.

I haven't played this game in a while, I might have to download it to see what it's like.

All the neckbearded Bronies will be all over this *shudder*

All the new games launched by gameloft are for 1gb ram, so I can't comment on this game

Granddaughter will be jacking my phone when I show her this!

Another cartoon hitting WP and my Kid's Corner. My kid is going to love it. My SD card cries and my kid smiles.

Too bad I sold my Surface RT...

All the bronies out there are rejoicing.

I uninstalled it after 10 minutes. Unimaginative clone and not worthy of my kids.

"Unimaginative clone"? Clone of what? The Android version? Well yeah, that's what you get when games are released for multiple platforms, while the OS they run on is different, sometimes, games share the same storyline.* *Sometimes = Always

Cool, I ... ehem ... my daughter will love this!

Yay! Finally this game is available for Windows 8 and Windows Phone 8! :D
...
Uhm... I mean, for my cousins... Finally my cousins can play this game on... My phone... *fled*

Achievement unlocked: Post about ponies before Equestria Daily +1000g

Wow, I been waiting forever for this. ♥

My nieces are going to love this.

Got it. Goes well with my MLP tcg. Hey don't judge me!

GameLoft FFS, hide your wallets and password protect your accounts.

Maybe I'm stupid, but I cannot figure out how to quit the game? I'm on the map view and nothing I tap brings up a menu so I can quit the game. I have to kill it in the task switcher, but then you lose any progress. My daughter is not happy lol

It's like any other Windows 8 app. Swipe down from the top if you have a tablet or press alt+F4 if you're a keyboard user.

As a South Park fan I will say this... http://youtu.be/sJAeD1f2YnI

please make it available for wp7.8...Developers are concentrating on developing apps for wp8 .what about wp7.8?? We too need updates we too need apps.these apps are good to use .. we bought our phones at high costs yet we aren't getting any good apps for wp7.8..we are suffering even after spending lots of money on phones(wp7.8)..please make good apps like these availible on wp7.8.