What exactly is Microsoft's 'Windows Mixed Reality?'
"Mixed Reality," or MR, is coming soon to a PC near you. How does it differ from Microsoft's HoloLens, and what's so cool about it? We just tried it out for the first time, and we have some answers.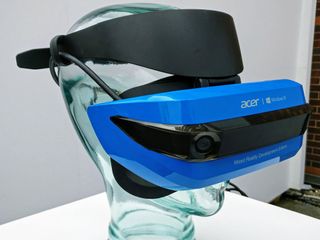 Yesterday, Acer held a large press conference in New York City. The company announced half a dozen new and exciting Windows 10 PCs. But I was there for another reason: Windows Mixed Reality.
Acer had its Mixed Reality headset available for the media to try (and not just look at). Honestly, I did not know exactly what Mixed Reality was in relation to Windows 10 on your PC, especially because most PCs now support it after the Creators Update.
Here is what I learned about Windows 10 Mixed Reality, how it differs from HoloLens, when you can get it, and what it'll cost.
What is Mixed Reality?
There are many related terms these days, including Virtual Reality (VR), Holographic, Augmented Reality (AR), and now Mixed Reality. Microsoft used to refer to the whole venture as Windows Holographic VR, but evidently it now calls it Windows Mixed Reality.
Microsoft calls this Mixed Reality because it uses components from all of these terms, depending on the hardware and application in use.
Some apps you may run could be truly immersive, like any standard VR game on Oculus Rift or the HTC Vive. Other apps may make use of your real-world surroundings, which get mapped into the system.
In other words, Mixed Reality is a spectrum of experiences that includes holographic (HoloLens) all the way to an Acer MR headset. It's all powered by Windows 10 and the Universal Windows Platform (UWP). It's a very flexible system that can scale to all types of hardware.
This is akin to answering the question, "What is a PC?" Do you mean a compute stick, a 17-inch gaming laptop, or a full desktop PC with multiple monitors? They all are PCs.
The Windows Mixed Reality platform was announced in June 2016 at Computex. The hardware is just now coming online, but there is still some time before they'll reach consumers' hands.
Mixed Reality is NOT HoloLens ... but still kind of is
Microsoft HoloLens is a self-contained Windows 10 PC that you wear on your head. Powered by an Intel Atom processor, it can run the Windows 10 Holographic platform on its own, untethered for a few hours at a time. Just as importantly, you always see the real-world environment around you.
HoloLens also costs $3,000, a price that "regular people" will never pay.
Mixed Reality headsets, at least some that are initially coming to consumers, differ in substantive ways from HoloLens. Here are a few examples:
Pricing starts at $349.
You are tethered via a single cable to your Windows 10 PC.
Your view is occluded like a traditional VR headset.
Your PC powers the headset, meaning instead of an Intel Atom processor you could be using a brand-new quad-core Core i7 with a NVIDIA GTX 1080ti.
Microsoft plans to knock down the specification requirements this year so that even integrated Intel HD graphics will be enough to power it.
Acer Mixed Reality Head-Mounted Display: features and specifications
Here is exactly what the Acer headset features:
Swipe to scroll horizontally
| Category | Acer Mixed Reality HMD |
| --- | --- |
| Operating System | Windows 10 Creators Update |
| Display | Liquid crystal display |
| Resolution | 2880 x 1440 (1440 x 1440 per eye) |
| Refresh rate | Up to 90 Hz |
| Audio | Audio out and microphone support through 3.5mm jack |
| Tracking system | Inside-out tracking |
| Dimensions | 94.8 (W) x 195.8 (D) x 106.59 (H) mm |
| Weight | 350 g (cable not included) |
| Color options | Clear Blue |
| Connection | HDMI 2.0 and USB 3.0 in one 4m cable |
| Sensors | Accelerometer, Gyroscope, Magnetometer, Proximity Sensor |
It's like Samsung's Gear VR with Windows 10
Windows 10 Mixed Reality is like Samsung Gear VR but with higher quality graphics. While wearing the headset you have full access to the power of your Windows 10 PC, including all its UWP apps even if they are only 2D.
You could launch Microsoft Edge with a dozen tabs, watch a flick on Movies & TV, play Minecraft, or launch the Xbox app to stream a game from your Xbox One.
What do you actually see?
What is like when you wear a Mixed Reality headset?
Microsoft created a virtual world that's like a modern and expensive home. You have an office, living room space, very open windows with light coming in, and you move around with the virtual cursor.
It's called "Cliff's house." Microsoft will likely have more environments once it all launches. But yesterday, we all hung out at Cliff's house.
Like HoloLens, you can pin UWP apps in your world around you and access them with a glance and a controller.
How do you control things?
You use an Xbox One controller. The Xbox button acts as a Start key for the menu, and the A button is the Enter key. The Windows 10 UI and shell are very much like HoloLens but a little more polished.
Using your gaze, you have a focal point to know where you are looking. Point it at an area across the virtual room and hit the Y button, and you "teleport" there.
It's smart, intuitive and easy to use.
Using an Xbox controller is logical, too, because Microsoft announced plans to bring the Mixed Reality experience to the Xbox One family of devices, including the new "Project Scorpio:" Xbox in 2018.
Does it run HoloLens apps?
Yes and no.
Like all things UWP, there are usage restrictions on some apps. For instance, HoloLens is geared towards professionals, like on an assembly line where they need to overlay a virtual turbine onto the real one for a quick check, for example. Something like that, where things interact with the real world, may not be in Windows 10 Mixed Reality, because it doesn't make sense.
That does not mean games like RoboRaid, where alien baddies pop out of your wall, cannot work. On the contrary, the Mixed Reality headset can map your room and still have things come out of your virtual walls like standard VR.
So, games that use your environment can work here too. That's up to the developer.
Is it comfortable to wear? And can you wear glasses?
Yes to both. The Acer headset weighs only 350g, which is just over a half a pound. In a real-world sense, it felt like putting on a Scuba mask.
There is also space to wear corrective lenses, so no worries if you need to wear them during your time in MR.
Is it a good experience?
Yes! As someone who uses a HoloLens, the first thing I noticed was the improved app performance.
The difference between running UWP apps on an Intel Atom processor versus an Intel Core i7 for PC is the same experience in MR. Apps opened instantly, were very smooth, and it all felt natural.
My hunch is that manufacturers will create various tiers of MR headsets some with basic resolution and others adding more for resolution, and features. Just like buying a new PC display.
But what do you do with it?
The usage scenarios for Windows 10 Mixed Reality can range from gaming to watching movies, TV (Sling), browsing the web, or whatever you want, really.
The key takeaway is that Windows 10 Mixed Reality is just another screen. It takes your Windows 10 laptop with its 2D display and makes a 360-degree immersive environment, and you get to run all your Windows 10 UWP apps.
It's another form of Continuum. You're taking one experience and powering a different one.
If you like having multiple desktop views on your PC, think of having a whole Mixed Reality world where you can put all your work around you. Go ahead and pin a browser to your right, your Word document in front of you, and have a video playing to the right.
It's all very "Minority Report," just without the holograms projected into your real world.
When can you get it?
The bad news is that these headsets are not expected to ship until later this year, specifically during the 2017 holiday season.
While Windows 10 is now ready for Mixed Reality with the Creators Update, there is still work to do, including getting the devices into the hands of developers.
Microsoft wants a long ramp-up time so that when you pick one up, you will have a catalog of experiences, games, and apps readily available to make it more than just a gimmick.
How to use the Windows Mixed Reality simulator in Windows 10 Creators Update
I think this is the right approach even if it's frustrating. Mixed Reality is going to take a few years to become mainstream, and this is the beginning.
For $349, I think this add-on device is going to be a ton of fun for people. There's no hardware to set up, the investment is minimal, and a whole generation of users will be able to jump into the experience.
It's also evident that Microsoft is planning for a future without physical displays. While it's hard to envision computing being holographic, or even using Mixed Reality daily, Microsoft is now steadfastly headed in that direction. And I'm excited about the journey.
Windows Central Newsletter
Get the best of Windows Central in in your inbox, every day!
Daniel Rubino is the Editor-in-chief of Windows Central, head reviewer, podcast co-host, and analyst. He has been covering Microsoft since 2007 when this site was called WMExperts (and later Windows Phone Central). His interests include Windows, laptops, next-gen computing, and for some reason, watches. Before all this tech stuff, he worked on a Ph.D. in linguistics, watched people sleep (for medical purposes!), and ran the projectors at movie theaters because it was fun.
I hope not, this would be similar to how oculus went wrong releasing without motion controllers..

It's also evident that Microsoft is planning for a future without physical displays. While it's hard to envision computing being holographic, or even using Mixed Reality daily, Microsoft is now steadfastly headed in that direction. And I'm excited about the journey. Me too.

Seems very cool and fun.
This is the stuff that will probably be popular with consumers.

Don't get to excited, we always see cool MS stuff in Tech websites from MS but never see any televised marketing until Apple or Samsung copies it and markets it; MS is dependent on Windows Central only, because most other sites tend to bash MS constantly. Their first to the party behind the scenes but last to market in the real world.

uploadvr also gave the dev kit a worl and came away impressed.

So, if MS lower the specs required and can run on an intel iGPU then it can run on Xbox One (S) obviously with few sacrifices and have a taste of the VR without having to buy Project Scorpio, so this one will be the one who get the more graphic intensive VR games.

They really need to make this work for gaming! If that picks up fast and the experience is better than say PS-VR, then people will start focussing on finding other use cases for it. I really hope they make gaming and entertainment the prime focus of this version 1 of the product.

the rift and vive are better at gaming than psvr so that doesn't really bode well for ms

At a completely different price point...

I'm actually a bit disappointed since I thought it would be similar to HoloLens in that it will have semi transparent glass capable of VR, AR (augmenting real world virtually) AND Holographic Reality (with virtual environment on top of real environment) and I thought Mixed Reality would mean putting virtual world on top of real world first and foremost. Apparently not. Which makes me think mixed reality is a very misleading name until OEMs can come up with a HoloLens clone under $400 and windows support all these scenarios natively. For now I've to agree with Tom's hardware on this. This is a poor mans VR headset albeit with better technology and native OS and ecosystem support.

So, I don't believe anything precludes that from happening i.e. a company could make that and sell it. But holographic abilities are a bit different than just VR/Mixed reality, so the price would still go up. All of those prisms, etc. needed for holograms is still super tricky.

Couldn't they have made a hybrid system, when I heard Mixed reality I expected this to be fully enclosed but with cameras in front so you'd see your surroundings on screen and then have the VR/holograms laid on top of that.

I also thought, that the real environment could be taken from the cameras and alternate reality rendered over that in AR mode. Since there is some sort of depth mapping, things could be on, over and through walls and tables, similar to Hololens. If the cameras are purely for depth mapping and avoiding objects, it's really disappointing and just another VR.

I'm hoping for something like this too, down the line. I guess this is simply Microsoft's answer to PlayStation VR. The differentiator is the UWP concept, that'll allow us to use it with PC's as well as Xbox and Scorpio. Hopefully they'll have it running on standard graphics cards before launch! And they better hit the ground running with some great games, programs and accessories; an Xbox controller will not be enough for a real VR experience... Let's see a pair of full on gloves with pressure pads for true immersion! B-)

Because of the inside-out tracking, it could use your hands even without gloves, just like Hololens. I don't know if it _does_ use that tech, but the hardware is there. The biggest problem I forsee is that the limited view from the cameras means that without see-through, the user might not know if their hands are in view of the cameras in order for it to recognize a gesture.

How viable would it be to just use this as a "dumb" display? Preferably for full screen gaming, both UWP games from the Store and traditional games from Steam.

Very viable. Like, I could totally see just putting this on and running your PC that way. It's kind of awesome especially for game streaming (Xbox app) or watching movies. People do that with Samsung Gear VR now, but this is much more powerful (and looks better). It's like HTV Vive but now you can run your PC thru it instead of just games. It's like Gear VR in the lightness/ease of use, but you can do productivity with it.

That sounds perfect for me. I may get this (or another version) when it hits retail

Resolution must suck. This headset is not enough to replicate 1 monitor with 1920 resolution. For a 3 monitor environment you need more than 4k per eye. Maybe in a couple of years it could be posible to replace real world multi-monitor environment..

It's $329 and Device #1 of what are to be many more from OEMs with differing features and price points. Honestly, let's go for your 4K model. What's the cost, grand or two? Now make that your first device into a new market and see where it goes. Also, having tried it, no, it did not "suck". Could it be better? Sure, but that's the case for all tech especially a new category.

Why would the extra screen resolution be so expensive, though? 4K screens are pretty standard for smartphones without a huge mark-up, and smartphone prices are dependent on so many other factors... Surely a doubling of the price at most?

Perhaps it's what VR need to really take off, easy to use, not too expensive, just have to wait more devellopers jump in it. But i think Microsoft is preparing some great games to get peoples excite, Forza 3.5, Alan Wake?...

"Device #1 of what are to be many more from OEMs with differing features and price points" Let's hope so; unless it ends up like the OEMs take up of Windows Phones; I sure hope this ends better for Microsoft.

So, how does the environment mapping work? Considering the ton of equipment needed to be set up for the Vive and Rift..

Really? Ton of equipment? You need two small cubes for the Vive that can be setup in under 10min if you know what you are doing and read the manual, hardly that difficult a task.

We can use this as simple virtual multi monitor right?? I just need simple virtual multi monitor where I can still see my keyboard and my mouse

As Dan mentioned, it completely blocks your view (it's not an AR headset) so you won't be able to see your keyboard or mouse.

From demos Ive seen before, it looked like MR headsets would be able to bring in the actual surroundings via camera. I dont see this mentioned here.

It can, those the cameras/sensors on the front. Still being worked on, but it can map your room out into the system.

it is. They talk about it during the roboraid game. It doesn't do AR. Simply maps out your room to make a virtual one.

I too thought this was the case. or as the other guy says, maps out a virtual version of your actual surroundings so you could comfotably walk around and such.

"Microsoft mixed reality" is something they'll bring out and it will be amazing. Then they'll can it shortly after.

well I dunno about the mixed reality but that guy was using Lumia 1020

I saw that too! Wow he's sure a 1020 diehard :)

Thought I was the only one that noticed! Always good to see guys that appreciate pure awesomeness :-)

Still the best camera phone that exists, so hardly suprising photography enthusiasts still stick to it. And its the only thing that would ever bring me back to Windows Phone/Mobile.

This feels like the next 3D TV debacle, something that was supposed to take off and be the next big thing but consumers didn't like it and it died on the vine...

3D TV is very much alive, just not many people gave it a try in the right environment; I love my Panasonic 3D TV, if you completely darken the room and sit few feet directly in front of it its just like going to a Real3D cinema; the only thing that beats it is going to an IMAX cinema. But don't expect great 3D TV experience if you lay on your sofa 20 feet from the TV with daylight streaking through the doors and windows.

Alive eh? Hmmm, I think I'll now reference a CNET article entitled "The Shambling Corpse of 3D TV Finally Falls Down Dead" from Jan 2017 https://www.cnet.com/news/shambling-corpse-of-3d-tv-finally-falls-down-d...

Having had neck problems, I wonder how wearing those headsets for hours/day is going to effect the neck/back.

Is there anyway to use win32 apps like visual studio code or a command line? Does it support remote desktop app? I could totally see doing real work on this if screen text is legible.

So Ill be able to run steamVR with these things?

Great article, Dan. The future's looking bright.

I find it hard to imagine a future world without any sort of screens for a simple reason: At least for now, only screens allow you to share something with anyone who is around you. How are people going to watch movies (or anything else for that matter) with someone else? Are they both going to wear headsets? Maybe I'm missing something.

Perhaps, if everyone wore a headset (I'm imagining AR glasses where you switch on or off holograms), there would be an option to share your holograms with other people, or allow headsets identified as friends or family to see your holograms. I'm not sure this is the best way, I'm just saying what I imagine about virtual reality in the future.

Dan, As "another form of Continuum", do you think we'll be able to plug this into our phones, or phone docks and use it as a second screen for mobile. Maybe for use on the plane?

Dan, you mentioned that it's controlled with an XBox controller. I want to know if I can replace my desk and monitors and do WORK with something like this. I assume basic keyboard and mouse controlling is possible, but didn't see that referenced. Could you comment? Are any of these companies focused on MR for Work?

It's Windows 10 so everything should work. Not all the scenarios/problems have been figured out yet though, so let's give it time to grow and see where it goes. You can already connect BT keyboard and mouse to HoloLens since last year, as an example.

Yet you still can't connect 'BT keyboard and mouse' to the Xbox One, sad :(

I hope I can play Star Trek Bridge Crew on this lol.

This Sounds good, in the absence of an Affordable HoloLens!!! I will definitely get one when it comes out, I hope Microsoft releases their own hardware though...

Well pron is the best thing you can watch on this

What this article fails to do is address If/Why should I care about Microsoft Mixed Reality devices when I already own HTC Vive or Occulus Rift. Another article on this aspect would be very useful.

A 6inch device running Windows 10 on ARM + Mixed reality headset might be the future 😊

I assume the field of view is more like Oculus (110 degrees) versus Hololens (~60? degrees) ?

My question about all these new technologies of mixed reality, HoloLens, etc. What happens for people who are blind from one eye? Anyway to use these things with only one eye?
Windows Central Newsletter
Thank you for signing up to Windows Central. You will receive a verification email shortly.
There was a problem. Please refresh the page and try again.