myTube 4.0 review: An already great Windows 10 YouTube client gets better
myTube has been the best way to watch YouTube videos on Windows 10 for a while, but how does that change with the new version 4.0?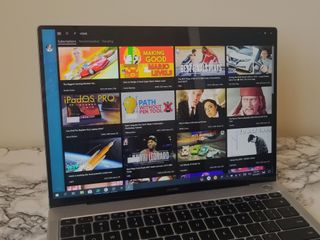 YouTube client myTube provides an excellent viewing experience for streaming videos. It supports background audio, Compact Overlay Mode, and has a significantly friendlier interface than using YouTube in a browser. The app is currently in beta at version 4.0. The new version is not as dramatic of an update as version 2.0 and 3.0, which involved complete rewrites from the ground up, but it's still a welcomed evolution.
This update largely focuses on improving media playback and navigation. As the app is only in beta, I'll skip giving it one of our usual star ratings for now.
Streamlined streaming
myTube
Free (opens in new tab)
Bottom line: myTube is an excellent YouTube client that only got better in this update. It provides an attractive viewing experience that's tablet- and desktop-friendly.
Pros:
Updated media controls are easy to use.
App is more unified across platforms.
Supports Compact Overlay mode.
Touch- and mouse-friendly.
Cons:
As a third-party YouTube client, it's subject to more issues.
What you'll love about myTube 4.0
Previous updates to myTube were complete overhauls of the app. Versions 2.0 and 3.0 were rebuilt from the ground up because they coincided with new OSes being released. Version 4.0 isn't rebuilt from the ground up but still features a layout redesign and some new features. The new design looks more natural on Windows 10 and wastes less space. I like what the developers of myTube do with the Title Bar of this app. All of the normal icons are there, but it also includes other UI elements of the app. As a result, you don't end up with a title bar taking up a portion of the screen which has another bar for UI elements right below it.
The new myTube's layout has a navigation bar on the left that remains present on desktop and can be swiped to on mobile devices. This makes navigation smoother. myTube 4.0 features larger play buttons and media controls that are easier to use with touch.
It feels like a refresh of an already attractive app, but the main reason to love myTube is its versatility. The creator, Ryken Studios, crams so many features into myTube. You can watch videos in Compact Overlay mode, listen to background audio on the Xbox One, swipe to control media playback, and use many other features that make the app feel natural. Once I browsed and controlled YouTube through myTube, I struggled to go back to using my browser because I find myself wanting to use myTube-specific features.
At this stage in the beta, there are very few new features, but the developer states more will be added now that the beta is available. This version also has more of a unified interface across platforms like Xbox One and Windows 10.
What you'll dislike about myTube 4.0
myTube is a third-party YouTube client. Because YouTube doesn't always play nicely with third-party developers or Windows 10, myTube can run into issues from time to time. myTube 4.0 is in beta so of course there are some bugs that I'll excuse, but previous public releases of myTube felt herky-jerky at times and ran into issues. I don't blame the developer for this, but it is something you'll have to deal with if you use myTube.
Each version of myTube improves upon the last one, and I suspect myTube 4.0 will be the best version ever once it's publicly released. But every once in a while Google will change an API or something about how YouTube works, and the developers of myTube have to fix it. Ryken Studios always does a great job of getting fixes out quickly, but some people don't want a YouTube app that has any issues.
Should you try myTube?
I love myTube, and myTube 4.0 is an attractive upgrade. It makes controlling media easier thanks to its new controls and makes navigating the app easier thanks to its navigation panel. At this stage in the beta, there aren't many new features. More features are set to be added, but even if the public release was just a stable version of the current beta app, it'd still be the best way to watch YouTube videos on Windows 10.
Streamlined streaming
(opens in new tab)
A versatile and touch-friendly YouTube client

myTube is an excellent YouTube client that only got better in this update. It provides an attractive viewing experience that's tablet- and desktop-friendly.
Windows Central Newsletter
Get the best of Windows Central in in your inbox, every day!
News Writer and apps editor
Sean Endicott brings nearly a decade of experience covering Microsoft and Windows news to Windows Central. He joined our team in 2017 as an app reviewer and now heads up our day-to-day news coverage. If you have a news tip or an app to review, hit him up at sean.endicott@futurenet.com (opens in new tab).
I miss it a lot. When I had my 950 (RIP) I remember downloading videos and watch it on the go, plus it didn't had ads. Great app build, lovely UI, amazing colors and transparency. Surely a must have for all who want a good YouTube app on Windows. My only problem with that was that I couldnt comment on live videos but it was small problem compared to the pros.

I love Mytube it's my go to app on Win 10.
Would love to see it on Android as well I would use it over the official You Tube App.

myTube! is the best thing that never happened to official YouTube. It's such a shame that some people are so hard to convince. Even when they cry and gripe about age- region, or premium restrictions, they still refuse to give myTube a try because it costs an insignificant amount of money. Too bad for them, because it's the most versatile YouTube experience I've ever used - and that's coming from someone who refuses to sign into Google services - myTube! doesn't force you to do this and you can still be notified of new videos (though not subscribe/support them) - Also comments are not possible either.
But with myTube! it's not all or nothing - it's the best of both worlds! Finally, the developer is super quick to notify you with an in-app (one time) notice about issues and usually, when they'll be addressed. You won't find an app with better all-round experience than myTube! I'm not in the beta, but boy do I look forward to 4.0 - It looks and sounds like the upgrade I didn't know I needed 😊

I use MyTube across Windows 10 Mobile, Windows 10 PC, and Xbox One. I like apps that I can use across all three platforms.

The app is so good, I use it on both my PC and my Surface.

If you're reading this MyTube devs, please browse the G apis and UWP us up some more great unofficial G apps... https://developers.google.com/apis-explorer/#p/ . If you started a GoFundMe to finance it, many of us would be happy to heartily contribute.

its a great app, and I won't use youtube site neither their app in the future if they made one.
Windows Central Newsletter
Thank you for signing up to Windows Central. You will receive a verification email shortly.
There was a problem. Please refresh the page and try again.