MyTube Beta grabs auto-play for playlists, UI tweaks and more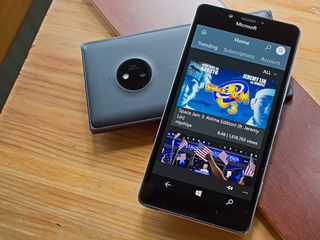 A fresh update is rolling out to popular third-party YouTube app MyTube Beta for Windows 10 PC and Mobile. Included in the latest version are a variety of tweaks ranging from auto-play for playlists to UI tweaks, including an updated search bar. Of course, there's there usual smattering of bug fixes to look forward to as well.
Here's the skinny on what's new in MyTube version 2.9.70.0:
Added playlist auto-play
Added the "subscribed to" page
Adjusted margins
Updated search bar design
Search bar now remains open on search page
Fixed a bug where loading multiple videos from the same channel would cause that channel's profile image to become blank
Fixed some playback issues
Reliability improvements for myTube-to-myTube casting
If MyTube Beta is your YouTube app of choice, that's not a bad list of changes. If you want to check out everything that's new, you can grab the latest version of the MyTube app at the Windows Store now.
Download MyTube Beta from the Windows Store (opens in new tab)
Windows Central Newsletter
Get the best of Windows Central in your inbox, every day!
Dan Thorp-Lancaster is the former Editor-in-Chief of Windows Central. He began working with Windows Central, Android Central, and iMore as a news writer in 2014 and is obsessed with tech of all sorts. You can follow Dan on Twitter @DthorpL and Instagram @heyitsdtl.
"Added playlist auto-play"
SOLD! Terrific progress on app so far. Really like developer effort!

this kind of apps (myTube!, Nextben Reader, Fenice, Enpass, Core Player, Fiction Book Reader, Realarm) still keep me here on wp.

Since you mentioned Nextgen Reader, have you tried FeedLab? I switched from Nextgen and I love Feedlab.

I'm liking Feedlab too, I just wish that the transparent tile worked for me.

Weird... It works fine for me. I think I did notice a bug where if you change another tile setting (e.g. Live Tile) after the transparent tile it overrides the transparency setting. Have you tried turning off then on the Transparent Tile setting?.

Hmm I'll try that, thanks.

It works for me sometimes it turns green but then goes back.

Feedlab is the best. I'm happy like a little kid with automatically marking as read when scrolling.

I prefer newsflow, free and no account needed

Just try news flow,it is more interesting

Do you like fiction book reader more than bookviser?

Do you like fiction book reader more than bookviser?

How long is this going to be beta before rolling out to the main app?

I was thinking the same thing. It's been in beta for a while now.

The beta is still lacking in features even though it works a lot better than the non-beta.

Really? Last I used the beta version, it wouldn't even load the video. Spamming that Play button got me nowhere lol. IF the video does play, I've no idea why is it that when I go fullscreen mode with my phone vertical, the video looks blurry. For me, the non-beta version works wayy better than the beta version, but this is speaking from my experience with it about 2 months ago.

Could it be the video quality being too high for your phone? My 640 had those kind of problems when displaying a 1080p video

Right, I moved on to Awesome Tube because of this.

I am using client for YouTube.. Which is best. Able to download videos too..

Me too. After changing through every app I stopped there

I love this app, have owned it prior to their beta app and I thought the first one was really good...

When is it coming to Xbox? I use it on my mobile, love it.

Waiting for it on Xbox as well

Anyone else having issues with the subscription feed not coming up at all on MyTube (even the regular app, not just the beta)? It just doesn't show, there's a no entry sign. The only app that's showing me the subscriptions so far is Metrotube.

This is the best YouTube app on the Windows Store bar none. I applaud Ryken's efforts, even though his app is in beta, it's actully much stabler than others out there that are out of beta.

The good thing about this app is that it works in Continuum.

I have been using awesome tube recently. I'd like to see how this compares. So many good 3rd party YouTube apps.

I have still problem with my lumia 550 😢

I bought MyTube and Tubecast. Both are great. MyTube is best for download. 360p to1028p. It will save as a file accessible in a folder. Tubecast can download too but won't store in a folder. The downside of MyTube is it will crash sometime but you can rerun it.

I was about to email this guy to ask him why he left our platform :D

Zemljak, ima nade za nas WP freakove 😀

How do you stop a minimized video if there is no option to swipe it off screen or hold to quit?

You'll have to just reopen it and stop it or get another video

Thx for that, thought I was doing something wrong

Wish they implemented ask option with apps for websites. Hate it that friends links always go to edge.

Guys please help! I have problem with all google services on phone, i can't load anything on all youtube app and can't access youtube.com and google.com on microsoft edge ☹

That search bar is so cool! :D

one of my must have apps for Lumia 950

I was getting error when trying to download it, and for now I'm using Perfect Tube on PC and myTube on Mobile....really looking forward for this app on Xbox.

Good to see the update. But doesn't pay videos....

Would love ryken apps to come to Android too

When is this app gonna be out on Xbox?

The only thing preventing me from sticking with just this app is the fact that, apparently, i can't dismiss the pip window when i get out of a video, i have to go back to it and pause it. Is there something i'm missing ?

Just now installed ..super

Its still not working.... Its saying (media exception failure) when i try to play videos. Anyone else having this problem?