Development of myTube 3.0 for Windows 10 will begin soon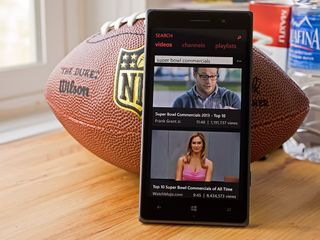 The developer behind myTube, the popular YouTube app for Windows Phone, has noted that development of an all new Windows 10 version will begin shortly. As expected, the developer states that this process will take months to complete, but updates will be posted on the progress that is being made. In an update inside the current app, the developer stated:
We will keep you posted on progress updates from the developer as they are made available. It's great to see developers continued support of the Windows 10 platform, and we can't wait to see myTube for Windows 10 become ready!
Jared started off writing about mobile phones back when BlackBerry ruled the market, and Windows Mobile was kinda cool. Now, with a family, mortgage and other responsibilities he has no choice but to look for the best deals, and he's here to share them with you.
the best youtube app ever!
I believe if this app is ported to IOS it would kick the ass of the official one!

Official one sucks in front of mytube,metrotube,tubecasr and even the one that Microsoft had built earlier.

This 720 user now doesn't have reason to get excited.!! :/ though app is awesome I have been using it fir quite a long time

720 also, thinking about rolling back

720 here. Unable to rollback. Tried both recovery software's. Stuck on Windows 10. Horrible experience.

One thing these apps do not have is suggestions, hence to discover new stuff i have to go to browser

It has u just have to do gmail login. Mytube has that feature.

Tubex in iOS is good but nothing like mytube app in Windows. I hope he doesn't ruin the spirit of it and the redesign even better while I don't need anything better than the current one.

I thought mytube was already universal. It works in continuum.

Yes, version 2 is already universal. The developer simply announced version 3.

The developer is going to rewrite the app from the ground up for Windows 10. Presumably meaning it won't be compatible with older versions of Windows Phone.

Inaccessible to more than half the user base then.
Gotta love Windows Phone fragmentation!
MS need to go to the Apple & Google school of mobile OS development....

Get an up to Date phone Posted from Windows Central for Windows 10

Lol I agree the way its setup is wrong if developers dont pay attention when submitting they may screw over they're fanbase from w/wp/rt 8.1 just because they've deprecated w8.1 universal

Finally ....cause mytube is crashing every time I search for a video

What do you expect from a bada os

This is not the OS fault, It's because the app isn't optimized for Windows 10 Mobile.

I thought it was a universal app

Apps that can scale across screens has been around since w8.

Its the other way around everytime MS tinkers with the OS

The only app that crashes is mytube everything else works fine...

Maybe reinstall it never crashes here

The best u tube app available and very good commitment from the dev from the beginning

MyTube and Perfect Tube are my go to...

Never tried it. Will have to check it out.

You should try it. It's awesome Posted from Windows Central for Windows 10

What about the real YouTube ?? Posted via the Windows Central App for Android

If you have awesome app that covers all wanted features and is very easy to use, why bother about Google inc. app is they don't care about W10M?
Only to attract new users? W10 has a lot of 3rd party apps that are real gems and you don't need any official apps. Posted from Windows Central for Windows 10

You want ads? I never want a official Youtube app from Google.

Been waiting for this for a long time

They starting develop now?! Windows 10 Mobile is out since 6-7 months why now? You don't need to start now guys chill out we made it without you and we can continue without UWP app. Why bothering you. Posted on Lumia 930 with
Windows 10 Mobile

The current app is also universal, but it's based on the older wp8.1 app. It even works with continuum. Quit complaining and thank the dev for the amount of work he has put into this app. It's currently better than the official google app on iOS and android. All the dev is saying is that he's gonna make a new one from scratch. Posted from Windows Central for Windows 10

FFS, version 2 is already available as a UWP for Windows 10. WindowsCentral is wrong. The developer just announced that he's gonna start working on the next version.

yes you are right.windows central misunderstood the dev in-app message.

I mean, Jared maybe could have used a couple more words. But there's no need to react like that. The message in this article is transcribed word for word from the app. If people don't read any of what's in the post, then they'll never understand. Let's try and chill out a bit. It's a weekend.

we are not reacting in wrong way,just saying :)

As a myTube! Beta user, I have read the message from the dev already, since a week ago or so. But the article implied that this would be the first version for Windows 10. Which is a disgrace necause the dev has been a loyal Windows 10 supporter since the early days. :) Posted from Bikini Bottom via my ShellPhone 950 XL

Lets go meet squidward .!!
-Patrick bikini bottom XD

because he is a one man developer and was working on another app called photo shader

out but in what state? The one where crashes, missing info on tiles, restarts are the norm on some devices. Better to wait until it's been made stable to then work on an update to compliment what's been fixed and what's to be added. Didn't need to be genius to understand that. Sent from W10 PC

Windows 10 mobile want even officially out until 2 days ago for specific devices only. Anything prior is just a preview of an un finalized OS. Where have you been???? Posted via Windows Central app for Windows 10!
Proudly rocking my Lumia 1520!

That pretty much sums it up. Besides the a.d.d. antics by Google each year they pissoff they're 3rd party devs(& the the users of those apps) it seems

If u won't got nothing to say here u better be quiet, don't say what u don't know Posted from windows central for windows 10 mobile

Huh? Great Dev here.. Even gave away the paid version of this app last year for 24 hours in December.. Bad form dude.

I think it is already nearly perfect now

Nope. Maybe on 8.1 I dont know I never tried, but on W10 the experience is nowhere close to smooth. Videos are lagging and stuttering, screen flickering and its locking my phone on its own sometimes.

Hard-reset time! Kidding, perhaps you've done that already. But,

I havent done it because of that but Ive done it before :-) Correct me if I am wrong but current mytube is Silverlight right? So I always thought its because of that and waited for W10 UWP.

Current myTube is windows 10 UWP. It's winRT.

the only thing that happened to me is video getting partially covered when the pause bar is on with the video playing

Only problem ive had is the licensing problems that carried over to 8.1 & now mw10

Good news, but I still choose Tubecast.

This version is great already.

I've been waiting on this one!!! Posted from Windows Central for Windows 10
Using My Beastly 1520

Yay been waiting for this one.

i hope this app keep supports wp8.1 totally

What do the YouTube apps offer that the mobile website doesn't? The mobile website is very good.

Various things. One of them is that you can pin a playlist to the start screen, along with individual videos. Also no youtube ads. Background playback is amazing too. Oh also with some of the apps, you can choose if you want to watch the video or just listen to the audio of a video. I think that is so wonderful, especially for talking videos where you don't really have to see the face(s) of who you are listening to.

No ads, ability to download for later viewing, pin channels, notifications of new uploads...

and also very very smooth

Well being able to make full use of a hd screen would be 1 thing

Because IE sucks,about 50% of web pages aren't rendered properly.some times shows only white screen and crashes a lot.

myTube, one of the first apps i ever bough for Win :)

The best YouTube app ever

You go sir!!! We expect nothing but the best as per usual. Sent from W10 PC

It's great app. I missed YouTube apps in android when I use it for few weeks...lol...in front of these (mytube,metro,tubecast...) official one is just crap ! Google and Facebook don't know how to write app codes. Theirs are always among the worst but most used app !

Proud supporter of myTube app. GREAT dev/consumer feedback.

I just want to thank the developer of this app for letting his/her app updated and constantly working to ensure the app is good. Posted via Windows Central app for Windows 10!
Proudly rocking my Lumia 1520!

Best youtube app. Cant wait for 3.0

Just started using mytube in the past few months. I really enjoy it. I'm looking forward to this new version.

What about an official YouTube app ? Wake up world Posted via the Windows Central App for Android

Why would I want to settle with a inferior app with ads? You're the delusional dreamer, not us. From Windows Central App for Windows 10

Great app...thumbs up for the developer. keep up the good work!!!

The current app is great for me, being able to just stream the audio then close the app but still listen is great and way better than the official android app on my gf phone. Hope the new app keeps this feature

Very exciting. Although right now I don't have it installed since Perfect Tube and Tubecasts are also fabulous, I'm still looking forward to using the MyTube 3.0 when it's out From Windows Central App for Windows 10

This apps are the reason I get so frustrated when ppl on the internet says WP doesn't even have a Youtube app. Our apps are 10X better than Google's official piece of giraffe poop. From Windows Central App for Windows 10

LOL you need to wear your specs

First use android then tell me whats better.

Who does even uses store Apps on desktop? That too a YT app? Weird..

I'm not sure of google APIs but I hope history sync will work there. E.g. When watching videos in the app and you check your ytube account in the net the history will be there. It only works the other way around

i still have that error when download this app from store 80004005 WP8.1 Denim update Lumia 1520 help plz

The best app in store for youtube, even the official one can't stand near it... We need more apps from Chris. He is such a skilled and amazing developer.

Sweet! Posted from Windows Central for Windows 10
Using the Alcatel OneTouch Fierce XL for Windows 10

MyTube and MetroTube are the best! Posted from Windows Central for Windows 10
Using the Alcatel OneTouch Fierce XL for Windows 10

Any news on official app on w10

I hope it will have(free) upnp/dlan support.

just used this app now. Its totally awesome, and very fluid!!! ~DheeraJ~

just used this app now. its a very beautiful and fluid app. but cannot watch 360 degrees videos though.. :( ~DheeraJ~
Windows Central Newsletter
Thank you for signing up to Windows Central. You will receive a verification email shortly.
There was a problem. Please refresh the page and try again.