Neil Stevens offers a glimpse of Skype's future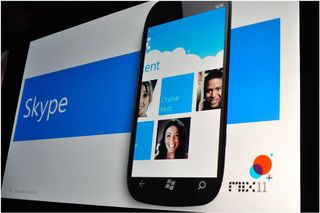 (Image credit: Windows Central)
Neil Stevens, Skype's Vice President and General Manager of Products and Marketing, spoke with Forbes yesterday about what is in store for the video messaging platform after its purchase by Microsoft in May. Stevens described that when it comes to Windows Phone, Skype wants to go above and beyond just a simple app, they want to one that "that doesn't feel like an app," but rather like a part of the device itself. That can only be achieved by accessing "deeper levels of the OS," which Skype will have by virtue of the fact they are now a division of Microsoft. He went on:
Getting access to the internal workings of the operating system would allow for things like video processor and address book integration. A FaceTime-like WP7 experience sounds great, but we are left wondering if there will be some kind of interim solution in the meantime. Will we see a Skype application for our current or Mango phones? Do we have to wait until Apollo? That all seems to be up in the air for the moment.
Stevens went on to talk about Skype's plans for Facebook, which he said will be kicking off in coming weeks. He described that webchat will come first, then outbound calling from Facebook to phones, and from Skype into Facebook. Somewhere down the line will some a Skype/Facebook mobile calling app and group video chat. Stevens explained that Skype and FB do not have a "one-time, one-product" relationship. "We have a plan to build out a number of products with Facebook...We'll be Facebook's key partner for communications."
Of course, much of this is still in the hands of regulators. While the FTC has approved the deal in the United States, European authorities are still reviewing it. Thier approval is expected to come later this year. All of this bodes well for Microsoft, who not only owns Skype, but has a %1.6 share of Facebook. The tight integration of the three giants is one more piece in the grand scheme to grow the Windows Phone platform to compete with Android and Apple.
Get the Windows Central Newsletter
All the latest news, reviews, and guides for Windows and Xbox diehards.